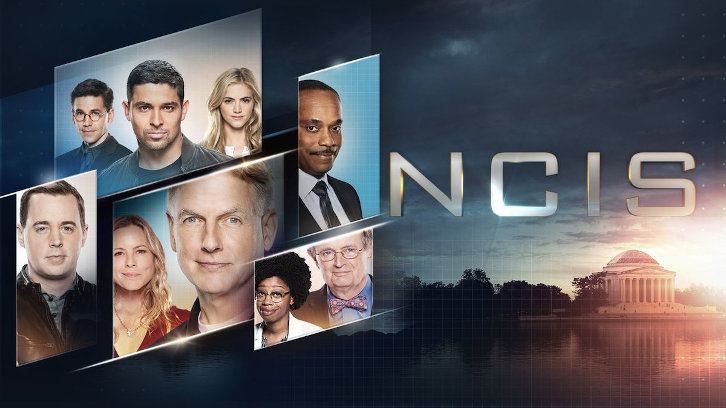 Written by David J. North and Steven D. Binder
Directed by Tony Wharmby
Reviewed by KathM

Cute!
McGee deserves an episode, and this one is it. We get to see both Young Tim, the high school senior who maybe wants to be a writer, makes computers in his bedroom and yearns to tap dance in the school talent show along with Old Tim, a happily married father of two who is questioning his some of his life choices. To top it all off, the computer he built in high school is the impetus for the entire episode.
What I liked
: This episode was about McGee's family, past and present. The Tim and Delilah scenes were wonderful. They're chatting over his old computer, they're discussing his feelings about his career, they're arguing about mummified bodies under their bed (somebody will be sleeping on the couch for more than a few nights for that one). I like them as a couple, and it's nice to see that part of his life. He's focused on work when he's at work, but when he and Delilah talk you get to hear more about his feelings in his greater world and his place in it.
On the flip side, we get to see Tim and his dad and their dynamic. The things we saw in earlier episodes are clearer here: Jack lets Tim know in no uncertain terms, "Do what I want, be what I want, or you're a failure. You're wasting time." But young Tim wants to write (maybe) and tap dance in the talent show and hack the phone company for the sole purpose of calling his dad when Jack is deployed!. That says a lot. He loves his dad and wants to please him, but on his own terms. And Tim isn't completely sure what his terms are yet.
The thing that made me geek out with delight: He wanted to give the Cherubs an early start on computing. How cute is that? I mean the twins are what, 18 months old now?
What I Didn't Like/Was Okay: Pretty much the rest of the episode. Chloe: she's a friend, maybe more, from McGee's past. She was there when he built his first computer that connected to the Internet. It's adorable watching McGee drawing little heats in his notebook and filling them not with her name but with her IP address. The geekiness is killing me. I love it so much!!
She was good for him in that she encouraged him to follow his real dreams when McGee being pushed toward the naval academy by his father (who McGee addresses by his rank). He felt like that was his only option, and she helped Tim see that there was a whole world out there if he wanted it. But she also created the whole problem this episode by altering McGee's code and hacking the DOD in the first place. Re-booting his computer may have initiated the problem in this episode, but her hacking was what started it. She didn't even remember that she'd created a program that could have netted her millions of dollars! And apparently, none of her behavior nets her any kind of criminal charges, since at the end of the episode she's seen traipsing off to have dinner with Delilah.
The rest of the episode and the associated characters washed over me: I barely remember them. What I really liked was McGee getting his bearings again, coming back to himself and happy with his who his is. "I am exactly where I want to be," he tells Chloe. "And as it turns out, the Navy made me the man I am."
And so that's where we are, episode-wise. While I still think that Sean Murray will leave at the end of the season, this episode made me doubt that a little. I'm hoping that tomorrow's episode will be more memorable. Part of it has Torres mentoring three high school students; no doubt some hijinks will ensue.
P.S. - Rule 99 says not to tell Gibbs he's being audited. I think they made this one up on the fly, but it is duly noted. Someone should send a note to the IRS, too, just as an FYI.
P.P.S. - Commander Jack McGee, tap dancing enthusiast? I don't see it.