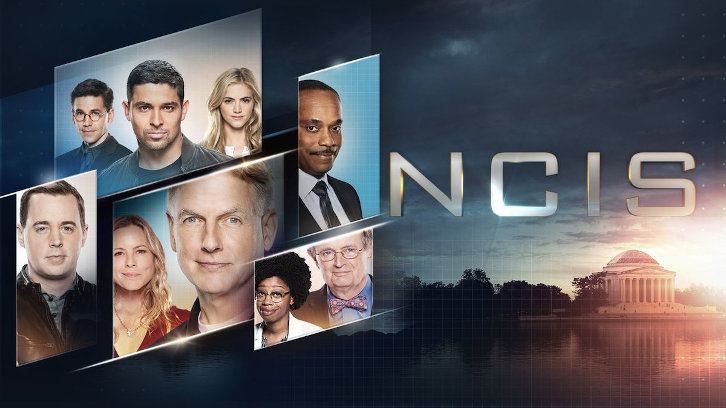 15.23 - "Fallout"
Story by: Christopher J. Waild
Teleplay by: David J. North & Christopher J. Waild
Directed by: Michael Zinberg
Reviewed by KathM


Now that we have all survived Abby's exit and Reeve's awful death, let's move on. Which is pretty much what this episode is about.

The main storyline is about Gibbs's friend, retired Naval Officer and fellow boat builder Phil, who is presumed lost at sea when his boat goes down. At the memorial Phil's wife, Marcy, tells Gibbs that he can have any of the tools down in Phil's basement that he likes. What is it with men building boats in basements that don't seem to have any exit large enough to get them out? Gibbs goes down to see what he can see, and as he's looking through Phil's tools he finds a secret door leading to a bunker that Phil had presumably built. And he finds Phil. Alive, and hiding from everyone, including his wife. The expression on Gibbs's face when he found his presumed-dead friend was nearly as delightful as last episode's poker game. Gibbs is so rarely flabbergasted. Phil asks Gibbs to help him find out who sunk his boat and tried to kill him, and Gibbs agrees. He called Gibbs to ask for help before he faked his death, but Gibbs never returned his call. Phil is positive that he left a message with the British-sounding guy…oh, man. So, using Torres as a decoy, Gibbs slips Phil past his wife and takes him over to Casa Gibbs.
Shenanigans ensue as we discover that someone had attempted to blackmail Phil for $250,000 last year using photos of him with an attractive friend (she really was a friend) in a compromising position, but they were created by someone who was really good at photoshop. Phil showed them to his wife as instructed by the police, and she believed him, so they just moved on. and they dropped it. We come to find out that Antonia (friend) has a shop in a nearly-abandoned strip mall Phil owns and that he was friends with her father. She repairs and restores old typewriters, which distracts McGee.
This leads us to Evil Land Developer and our disappointing throwaway ending. Okay: Evil Land Developer tried to kill Phil because he had land (strip mall) the Evil Land Developer needed, or else ELD would be broke and he wouldn't be able to build his gentrifying condominiums. And he also had to kill (unnecessary character) Coast Guard Investigator because she was on to him. Oh, and the Evil Land Developer has been having an affair for two years with Phil's wife Marcy, who didn't know about the killing her husband part of ELD's plan. I'm not sure of that, myself. I was even disappointed in Jimmy and Torres's golf scene, which I hoped would bring me delight. Jimmy can play serious golf, wooo. Whatever. So ELD goes to prison for murder and attempted murder, apparently nothing happens to Marcy, and Phil is left with a adulterous wife and fewer boat building tools.
I think they might have chosen the wrong actor for Phil's role. The character is an interesting idea, but the way he moved and his facial expressions made seem him a bit too comical for my taste. I would have enjoyed his character more if he hadn't seemed so crazy throughout the episode.
Sloane is getting a workout this week, trying to help the team (except for Gibbs) move on from the loss of Abby and Reeves. She set up fifteen-minute times for each member to spend in the lab by themselves to get used to an Abby-less lab. Honestly, I thought this was a bit over the top. She didn't die, and while she isn't part of the team anymore that doesn't mean she's vanished from their lives entirely. Unless she has. Did anyone notice how slightly jealous McGee seemed when he heard that Kasie had spoken with Abby? And why didn't Jimmy get time? Abby was going to be the Best Man at his wedding!
Bishop's loss of Reeves seemed more genuine to me; the anger at his empty desk and the lost cell phone with the only photos of the two of them she had ever seen hurt. He really had vanished. No voice on voicemail, no crips ready for her in his desk drawer. And no photos of them together, as they were all on Reeves's confiscated phone. He worked for MI-6, not NCIS, and they took everything away. Watching Bishop start to work things out by talking to Sloane seemed real; no lollipops were used, but darts were thrown. I can also neither confirm nor deny that I may have gotten teary when Ducky gave Bishop a picture Reeves had sent him of Reeves and Bishop when they were backpacking in Scotland. Torres calling Reeves "a brother", which lets us know that he's lost a comrade in arms and, just maybe, a friend.
Sloane's short scene with McGee also felt right. McGee is typing out some form or another on his new (old) Remington typewriter when Sloane tells him how much she liked his books. The second one didn't sell so well, McGee admits. I thought he'd written more than two. Sloane wants him to write another; make it into a trilogy and sell it to the movies. McGee says he has a family now; it's not something has time for any longer. Sloane asks McGee why he became an agent, and he says he isn't sure. You get the impression of a man saddened by loss and feeling overwhelmed by his world. It's not that he doesn't love Delilah and the cherubs, but sometimes things get to be too much, and you can really see that in him throughout the scene. Sometimes I wonder if McGee is starting to feel that he needs to move on, too.
Kasie was a bit of a surprise; I thought she was a bit more reserved. She's come in to keep the lab running while Leon searches for a new Tech to replace Abby, but part of me hopes she becomes permanent. I'm not sure whether she can work for me yet, but I see potential. She was unsure of herself, but Gibbs tells her to trust herself, and he's never wrong. She also has the blessing of an absent Scuito, who has given Kasie free reign to make the lab her own as long as she's there. We learn a lot about Kasie's backstory, too, which also makes me think she might be sticking around. Her family didn't have much money when she was growing up (the contrast between her cobbled-together version of Space Camp and McGee's real one was well done, with no jealousy or Kasie's part), and her enthusiasm at helping solve the case was adorable. She called her mom, for heaven's sake. I think that says a lot about how much she has worked to be a Tech like Abby and how proud her mom is of her. I liked it. She could grow on me.
As she runs into the back of the lab to tell her mom that "her Kay-Kay" helped solve a case and Gibbs calls for his team to grab their gear, you get a feeling of why they became agents. And that they will keep moving on, regardless of their losses.