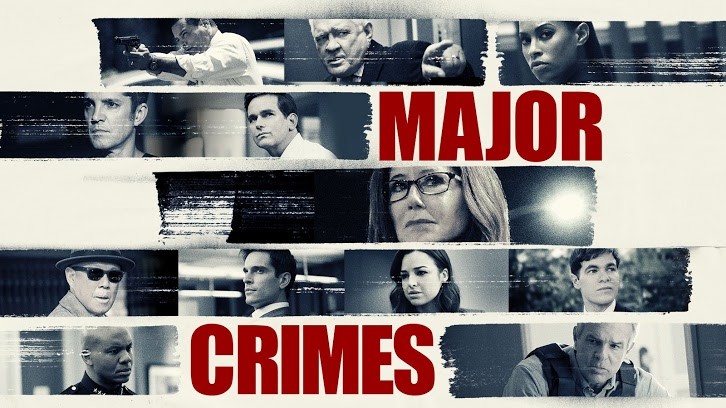 I've been trying to figure out how to approach this review. This episode marked the end of one of the few series that remained in my top ten for its entire run. I would have loved to have been able to do a full retrospective of the whole series, but, with a 10 hour work day, I couldn't do it. Instead, please, feel free to discuss favorite episodes and memorable moments in the comments.


Early in their relationship, Stroh figured out what leverage he could use against Dylan. He went straight for Dylan's "fiancé". When Dylan called to tell her to pack up Stroh answered the phone.
It's a good thing Dylan's "fiancé" never really cared about him, because, with her neck in a noose, Dylan tried to negotiate 50K to finance his escape. In the end, he did what Stroh demanded and transferred the money.
The plan to track Dylan once he opened the file on the Major Crimes' server worked like a charm. They found the Dylan house was using and surrounded it. Dylan tried to make a run for it. That worked as well as it usually works, and Dylan wound up dead. LAPD was able to get to Ella, the fiancé, and save her life. But Stroh disappeared.
Tao found himself watching Dylan's Doomsday clock. Tao was only about 80% certain that the clock wasn't attached to a bomb, but he felt he needed to stay to keep the computers under Major Crimes' evidentiary control. Luckily he was correct, and we got one of his signature "Holy Crap!"s.
Included in the data is the receipt for a reservation on a private jet leaving later that day. Mason sends, pretty much, the entire department to the airport and takes control of the manhunt away from Major Crimes.
Also buried in the files are receipts for bulk purchases of canned food, water and vodka and a list of people Stroh researched. Most have been crossed off but a few have question marks. Ms. Bechtel has a question mark by her name. Rusty has been trying to contact her all day with no response.
Rusty's instincts are working in high gear. He's taken his mother's advice to look at the situation from Stroh's point of view and has identified several elements that don't make a lot of sense from the police's perspective.
Ms. Bechtel is one of those loose threads, and everyone is at a loss as to why, after killing his mother's ex-husband there is a question mark by his daughter's name.
Provenza trusts Rusty's instincts, while Mason wants him to shut up and let the grown-ups do their jobs. Provenza is right to trust Rusty. Checking out the Bechtel house leads to a clue about Stroh's real escape plan.
It's not Ms. Bechtel, it is the MS Bechtel. (I couldn't resist looking up that acronym. MS stands for "motor ship".)
I was completely shocked that, when Provenza told Rusty to wait outside, Rusty waited outside, at least until Provenza left the scene to follow his hunch. Rusty got to the boat in time to save Provenza when Stroh goes for the gun he had hidden in a ankle holster.
After all of the talk about making sure Stroh did NOT survive capture, Provenza couldn't escape the fact that he is a good man. (I was glad they reminded the audience that Stroh had killed people from prison.)
The people who have known Rusty the longest, including Fritz, saw through to the truth pretty quickly. Julio even suggested Rusty continue to see Dr. Joe.
Then it was time to send our detectives off into the sunset.
Provenza officially has command of the Major Crimes Unit. Julio got his promotion. Buzz is off to the Police Academy, and it would appear that, his years of apprenticeship with the Major Crimes Unit, he will come out as a Probationary Detective. Rusty will officially go to work in the DAs office when he comes out of law school. He also forgave Gus.
Provenza delivered a nice speech letting us know that the Major Crimes Unit would continue to serve and protect even though we won't be able to join them each week.
Phillip Stroh was the thread that pulled Rusty into Major Crimes. This ending brought the series full circle. Not only by killing off this murderer, but by showcasing how Rusty has grown and matured.
With that the series comes to an end.
I've mentioned before that the central reason I started watching the show was Rusty. I really enjoyed watching him grow up and overcome the issues his birth-mother created. He also learned to trust people and to care about others. It's not surprising that the stand-out moments that come to mind most quickly revolve around him.
I also want to mention the episode where Julio's cousin was killed because it was when we finally got to see more than two notes from Julio. We also got to see the depth of Raymond Cruz' talent. The scene where he first mentioned the death of his wife left me breathless.
Okay, I've started the floodgates of my favorite memories of this series. Please share yours. What were some of your favorite stories, episodes or moments over the past six seasons?