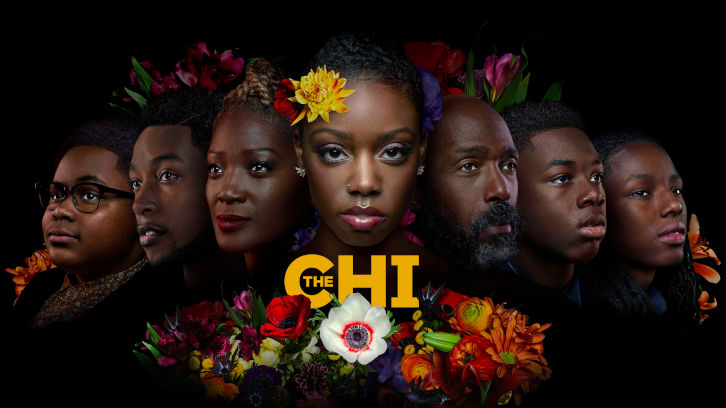 Episode aired on SHOWTIME Sunday, January 14, 2018

Alee comes on after good ratings for the pilot for The Chi so let's dive in......

The episode opens with a party in the neighborhood during the day where Emmett and Keisha are dancing. A random girl starts trading flirty looks with Emmett. Keisha is upset, and the three exchange words and her boyfriend tries to calm her down in a bedroom with sex. She's mad at him but at the same time engages in the kissing until his baby starts crying and she storms off. Two things that annoyed me with this scene, number one the portrayal of black women bickering because of a guy. Number two, using a baby to drive the story of how black men will be okay with sex in front of their children, which I found very ridiculous. I was hoping the show wouldn't go with these same storylines that are used to portray black men and women as they navigate loving each other. Lena Waithe is obviously writing from a place understanding and wants to be careful but this scene was just terrible, and it altogether added zero to the story.

The writers introduced us to three new characters in this episode, Sonny, the restaurant owner where Emmett worked. His brother DQ who seems quite shady and Alderman Martinez who we met through DQ and seemed to have had dealings with him and owed him. Emmett gets help from DQ to take his child to daycare since he has no one to help him, but Sonny is not happy about this arrangement. It felt like a setup but desperate times call for bad decision making most times. I have read about people who abandon their children but and I always wonder why anyone would do that. Life frustrations can drive you to such extremes, and that's where Emmett had reached with his baby. He wants to be young and do young people things but unfortunately, he is a parent, and that comes first. In an emotional scene, Emmett tries to storm off but then walks back to his baby on the playground. He realized that his baby would need a better life and abandoning him would subject the child to the system that didn't care at all. I loved the scene with his mum when he opened up about his struggles, and she let him sleep on her lap. It showed again how loving she was that even though she wants him to grow up, she is and still will be available to give him comfort.
Dealing with closure after a close family member dies is not an easy thing. Everyone handles this part of life in different ways even members of the same family are never on the same page. Brandon and his mother Laverne are both struggling with Coogies death. Brandon is thinking about his brothers' murderer, and this is weighing down on him. Luis, his workmate, offered to take him to buy a gun but he was hesitant. I don't think Brandon wants to revenge his brother's death by hunting down the killer, but external forces are making him rethink what to do with the information Kevin gave to him. Visiting Coogies memorial outside the 77th mart added to his sorrow, and it was a catalyst for his vengeance thoughts.
Ronnie seems to be going through guilt, which is evident when he accompanies Tracy to visit the mural that was put up in Jason's memory. I don't like Tracy I think she is trouble as much as I empathize with her pain; the writing of her story in a way makes me feel sorry for Ronnie even though he was the one that pulled the trigger. She seems manipulative, which is why his friends Curtis and Barry were wary about his reconnection with her. We meet Ronnie's grandmother who is receiving home health care through Emmett's mother, Jada. She had the best lines and honest the advice for her grandson to be careful about getting back on with Tracy. This scene with his grandmother was incredible to watch on TV because it tackled a subject that people hardly ever see. Nursing homes and mistreatment of old people is how elderly care is portrayed mostly on TV. The scene showed how life goes on and people continue to care for their loved ones and receive love as well. Ronnie has the shadow of Coogies death following him around, but he is still caring for his grandmother because that's where he finds unconditional love.
It was mentioned that Laverne was an alcoholic, so it wasn't surprising when Brandon found her at the bar when he went to her house to help take care of Coogies stuff. This scene between mother and son and her boyfriend was intense. She is hurting, and Brandon wants to be there for her, but the boyfriend is making things harder. Trying to reason with someone drunk is not easy especially if they are trying to drink heartache away. Despite the fight with his mother at the bar he still went to her house to help her sort out his brother's things. It saddened me when Brandon was looking at his brothers' drawings and got overwhelmed with grief. Coogie was a talented artist, since we didn't know this, the scene was a pleasant treat because it showed the many layers of this boy whose life journey ended very abruptly. These are the stories that we never get to see reported. The black men killed are not just a number; they are people who have gifts, which they will never get to share with the world.
Jerrika did not have many interactions with Brandon in this episode. I thought the writer's treatment of her as just a sounding board for Brandon was strange, but Tiffany Boone carried the scenes with beautiful acting. She was supportive, assertive, concerned and loving. My favorite scene was Jerrika finding Brandon looking at Coogies pictures and immediately discerning what he was contemplating. She let him break down and cry and frankly when Jason Mitchell lay on the bed and cried out for his brother it broke me. I wish the director had let the camera linger for a little bit in this scene because the silence would have made it phenomenal but NOPE they moved on swiftly. The relationship between the police and the community is fragile, and there is no trust at all. Brandon makes this clear when Jerrika pushes him to go the cops.
The young kids in this episode didn't have good writing; the boys used vulgar language when talking to Andrea who was not cool with it at all. Elementary school kids can be mean and gross, but this was flat out harassment. I was not a fan of Andrea's cousin and her bullying tactics towards the boys. First of all, I don't think Andrea wanted her help in dealing with Kevin because she liked him. It made sense that the cousin felt protective which would have been a better story but making her aggressive towards Kevin with sexual innuendo was not cool to write for a tween. Kevin is going through the trauma of seeing Coogie die and he fears for his life so adding more problems for him didn't make sense. He has a killer trying to talk to him and also is scared that rattling Ronnie out will have some severe consequences. This fear is the reason Brandon felt the need to meet his end of the bargain and kill Ronnie. I am concerned for Kevin because he seems to be taking on so much for such a little boy. Here again, the writers managed to give us layers, which are really what Ms. Waithe had promised.
The investigation into Coogies death seems to be hitting a roadblock for Detective Cruz. Everything looked slow, and nothing much was happening, as you would imagine in a murder investigation. Detective Wallace appears to be shady or trying to jeopardize the case. I say this because of the way he was conducting himself every time around Cruz. Wallace comes off as a bully, which frankly I have read many police departments have. I am not sure what he had going on with Jason, but I sense that he is involved with a crew that killed Jason, so he is trying to make this whole thing go away. There has been the debate in this country about guns and how the buying and selling of firearms need to be regulated, but it's a debate that has no end. Ronnie selling his weapon for only two hundred dollars showed how difficult it is to monitor all these dangerous weapons exchanging hands quickly in these communities. We also saw how fast it was for Brandon to get a weapon via Luis; all it took was one phone call.
The episode ended with Cruz approaching Ronnie on the streets on his way to Tracy's house and letting him know that Coogie didn't kill Jason and also implying that he knew Ronnie took care of Coogie. What I loved was filming here, it was edgy, and as I watched Ronnie walk across the street I kept wondering if a car was going to hit him, Ntare Guma was outstanding in this scene, he was scared and showed how this situation was pushing him to a corner. I bet you he went to his grandmother's house to seek refuge.
The pilot for The Chi was one of the best I have seen in a long time. The writing, directing, editing and acting all were outstanding. Going into episode two I was prepared to feel the same way I felt when I watched the pilot. It was not to be; I don't know if the writing had anything to do with or if it was the directing. The actors were terrific and did the best they could, but it still felt rushed. Most of the scenes felt like the director was looking at his watch after every two minutes and signaling to wrap up and move to the next stage. We did not get the type of progression that we had in the pilot, which was a bummer because I came in with high expectations, so it's my fault.
Lena Waithe and Elwood Reid wrote this episode. I will admit I am not familiar with Reid's writing but judging from this episode it was clear two voices were trying to meet halfway. They didn't sync very well even though they had a few notable sections the whole salad lacked something. They introduced new characters that seemed to mean something to the plot but then gave them vague dialogue, which wasn't helpful. I also wasn't a fan of David Rodriguez's directing; it felt like someone was spinning us around. He had great moments like Emmett and his mother then he had terrible ones like the gun sale between Ronnie and Medrick. A great scene with Brandon and Jerricka then throws in one with DQ and Alderman Martinez that didn't tell us anything. These examples went on throughout the episode, and left me wondering where all this was going.
Anyway I look forward to the next episode; hopefully, it's better. I like this show, and I am rooting for them to succeed.
8/10
Don't forget to watch The Chi on SHOWTIME Sunday, at 10 PM ET/PT.
I am interested to read what you thought of this episode, comment below and let's discuss...