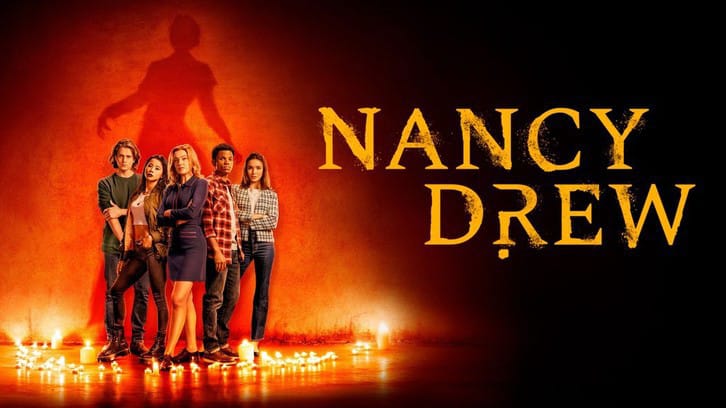 After the rather heavy end to last week's episode, we were treated to a lighter episode this week.

I confess, I had fun. The scene where Nancy and Ryan sit down to watch the move was adorable.

Nancy has withdrawn from the Drew Crew. Still, they have been calling to check on her since that painful breakup with Ace.

There were moments during the first couple of episodes of the series where I worried that this team would never become real friends.

But they have. It's one of the things I really enjoy about the series.

Nancy's funk is interrupted by a scream in her back yard. She dashes out to the rescue.


When she sees a masked man chasing a woman, she takes him out with a large piece of fallen wood.
Of course she did. She's Nancy Drew.
Aside: I live in LA. When a production is filming in the neighborhood, they blanket the area with a notice about the filming schedule. I thought it was just to warn us about parking. I suppose
this
is the real reason.
Welcome back Laci McAllister.
We last saw her at Detective Con in "The Testimony of the Executed Man", helping the Drew Crew solve the Frozen Heart Killer case.
Instead of a podcast, she is now directing her first film.
Weird stuff is happening on set. When Laci makes an offhanded comment about needing someone ('a Nancy Drew') to figure out who is behind it, Nancy all but falls to Laci's feet begging for the job.
Well, maybe Nancy crashing the set to start the investigation without an invitation could be considered begging.
Ryan joins Nancy for the investigation. I was thrilled to have Ryan back in the mix. This episode is the perfect episode for his return.
Laci is remaking a movie called Longhook. The original version was filmed in Horseshoe Bay in the 90s.
After Detective Con someone finally read her script and she's back in Horseshoe Bay making her dream come true.
Bess makes her acting debut. After watching her run lines at The Claw, I didn't expect her to be as good as she was playing Victim #1.
George and Nick search for Councilwoman Brie Fortfield, because she's been missing in action for a few days.
More importantly, we got the answer to what Brie was screaming about last week.
After one of the onset "accidents" almost injures Laci (in the new sheriff's presence), the production is shut down.
Nancy discovers that the stunt team has filled a 5 gallon jug with tap water "in an effort to be green".
Doug Vexler, the first assistant director, saw black veins on the stunt team's necks.
He then ties Brie to the situation when he reveals that she worked with him on the original film and they are filming in Brie's house.
Brie screamed when she regained her memory of watching Jim Stanley, the director of the original movie, drown when she could have easily saved him.
I liked the editing of Brie revealing what happened the night that Jim Stanley died as the stunt team intensifies their "pranks" against Laci.
This is a repeat of what happened to Nancy in "The Maiden's Rage."
I'm still trying to clarify a pattern with the water. It seems that when a criminal drinks the water, the next person to drink ends up compelled to commit their crime.
But if another criminal involved in the same case (I'm thinking of Logan Rhodes in "The Maiden's Rage") drinks after someone has infected (Nancy), no one else is infected? This is the bit that is confusing me but it didn't come into play this episode.
Anyway, Nancy arrives at her house in time to save Laci and the stunt team.
To ensure that this state of saving individuals as they are infected by the water can't continue, cleansing the stunt crew burned out the "supernatural stomach pump".
That's
got
to lead to trouble with the Glasses.
Brie was able to provide them with a useful clue to the larger mystery…Brie's father buried the memory of her crime by visiting "The Black Door."
The way they're laying the groundwork for this season's mystery is beginning to suck me in.
I have a lot of questions swirling around in my head.
Who is behind The Black Door?
Is whoever is behind "The Black Door" the same person (or entity) that changed the town's water?
It seems as though the water was cursed to reveal all of the hidden sins of Horseshoe Bay, so I'm inclined to think 'no'.
I still can't figure out why Judge Abbott's memory had to be changed. That photo implied to me that he was aware of "The Black Door" and its power. Why would he use it on himself?
Chief Lovett told Bess to back off and stay in her lane, which brings me back to my observation last week.
Hannah's approach was to protect Horseshoe Bay by keeping the supernatural locked away. Bess's open/public approach to being the Keeper has caused an official problem that could get her shut down.
I do recognize that Bess's approach is required since Nancy opened all of the boxes, but if she doesn't change her approach, will it impede her ability to help Nancy protect the town?
Ranking: 8
After the tough ending last week, this week's episode was lighter. Nancy's investigative skills are needed to protect Laci McAllister, who returns to film a horror movie in Horseshoe Bay. The season's mystery takes another step forward and I'm loving that my mind is swirling with questions that I am anxious to have answered.