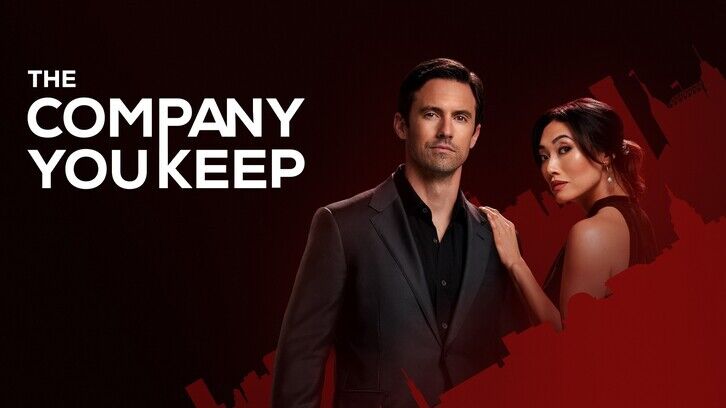 Sundays are heating up with ABC's, The Company You Keep, starring Catherine Haena Kim and Milo Ventimiglia. The series premiere gave viewers a little taste of everything from romance to mystery and left us wanting more.
We first meet Charlie Nicoletti and he's charming, good looking, and a real smooth talker. Seems like your average guy, right? Except, he's also a criminal. Him and his whole family are. They steal from the rich and give to…well, themselves, but they justify it by only stealing from fellow criminals in a modern-day Robin Hood scheme.
The episode starts and we're right in the thick of it with a heist that seems to go off without a hitch, but as it all unfolds, Charlie and his family ultimately get played by his fiancée, Tina, who takes off with all their well-earned stolen cash. He's heartbroken and gutted as one would be and takes off too, going AWOL on his family without a word.
Enter Emma Hill. She's smart, sassy, gorgeous, and just found out she's been cheated on for the last three months. She needs to cut loose as I'm sure many of us would in her situation, so naturally, she finds herself at the same hotel bar that Charlie ends up at and the two have a meet-cute right out of a rom-com movie.
They make small talk that soon turns to easy conversation, make each other laugh, and they seem to have a good bit in common right from the jump. Smooth talkers, quick on the fly with a witty comeback, and a little more observant than most. The only real difference between the two? Well, he's a criminal, obviously, but she works for the CIA. Talk about opposites attracting. And man, oh man, do these two attract each other.
The chemistry between them is palpable from the moment they meet, and although they spend the night at the bar knocking back drinks and making eyes at each other, neither makes a move to take things any further. Charlie pays the bill like a gentleman, they say goodbye, and he leaves Emma alone to return to his room. You'd think he'd probably wanna wallow over his now ex-fiancée, but he doesn't seem to be all too bothered by that at all. Instead, we see him with a little smile, and then he's rushing to the door. When he pulls it open, he finds Emma standing on the other side just about to knock. You gotta love a woman who makes the first move, huh?
From there it's 36 hours of fun to be had between the two. Their weekend together is hot and sweet, funny too, and it's everything and more for anyone loves romance.
As the hour goes on, the two cross paths again at a gala that Emma and her politically endowed family attend while Charlie and his family run another heist in hopes to steal back the money that Tina stole from them. Things seem to be going well until Charlie sees Emma and undoubtedly gets distracted – no one can blame him for that – but his sister, Birdie, calls him out on it. She reminds him to keep his head in the game and he does by making the choice to cut ties with Emma, choosing his family and the job over her because there is too much at stake. He tells her there's nothing between them, and then walks away.
Emma is hurt, clearly, but she's gotta brush herself off and go to work when she gets information about Patrick McGuire, the same big bad who Charlie and his family knocked off in the beginning of the episode. Her and her team are all over it, the FBI gets called in, and then McGuire is soon taken down, but the other big bad, Daphne Finch, gets away after a car chase gone bad that leads to Emma getting into an accident.
She's all over Daphne though, ready to get to work again when Charlie shows up unexpectedly at her house. He worries over her the second he sees her injured wrist, but she gets right to it and asks him why he's there. He wants to explain and tries to apologize for what he said to her at the gala, but Emma plays it off as if it's nothing. She tells him it was just thirty-six hours of fun in a hotel room, that they don't know each other and that's that. Except, that's not all it was, not by a long shot.
Charlie tells her he does know her, spitting out everything he knows about her from how she takes her coffee to the way she reads people, and everything in between. The little things she's sure he hadn't noticed about her in the quiet of that hotel room. He tells her he lied about there not being anything between them, that he doesn't ever stop thinking about her, and before he can get another word out, she's kissing him.
*cue the swooning*
That should be it, right? End on a happy note and call it a day? Nope. Not quite. This is television after all.
Charlie returns to his family's bar only to find none other than Daphne Finch and a few of her lackeys there. She's pissed about the money being gone and throws out an ultimatum that he either coughs up a real cool $15 million or there will be hell to pay.
Now Charlie must do what he does best — lie and steal to make things right. Except we know it won't be that easy. Nothing ever is. The question is, just what will he do and how will he go about it? And what will the ripple effects of those decisions look like in the end?
His and his family's very lives are in danger, and Daphne is the kinda person you really don't wanna piss off once, let alone twice, and he's now more than a little involved with someone who works for the CIA.
Emma has no clue who Charlie really is, and it's more than obvious they have it bad for each other, but as Emma told him that night in the hotel room, "Fantasy is one thing...reality is another." This isn't a slowburn, it's a candle burning from both ends, and it'll be interesting to see just how far these two can take this thing between them before that candle burns out and the fantasy is completely shattered as the truth is finally revealed.
Love, lies, family dynamics, crime, and chaos? Yeah, this is gonna be good.
What did you think of the premiere? Like it, love it, or feeling somewhere in between? Leave your comments down below.
The Company You Keep airs Sundays on ABC with next day streaming on Hulu.