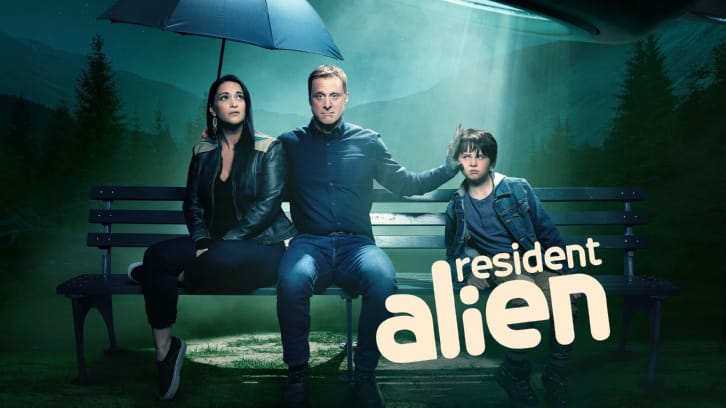 I felt a little let down by this season finale. (I would swear that someone at the network played a "mid-season finale" clip when the episode started.)

It felt like they didn't have enough story for the finale episode so they dropped in the Experiencer testimonials.

It kind of felt like they didn't have enough story for the finale episode so they dropped in the Experiencer testimonials.

I hated those testimonials. They interrupted the tone and broke up the pace of the episode.

It would have been awesome if SyFy had allowed them to make Best of Enemies an extended episode (without the testimonials).

We finally got to see Goliath's full message.

I finally have the answer to my question about why the Gray's are abducting human babies. They're using them to make hybrids, like Joseph. (It doesn't answer all of my questions about Robert though.)


Daddy Harry is kinda frightening. Is that fake breast feeding bra baby milking thing real?
Nope.
Nevermind.
I do NOT want to know.
I have mixed feelings about Bridget being sent back home.
I was kind of looking forward to him hanging around with Max and Sahar, but I realize it could easily be one of those changes that could (and has) kill a series.
How adorable was the going away gift Sahar gave Bridget?
I hope Harry didn't forget to leave it with Bridget like he did the snacks.
I knew that fly was a goner when Joseph stopped time.
Someone really needs to tell Harry that Max should NOT be his guide to torture or arguing.
"I know you are, but what am I?" Really? Harry, look to Sahar instead.
But it did make Max's assertion that Harry loved him believable.
Maybe it's her professional athlete side, but D'Arcy knows how to focus in on the most important elements of a situation.
When she found proof that Human-Harry killed Sam, she flipped.
Not because Harry killed Sam, but that Asta lied to her by keeping Harry's secret.
Of course
Asta's trust was the only important thing to D'Arcy in this situation.
I actually wasn't surprised that she simply accepted the truth about Harry without a second thought.
Harry's reaction to being called a dinosaur was pretty funny. I hope D'Arcy did that on purpose.
When we saw Ben staring out of the kitchen window, I guessed that he was an abductee. The way he was checked out wasn't simple sleep walking.
The "uh oh" element of the Grays picking up Robert was the fact that Harry had given him the Alien Ball. I fear that the Gray's having possession of that ball is going to turn out to be a bad thing.
Liv and the Sheriff have a nice mystery set up for season 3. I think it will be safe for them to solve this one, but I'm not really sure. What do you think?
It was really nice to see the Sheriff have Liv's back. Good on him for realizing they were not real cops.
Harry succeeded in changing the future by listening to himself (Time travel!) and not killing General McCallister.
I loved the fact that, when McCallister's troops flew in, he first got Asta and D'Arcy to safety.
McCallister seems to have finally realized that her "might" isn't particularly effective against Harry.
I am very curious to see what kind of a team they will make next season.
The finale was wildly uneven for me, but not really in terms of the story telling. It was solely because of those testimonials.
Overall I thought season 2 was as much fun as season 1 and I'm really looking forward to season 3. What did you guys think of the way season 2 ended? What did you think about season 2 overall?