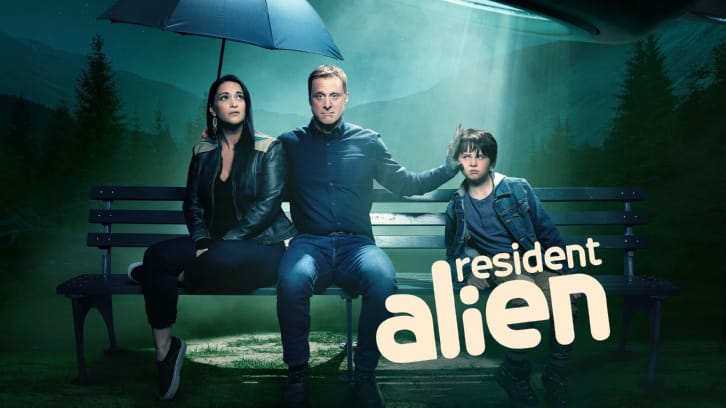 Ask and ye shall receive…. I wanted Max and Sahar (aka Max's "criminal wife") back, and not only are they back, but they are in charge of the answer to one of the big story questions from season 2A.

Last week I expressed disappointment with the way they were handling Harry's reaction to almost dying and this episode made my wish come true.

I think Harry did a bit more than just remove the memories of the party and its aftermath from Asta's mind. He appears to have added a little happy juice.

Asta is scary cheerful and has forgotten how to make good coffee. (The second greatest horror of the memory removal process.)

She comes crashing to Earth when she runs into Jay. That scene was as difficult to watch as I feared it would be.


On the upside, we didn't have to wait another week for Asta to realize what's happened to her.
I don't think any of us were surprised that Asta demanded her memories back.
Given Asta's reaction to the cracking sound in the bar, I believe that Harry's memory altering works like deleting files on a computer.
The data isn't removed from the hard drive. It's only removed from the mechanism the operating system uses to locate that data.
I think my favorite moment in the episode was Asta schooling Harry on dealing with the difficult parts of life.
I was also blown away by the scene with Harry and Gerard. It was unexpected. If you just listen to his words, Harry comes across as superficial.
When the scene started, I expected it to remain superficial; to be more about Harry trying to desensitize himself to his fear. But then he admitted his fear to Gerard.
As Gerard tried to allay Harry's fears, Harry began to understand it all just a little bit more.
Then there was watching D'Arcy deciding not to sneak out. (Okay, fine, it's a three-way tie for my favorite moment of the episode.)
I am absolutely thrilled with the growth we're seeing with D'Arcy.
She may have fallen off the wagon at Harry's party, but she appears to have climbed right back on.
More than that, though, is the fact that she's willing to allow herself to believe she deserves something good.
I've never been a fan of shows that had to end each episode by resetting to the status quo.
(I grew up in the 70s. It was a requirement so that they could air episodes out of order in syndication.)
Watching D'Arcy continue her healing process is a bonus I didn't expect when the show started. I suppose it's okay to remember this guy's name now. It's Elliott.
Most of the people in Patience, Colorado I would describe as 'quirky' or 'odd'. Ben Hawthorne I tend to describe as annoying. Which is what he was during the autopsy meeting. Detective Torres' expression was priceless.
Then he turned the tables on me and drew out the feels in the sequence between himself and Kate.
The phone call scene was completely predictable, but so sweet. Like I said….feels.
He's going to annoy me again, but we're okay at the moment.
Poor Liv. She worked so hard to begin to connect with Sheriff Thompson, and the moment he finds something in common with Detective Torres, he left her left out in the cold.
The way that Torres and the Sheriff began to hit it off had me wondering if she was also brought in as a love interest for him.
Sahar and Max are back!
Sahar spots the baby alien in its new form and decides to teach it to be a good alien.
She's using a method that a friend used to kept her cat off the kitchen counter.
All I could think was that Sahar should be watching
The Zoo
. They maintain that positive reinforcement works better than chastising.
I can't say that it's unreasonable for Sahar not to trust Harry. Hopefully, she'll let Asta in on the fact that she's hiding the baby alien.
Asta could let her know that the baby can help them save the planet from this new alien species/threat.
There was some pretty awesome character work happening this week. What were your favorite moments?