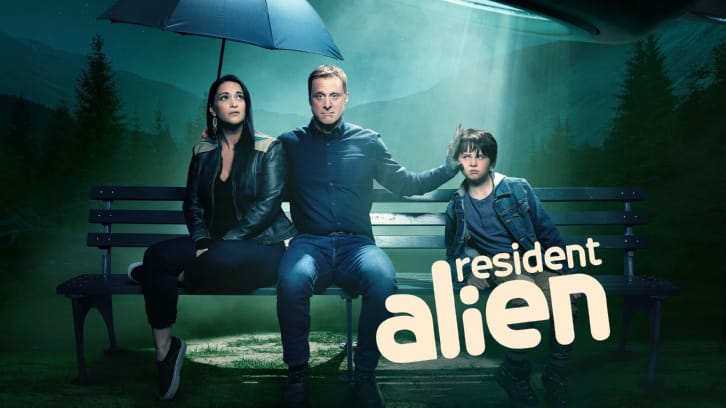 Harry's visit to New York (and I believe #42's death) led Harry to consider how lonely he is; how much he craves a connection with his own people.

Surprise! There's a connection on the way.

Goliath summoned him to New York to give Harry his egg.

Harry's brief stint as a parent make more sense. I'm really interested to see how this works out. I have my fingers crossed it's a girl.

What I both expected and didn't expect, from the episode, was Casper. I knew she was coming after Harry, but did not expect things to work out the way they did.

The choreography of that fight sequence on the train was pretty sweet. The ending was a shock.

I loved the moment where Casper took out The Galvan/Powell Group's muscle.
The director neatly melded the danger General Wright's hit woman posed and Human-Harry's deadly enemy into one quick scene with no exposition.
I'm guessing we'll be seeing more Galvan/Powell muscle turn up in Patience to take care of Harry once and for all.
If they do, Asta might have to add another murder to the list of Alien-Harry truths she's had to deal with.
My question is, now that the Sheriff and Liv realize that Abigail Hodges is innocent, I want to know how they will free her from suspicion without landing Alien-Harry in prison.
I am really pleased that the writers have eliminated the initial impression that Sheriff Mike isn't smart or good at his job.
Speaking of Mike, I absolutely loved the scene between him and Dan. Really nicely written and performed.
Finally someone referred to the Sheriff by his name, Mike. I have been waiting for that.
Over the past couple of episodes, I've mentioned my desire to see D'Arcy get on a path toward pulling her life together after the devastating loss of her ski career.
This week D'Arcy took the first step by going to the gym.
The writers hit another ball out of the park with D'Arcy's workout sequence.
Instead of boring us with one of those annoying talking head scenes where the characters tell each other things they already know, they inserted a quick flashback made it clear why she got off that leg machine.
As an added bonus we got to see another awesome pairing. D'Arcy and Kate.
I loved seeing these two connect. These writers keep giving me new things to love.
Do people in small towns really break into each other's home to throw parties?
I know. I know. It's Ben. But seriously people. I do not approve.
Not even for a job offer. Nope.
Speaking of the job offer.
I have mention Ellen. Oh man. Everytime she's on-screen I lose it.
Next week looks to start with Harry getting those people out of his house fast enough to keep them from watching the baby hatch.
Harry's encounter with LSD didn't last long enough for my taste. I was expecting them to get at least a couple of comedic scenes out of that situation.
But Asta went to get him, and it was over. That was a bit of a disappointment.
It was another great episode. There were several really nice moments.
Do you guys have any theories about how they'll be able to keep Harry from being arrested for Sam's murder while clearing Abigail's name? Please add them to the comments.
Other than that, what did you think of the episode?