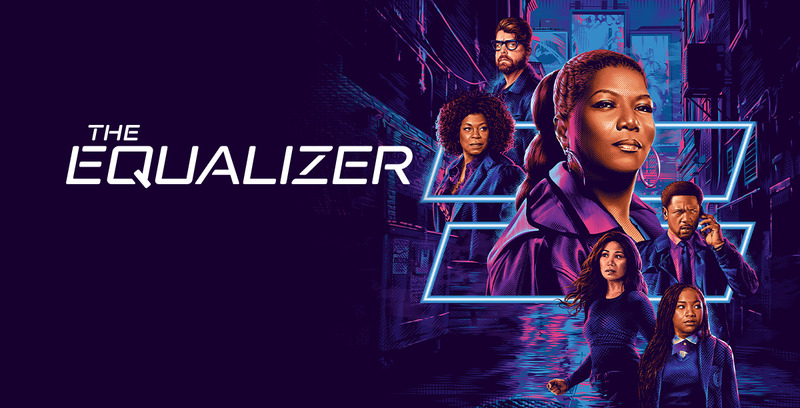 Last week, when Dante congratulated Detective Mallory on his big bust, I assumed that others in the department knew about the arrest and State Department interference. I thought they were referring to public congratulations.

Apparently, the DA's office was NOT informed because the episode opened with Mallory being dressed down by the DA.

Neither detective is being their best self here. Mallory is arrogant and can't help but make sure Dante knows how much better he is.

Detective Dante can't help but let Mallory know how much he enjoys watching Mallory deal with the roadblocks he runs into.

It is a lot of fun.

I was a little surprised at how comfortable Dante is becoming with passing on information to Robyn.

But after seeing the "gift" Robyn handcuffed to his steering wheel, I can forgive him.

Judging by Mallory's final scene, that comfort is going to end up costing Dante.

Client: Malik's mother asks The Equalizer to help her son, Malik.

On its surface the episode appeared to be setting up the same story about a good kid getting dragged into a gang that we've seen so many time.

The Equalizer doesn't usually go for the obvious approach to a story.


The twist here is that the pressure to get involve with the drug dealing gang comes from a couple of DEA agents who are blackmailing a kid into working undercover for them.
Malik is a good kid who earned a college scholarship. At a party in New York he pocketed an unwanted tab of Molly.
When he got off the train in New Jersey, where he lives, the DEA searched him and found it.
This obvious trap allows the DEA agents to use the threat of a federal crime to force Malik to work undercover for them.
Harry expressed my first problem with the entire idea. It sounds like a stupid idea. How do you increase the odds of your operation succeeding by forcing inexperienced, terrified kids into dangerous situations.
Granted the kids are expendable, but isn't it going to take longer to make your arrest if all of the pawns you send in get killed because they make a mistake. It's not like this tactic is going to pull in seasoned thugs who are comfortable in that environment.
Robyn handled the DEA exactly as expected. That didn't make it any less fun to watch her get in their faces when they let the dealers take Malik out of the stash house.
I hope Agent Bradley (the male partner) got punished more strongly than Agent Seeley. Although she lost points with me when she let Bradley talk her out of going after Malik.
I did
not
like his smug expression. That whole "we're giving him a choice" BS just made my blood boil.
Malik was smart enough, not only to realize Robyn was someone he could trust, but he put Robyn's number into his contacts right away.
(I may be giving away the fact that I was born pre-computer age. I still take numbers, stick them in my pocket and try to remember to put them in my phone 'later'.)
Unfortunately, this case forced Robyn to operate a little more out in the open than she usually does. Shooting out the barbershop window got her noticed which caused Mallory to sniff around her case.
Once Robyn saved Malik's life she went after the bad guys. Robyn, Harry and Mel put together a plan that would take down both gangs at once.
I loved seeing the DEA agents pictures up on the wall of villains.
They offer everyone exactly what they want, and not one of them can resist.
Did anyone else get a kick out of Mel craning her neck to look up at Starks and still intimidating him?
I wonder how long it will be before new guys/organizations step in to replace Starks and Simms running Sixth Street Mafia and K-Block.
At this point it seemed like the DEA agents would be the only winners on that villain board.
Nope. Robyn's got it covered.
Robyn sent the reporter that wrote the article questioning wether Robyn is a guardian angel or rogue vigilante to talk to Malik and his mother about the DEA's tactics. Happily, it looks like they're going to lose their jobs.
Family Life:
Delilah has to give a eulogy for Jason.
Delilah is giving a eulogy at the school's memorial for Jason, the classmate killed in a drive-by shooting in the season one finale, but she's got a difficult life lesson coming.
Actually, she learns more than one life lesson. First, that there are some people who will use any occasion, for example the death of someone they don't know, to make themselves seem important.
Second, that sometimes (all too frequently) there's nothing you can do to make others be better human beings.
Robyn doesn't lecture. She asked Delilah a question that got right to the heart of her problem. How would Jason want Delilah to shape his legacy?
Delilah chose to honor it by delivering her original eulogy.
***
I have shows I love that are bubble gum viewing for me. The Equalizer is comfort food. That's about as far as the food related metaphors I use for my television viewing go.
If I had to rank Equalizer episodes I'd have to put this one in the middle of the pack. It didn't stand out as especially good or bad. It is what I expect from the show; a fun satisfying episode. Plus Dante and Mallory are pretty darned entertaining.
What did you guys think of the episode?
What do you think of Harry's haircut?