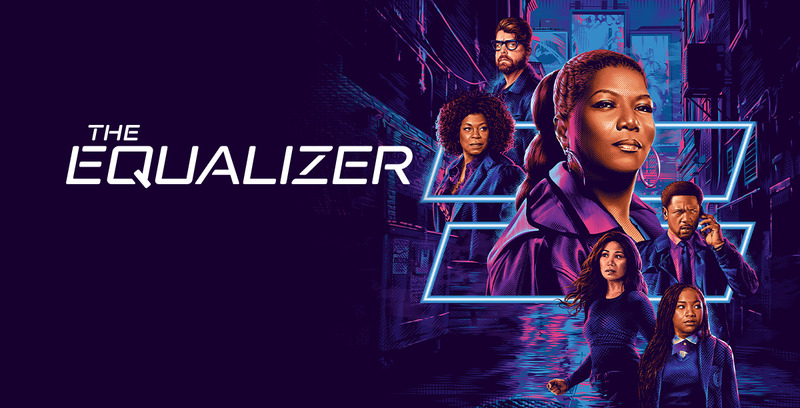 Season 2 has gotten off to a pretty successful start. Aftermath started off with Robyn waiting on the other shoe to drop with Delilah and it's the 5th anniversary of Harry's going underground, AKA his death day.

He got presents, which was a good thing, but his status as deceased hasn't gotten any more enjoyable for him.

After the bad guys nearly hacked his system (if all else fails....kill the power), he asked Robyn to resurrect him. I actually hadn't expected that request, but it wasn't a shock.

It's the first salvo in what I'm hoping is a good twisty ride over the course of the season. In The Kingdom we got a brief look at what's he's been doing since he "died".

Harry used his skills to hide a Saudi dissident named Zaki, whose family and best friend were arrested and tortured because he escaped.


Client:
Dante needs help finding the people who killed his partner.
The shock was Dante admitting he had a situation that needed to be....
EQUALIZED
.
Several cops were killed during a bank robbery. These guys were connected enough to leave zero traces. That was enough to get Dante to call Robyn.
Her identity having been similarly scrubbed, he wisely figures she's got the connections to help him get to the truth. He's not wrong.
The series has done a good enough job of maneuvering Dante into this position that his decision to call to The Equalizer for help was believable.
It barely mattered that his partner is a woman we've never seen before. Three cops were dead and that was enough.
It was also a nice touch that they replayed the clip from last season of his father telling him to decide who he wanted to be and what he was willing to do to get justice.
The bad guy in this case was a bit predictable. I'm ready for Robyn to go up against a bad guy smart enough to make it more difficult for her to take him down.
To be fair this case was more about Robyn figuring out what was really happening than her going toe to toe with the bad guy. I was good with how it played out.
Since I'm focusing on Dante's case from
Aftermath
let's take a brief look at what was going on with him in
The Kingdom
.
The DA has finally assigned another detective to find and take down the vigilante that is The Equalizer.
The new guy, Detective Mallory, is a little cocky, but he doesn't strike me as stupid. I really hope that he's a worthy adversary. It's always more fun when the good guy has to work for the win.
Dante asked to join him on the bust, and, not surprisingly, Mallory turned him down.
I was thinking the same thing Mallory was: that Dante wanted to be there to run interference for Robyn.
Nope. Dante figured Robyn had no plans to be on scene and had likely called in the tip herself.
Dante seemed to enjoy giving Mallory that news almost as much as he would have enjoyed seeing Mallory's expression when he realized "the vigilante" wasn't there.
Client:
The daughter of a diplomat needs someone to save her little brother.
Mira's little brother has disappeared and she's certain his life is in danger, but her parents, who she's certain know what's happening, refuse to tell her anything. So she contacts Robyn.
She starts down the rabbit hole and discovers that the Saudi government wants him because they believe he is a dissident. Of course it's not as simple as that.
For one thing Bishop's assignment is right in the middle of the case. This makes him the voice of the "Big Picture". He makes it clear that the US will not put one, non-American kid's well being above the country's financial and political interests.
Appearances and assumptions don't always play out.
Nothing we'd been told about Ali and why he was in trouble with Saudi authorities was true.
For much of the episode, Robyn and her team believed that Ali was being hunted because he was a member of a group of Saudi dissidents called "Bees". Not true.
Ali was loyal to his country right up until the life of the man he loves was in danger. He chose his boyfriend and technically, I think, committed treason to save his life.
I liked discovering the truth at the same time Robyn did.
I am a sappy romantic (I have confessed that on the site before), so the twist of both of these men being willing to take grand, suicidal actions to save each other just worked for me.
Go ahead. Laugh at me for being sappy. I don't mind.
Another nice touch that played against the cliché was that, as brave as he was being, when the torture started Ali screamed, cried, and begged for them to stop. He wasn't going to surrender, but he was still completely terrified.
Family Life:
Delilah struggles to deal with her new reality.
On the home front, Robyn and Viola are worried about Delilah. Instead of acting out, she's shut down. Home, school and bedroom.
The concern for Delilah and whether she'll be able to keep her mouth shut leads Robyn to consider retiring The Equalizer.
I knew it was going to be Dante to keep The Equalizer in operation, I just didn't expect him to have to convince her to keep going.
Delilah finally came home to "talk". Actually, it seemed more like she wanted to vent and verbally punish her mother for shaking up her world view.
Unfortunately, this is not a household that allows that kind of Hollywood style teenaged disrespect. That was a breath of fresh air.
In fact Robyn pointed out that by sneaking around and spying, Delilah is the one responsible for the change in the state of her world.
In
The Kingdom
Robyn faced another test when Vi discovered Delilah's plans to spend a weekend in another city to attend a rap concert.
Robyn was fully aware that she's on shaky ground when it comes to trust.
I appreciated the realistic realization that Delilah had no issues lying because of the depth of lies she'd been told.
One of my best friends did NOT have a benign reaction to finding out that her parents had lied about Santa Claus. She lied to her parents every chance she got for a year. (She was 9 or 10 when she learned the truth.)
What Robyn decided to do was exercise some of her psychological training. (I don't think this training is
solely
given to CIA agents.
I'm pretty sure my Mom was an expert when I was a teen.
Robyn guilted Delilah into voluntarily skipping the trip and confessing to her plans. The $50 was a really nice little knife twist on Robyn's part.
***
Robyn's finally forgiven Bishop about the information he withheld at the end of Season 1. It was fun to see him have a bit more active role in one of her cases again. I do hope we get to see him and Mel together more. They are a lot of fun.
These episodes were a great start to season two. I was happy to see that Delilah's adjustment story didn't get cleaned up in one episode.
What did you guys think?