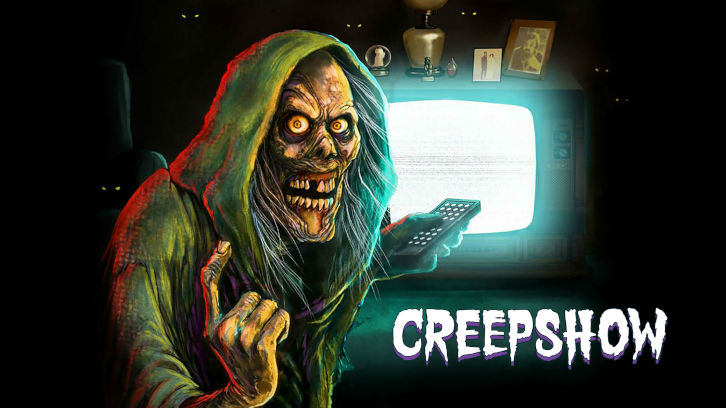 SPOILERS AHEAD - PLEASE DON'T READ UNLESS YOU'VE WATCHED CREEPSHOW 03.02! Yes, you've been warned!
Skeletons in the Closet:
Greg Nicotero directed this tribute to the notable horror films of yesteryear ironically airing right after the Academy of Motion Picture Arts and Sciences museum officially opened. Here, a new horror and sci-fi film props museum opens, but are all of the skeletons really props?
This episode starred Victor Rivera (Zombieland: Double Tap), Valerie LeBlanc (Dynasty), Lucas Godfrey, James Remar (Black Lightning), Paul Kim (Concrete Savannah), and Casey Wortham.
It is too bad that this wasn't the season opener last week since what we got last week really concerned me. I knew Creepshow was capable of more, but they also have the tendency to waste the viewers' time with seriously mediocre tales. It is always a mixed bag with this campy series. Here, I felt it was one of the more successful segments stylistically, even more so than the Evil Dead-on-public-access-TV homage we got last season. The actors were all well cast here and the horror homages - from Psycho, to Poltergeist, to Dawn of the Dead all came from a good place. It is not easy to make an episode involving skeletons without off as amateurish, but Greg Nicotero pulled it off with a knowing wink.
Sure, we've seen this type of story before, but if it ain't broke, don't fix it. But, do ask Tom Savini how to get some of the rice krispies off if you can.
Oh, and the ending shot will have every
Army of Darkness
fan writhing with pleasure. Gotta give props for that one.
Familiar:
Joe Lynch makes a welcome return to the director's chair from a script by
Bird Box
author Josh Malerman and it was not what I was expecting: a terrifically dark treat, both serious and ominous in ways that actually produce real scares. This segment starred Hannah Fierman and Keith Arthur Bolden. She was from
V/H/S
and he was on the recently canceled HBO series,
Lovecraft Country.
It also had Andrew Bachelor, who used to be a social media star from Vine.
Shudder's episode description reads,
"A drunken visit to a psychic leaves Jackson on edge. As time goes on, he realizes he is being followed by a dark force… will the psychic's advice help, or leave him."
As you can expect, some seriously frightening things happen in ways you would initially not expect. I was almost surprised by some of the twists and turns, and I appreciated the occult ritual shown both in the still comic segments and live action shots.
I don't want to give anything away since I'd rather you watch and discover for yourself. It felt a little 1970s at times, but in the best possible way. Of course, Lynch had to put a little urban jive in the mix so things didn't get too ominous. The humor felt shoehorned in for me, but I can understand why they wanted it in.
Segments like these are too few and far between on this series. They really put the Creep in the show.
Hope the rest of the season lives up to he promise this episode unexpectedly showed, but I'm also not holding my breath if the show's history has taught me anything.