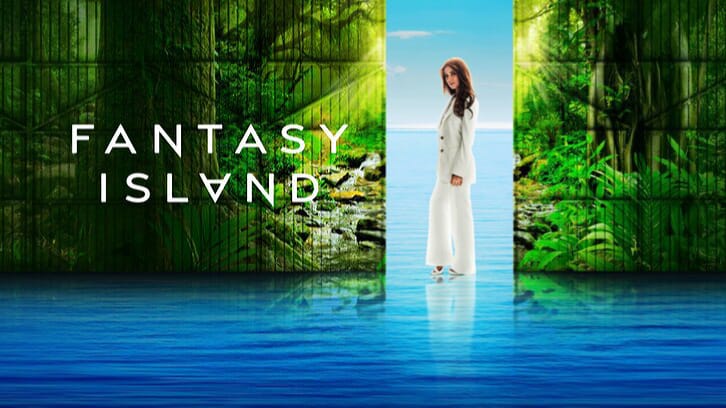 Usually I open these reviews with my thoughts about the subplots that focus on The Island's employees. This week that story was listed as an official fantasy so let's start there.

Guests: Javier
Fantasy: To get to know Elena Roarke better.

This should have been the episode that gave us chunks of information about Elena's story. Unfortunately we got nothing.

There's a bit of comfort in the realization that Javier didn't get any closer to knowing Elena than the audience has.

If the writers are shooting for "mysterious", they are missing the mark.
Once again we get a bunch of scenes of Elena personal's life that give us absolutely no new information about the character.
Javier declares that Elena is part of his unit and, if she ever needs him, he's there.
Why? What does he know that we don't? When can we start learning some of this precious information?
We learned a lot about Javier, but nothing beyond the "I chose to be here." and "What we do is important." lines we've heard for 5 episodes now.
This is not how you get your audience to connect with a character.
Start telling me something, or you are going to lose me as a viewer. Frankly, as much as I have been enjoying the fantasies, they are not compelling enough to make the show "must see TV".
Part of my growing frustration is that the characters being written for most of the fantasies so far have been easy to connect with.
Guests:
Nisha
Fantasy:
To chose which husband would lead to the best version of herself.
Nisha, a young Indian woman, has to make a decision about the next phase of her well planned out life. The most critical decision and the one she's come to The Island for help with, is to select a husband. (She wants children by 30 and a husband is required.)
The problem is that she finds herself with 2 potential husbands. A man she's been dating for 4 years and the 'perfect on paper' one her parents have found. This is a tradition that she's always planned on following and even gave her parents the go-ahead and make the selection.
I appreciated the fact that they made it clear that Nisha had invited her parents to find her a match.
I think a number of American's believe that this Indian tradition is something forced upon their modern children. (I did until I got to know several co-workers.) It was nice to have that element of the story clarified.
That clarification left me free to be distracted by my feelings about how Nisha was treating Josh.
While she never lied to him about her plans, she'd essentially been stringing him along until the "right man" came into the picture, because when it came to her plans, she doesn't want interracial children.
I wondered why he'd stuck around for 4 years. Did she ever introduce him to her parents? He did, later, confess that he'd not been actually listening to what she'd been telling him.
Her initial desire is to have The Island tell her which man to chose. Elena leads her to crafting a fantasy that The Island
can
grant; to find out which version of who she becomes, after marrying each man, she'll like better.
Her answer was 'neither'.
It was interesting watching her expression when she realized that she'd given up both her career and her dream. What I didn't expect was them taking into consideration that when Josh married Nisha, he gave up his dream. Since he never moved to Silicon Valley, his app never got off the ground and he was unhappy.
Neither life made her happy. As with so many women, even in the 21st century, it never occurred to Nisha to consider making herself happy first. It struck me, during the fantasy's set-up, that "her plan" postponed her dream until she was 60.
I liked the lesson and found it interesting that the way to getting to that lesson was to look at both choices beyond the wedding.
Now if the writers would stop vamping and get on with letting us really get to know Roarke the odds of my watching past episode 7 would be greater.
What did you guys think of the episode?