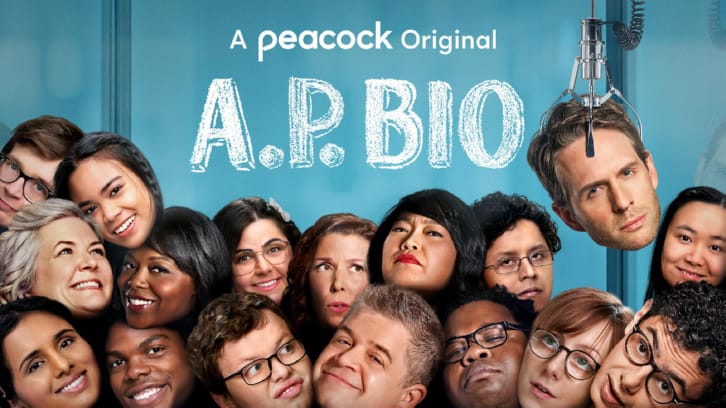 Full disclosure: Season 4 of Peacock's A.P. Bio was the first time I had viewed the comedy series since the first season that aired on NBC back in 2018. I never bothered to catch up with the middle two seasons before previewing this new eight episode season that was produced for the Peacock streaming service. However, quickly after starting it, I didn't feel like I had missed anything. Yes, there were some new characters I was unfamiliar with, but it was nothing a few early episodes didn't catch me up with quickly enough.
I remember binge-watching the first season on Hulu back in 2018 right after it had aired on NBC and remember feeling disappointment. Sure, the series was witty, bizarre, and consistently bleak that I hadn't seen in a high school comedy since maybe the second & third seasons of Strangers with Candy back in 2000. I just couldn't get myself on board with It's Always Sunny in Philadelphia star Glenn Howerton's portrayal of Jack Griffin, a despondent former philosophy professor who loses his dream job and has to move back to his hometown of Toledo, Ohio to teach Advanced Placement Biology in the local high school where Patton Oswalt is the principle as penance of sorts. As a former graduate of an actual A.P. Biology, I was secretly hoping that they would actually include.....well....some amusing depictions of, you know, the rigors of teaching and attempting to learn actual A.P. Bio in the show's comedic storylines. Such hopes were dashed as the season instead focused on Jack's depression and futile attempts at getting his life together. Have to admit, I wasn't clamoring to watch any subsequent seasons. So, when NBC cancelled the series after season 2, I wasn't surprised.
Strangely enough, I also wasn't surprised when Peacock announced shortly after words that A.P. Bio would be the only NBC series to be be resurrected Netflix-style for the new Comcast-owned streaming series after a public campaign a few of the actors on the series supported. Unappealing anti-heroes such as Jack were a perfect fit for the streaming world IMHO. So, when I got the chance to preview the upcoming season 4 (which I didn't even know was being produced prior to viewing it), I decided to give the series another chance. It was only eight episodes, after all.
I'm glad I did as season 4 was miles above season one in terms of storytelling and comedy. I didn't feel the repulsion I felt toward Jack and the portrayals of his students didn't feel as one-dimensional. Since I am previewing the entire season here, I cannot reveal any potential spoilers so I have to be brief. Needless to say that there are some surprise celebrity guest spots playing characters related to Jack you will probably enjoy (I didn't want to say from whom, but Peacock already put Bruce Campbell in the trailer as Jack's long-lost father, so that will not be much of a surprise if you've already seen that), an effective parody of 70s detective shows (the kind that might have aired on NBC back then), and a surprisingly uplifting finale viewers of traditional broadcast sitcoms of yesteryear will probably appreciate. And, of course, there will be romance....much more romance than expected.
Another smart move was moving the majority of the writing away from Jack to concentrating more on the supporting cast. I particularly enjoyed Paula Pell's performance as Helen this season. All of the students' performances has improved from what I remembered from the initial season from Lyric Lewis, Mary Sohn, and Jean Villepique to name a few.
So, I say at only eight episodes and four hours of running time, you could certainly do worse than season 4 of
A.P. Bio
. You could also maybe do a lot better this month also, but it sure beats sitting through (or teaching for that matter) an actual A.P. Bio class for sure and you can be sure I am typing from experience.