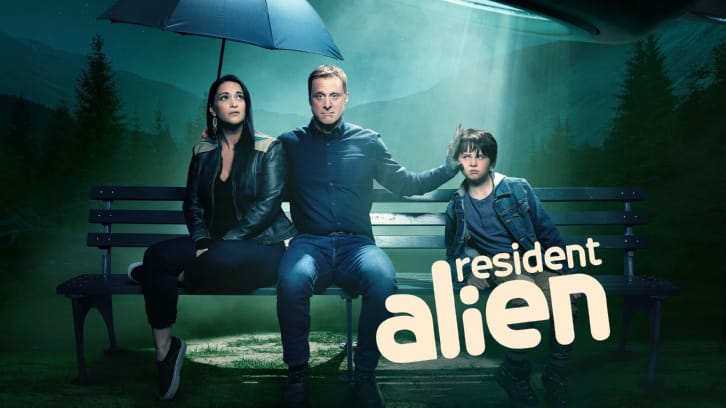 This week opened with the most surprising piece of information yet. Human-Harry is the person who actually killed Sam!

On the one hand, it felt like a attempt to soften Alien-Harry; make him seem less like a bad guy. On the other hand, I'm thinking we may never find out why.

D'Arcy went straight to the sheriff with news of the dead body she found. Of course, when Harry answers the door, she becomes the person who cried wolf. I felt a little sorry for her.

That whole sequence, especially the fight to get D'Arcy out of the cabin, was a hoot. Everyone is more handsome than a pig.

I did love that, when she found Asta alive, she was ready to go on the run with her. It's nice to have friends who have your back.


But...she did just assume that Asta killed someone.
I think I'll avoid asking my best friends if they'd make that assumption about me. I don't think I want to know the answer.
(The best friend that edits my reviews said she couldn't go on the run with me, but she would hide me. I'll take it.)
As we all expected, Casper and Logan underestimated Max. Unfortunately, having been outsmarted, they were left with only one way to get back on task. They showed up at Max's house for a "private conversation".
Sahar is smart enough to recognize immediately what it means when Logan points out that Harry's ship is a Quimbaya amulet. And with that, Harry's secret is out. I was beginning to think we'd have to wait until season 2.
Casper finally learned a lesson, I'm betting she's always dismissed as unimportant. Do not threaten someone's child. I loved watching her crawl out of that house.
It wasn't a surprise that Kate could do serious damage protecting Max.
The surprise was Ben (who went into melt down when the taco night menu changed) going ape---- on Casper and Logan.
Thank you Sheriff, for reminding the couple that the bedroom was just upstairs.
I found myself wondering how often Max left the room to give his parents some privacy.
I kind of liked the way Jay and D'Arcy connected. It was a pretty good way to tie up the story with Jay. It didn't need a bow, but it did show her beginning to move forward.
Harry spent a good chunk of the episode procrastinating about pushing the button.
First it was food; PIZZA.
Then it was testing the device. Which was a pretty neat way for him to get rid of that body permanently.
The only body part to worry in season 2 will be a foot. (I can't remember what the DNA conclusion was going to be with regard to the foot.)
Before he does his test run, Alien-Harry has another, imagined, conversation with Human-Harry. It irritated me a little, but it made sense that it would be filled with misconceptions on Alien-Harry's part.
Alien-Harry completely ignored the fact that Human-Harry and Isabelle were in the process of getting a divorce when Isabelle came to Patience.
So, essentially, Alien-Harry was projecting emotions onto Human-Harry likely didn't feel, to make himself feel guilty for killing Human-Harry.
I did not expect Harry's DNA remapping to become so embedded that his device could, conceivably, affect him. You'd think that would mean he would abort the entire plan. But nope.
I think he would have if Asta hadn't broken his heart.
How human is it to push the button because someone just broke your heart? This was one of my favorite moments of the series.
Instead, Harry decides to drop the device as he flies away from the planet.
I was a little worried that Harry would be an easy mark for General Wright and her people.
IMHO, no being with the technology to make it to Earth from outside our galaxy should be easily taken down by human weapons.
So I was happy to see Harry deal with them very easily...and without killing anyone.
He and Asta's good-bye was pretty sweet. 80 seconds...could Alien-Harry walk more slowly!!! LOL.
I thought the season finale did a great job of tying up all of the season's story threads.
Harry's secrets are all out on the table for his human companions, and he finally made a choice.
The Sheriff and Deputy Liz have finally become a team and seem to have settled into a position of mutual respect and are no less funny for it.
It occurred to me that having discovered that her best friend has been keeping secrets and actively lying to her has been a great loss for D'Arcy. So, the chance to befriend Jay was a nice lifeline. However, the lessons D'Arcy may teach Jay.....could be trouble.
This is a show that makes me hate this new short season paradigm. I want more. I grew up with 22 episode seasons and I think this show could make it work. I would even be happy with 13 episodes of this show! Hopefully, we won't have to wait too long for season 2.
What did you guys think of the finale?
Sweet Season Ending Moments:
• The Nesperesso Machine.
• D'Arcy and Jay team up to send a message to Jimmy.
• Having Max hide in the ship in order to provide a reason for Harry to return to Earth.