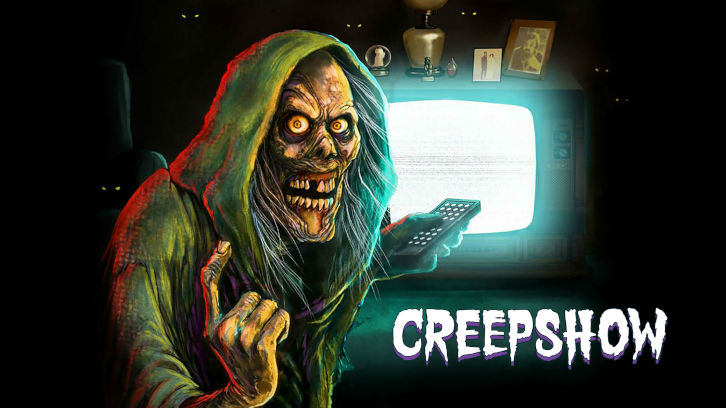 SPOILERS AHEAD - PLEASE DON'T READ UNLESS YOU'VE WATCHED CREEPSHOW 02.01! Yes, you've been warned!
Model Kid
As the second season begins, we see the Creep getting out an old 16mm projector to watch some 1930s-style black and white monster movies. I'd forgotten how much I miss seeing him on this show.
This segues into basically a Greg Nicotero-directed homage to the wraparound story from the original Creepshow film (the child in which was played by Stephen King's son, Joe King, better known now publicly as Joe Hill). Here, we are introduced to a young blonde boy named - surprise, surprise - Joe (Brock Duncan) who has an obsession with creating and painting horror film action figures, like the Creature form the Black Lagoon-type amphibian monster or a Mummy, and dressing up like a classic Bela Legosi-type vampire around the house - Fade to Black style. Where exactly he gets the dollars to create and maintain such a collection isn't quite explained, but that is not the point. Not surprisingly, this does not please surly uncle, Kevin, (Entourage's Kevin Dillon), who moves in with Joe's aunt once it is revealed that his mother is suffering from a terminal illness. Instantly, Kevin begins imposing his will onto Joe and his own wife. He starts acting abusive and wants Joe to be like a "normal" child and get rid of his toys and costumes. The acting here is surprisingly convincing and the tone is more poignant than eerie.
As you can imagine, things don't go well for Kevin in an impressive practical effects display of the supernatural. It plays like the "Boys Do Get Bruised" story in
Tales From the Hood
, except with a lot more colorful background and lights and a lot campier tone. I appreciated how it played with reality and how it conveyed how real the imagination of a child can become. Apparently, the look of Joe was inspired by the child actor who played Charlie in the 1970s film of
Charlie and the Chocolate Factory
, which is another story in an of itself. It's a welcome return for the series after this new season was delayed so long by the pandemic.
Public Television of the Dead
In this Greg Nicotero-directed segment that is pretty much designed to get a lot of horror fan attention, we get a show-stopping
Evil Dead
homage, complete with Bob Ross parody. It is set at a PBS-type public television station and features many public TV stereotypes: a children's show ventriloquist host, an artist, and a diversity-hire station manager. Sam Raimi's brother, Ted, shows up to feature the
Necrominicon
and read from it on the air. From this point, the segment turns into
Evil Dead
meets the opening scene of
Dawn of the Dead
meets
Halloween 3: Season of the Witch
with a limited Shudder.com budget. I enjoyed the practical effects and the living ventriloquist doll and Nicotero nailed the cartoonishly manic feel Sam Raimi gave the
Evil Dead
sequels. I also thought it was fun to guess at first what show was going to be the one that unleashed the evil beings since the set up was completely asking for demons to wreck havoc on the air. However, I also felt the tone was a little too broad, even for
Creepshow
. I was hoping for something a little....creepier. Also, including a racism morality sub-plot between the rude children's show host and the vulnerable station manager felt like a different show all together. It felt misplaced to me. I also missed having two different directors handle the different segments in one episode. Hopefully, that will return in future episodes this season.