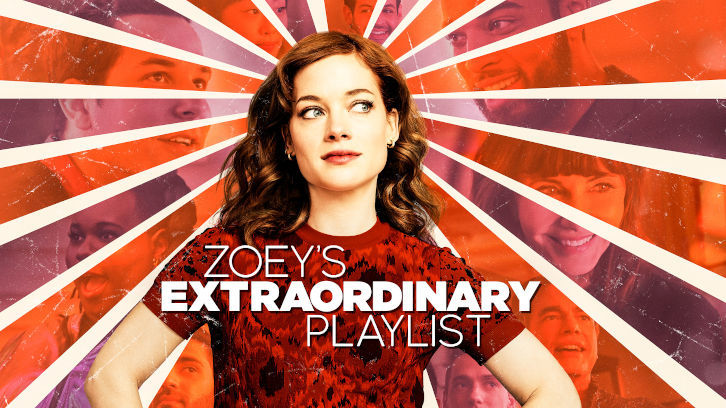 The bands are playing, everyone's dancing and I'm crying - that's right, Zoey's Extraordinary Playlist is back and just as good as ever!
At the top of the hour, It's Zoey's first day going back to work after Mitch's death. Zoey wakes up to Mo singing her Andra Day's "Rise Up" - but it's not a "heart song" so much as an alarm clock. In fact, Zoey hasn't heard a single song since her dad's funeral, and secretly wonders if her powers might be gone for good.
All well and good, in Zoey's opinion, as she wants to ease her way back into the real world. Before heading to SPRQ Point, Zoey meets up with Max, who, still unemployed, is working on "unicorn" business ideas (to...not much avail). Max gives Zoey a ring with a shield and a music note on it, to "give her a little extra strength" for her day. Maybe, Zoey jokes, it will give her real superpowers.
Zoey then heads back to SPRQ Point, where everyone is glad to see her - so glad, in fact, that they all burst out into a rendition of "Hello, Dolly!". Kudos to (Emmy-nominated!) Choreographer Mandy Moore for this one - this number in particular really scratched the musical theater itch I've had since Broadway has been closed. It seems that Zoey's powers are, in fact, not gone at all!
That's just about the only thing at SPRQ Point that hasn't changed, however. As Zoey returns, she finds out that Leif has taken over her job in the interim, which is why just about everything is different on the fourth floor. From dogs running around to standing desks and, most notably, George, the "new, lesser Max," played up to the Josh Gad-iest by new series regular Harvey Guillén.
Those aren't the only major changes going on around SPRQ Point, however. In fact, as a frantic Joan explains, since Danny Michael Davis got put under house arrest, SPRQ Point is now broke! What's more, Joan shocks Zoey by telling her she wants her to take over her job, becoming the new 4th floor manager. Looks like Zoey won't get to ease back into work like she hoped!
After work, Zoey comes back to her building to find Max, Simon and Mo in Mo's apartment watching sports. Turns out that the three of them have been hanging out a lot in Zoey's absence, making the Max/Zoey/Simon love triangle even more complex. Max and Simon tell Zoey that they both agreed that neither of them see her as a prize to be won, and don't want to pressure her to make a decision. They then, ironically enough, proceed to compete with each other in an epic duet/battle of Jet's "Are You Gonna Be My Girl." "You can stay," Simon tells Zoey (in an incidental metaphor for her romantic situation), "but you're gonna have to pick a team."
Zoey doesn't feel ready for the pressure, however, and leaves the three unlikely friends to their own. After a classic "what should we eat" discussion, Max gets an idea to start a restaurant where you can order food from other restaurants - a cute (but also objectively bad, right?) idea that he identifies as his "unicorn" business idea. He invites Mo, who first suggested it, to be his creative partner. Mo initially is hesitant, but seems to agree to the idea after some convincing.
The next day, Zoey finds herself insanely overwhelmed at work. On top of everything that's already happened, Simon and Max are checking in on her incessantly, everyone is coming to her with every problem, and Leif and Tobin have been hazing "New Max" relentlessly. As a lonely George begins to sing "Don't Cry Out Loud," by Melissa Manchester, she explodes, storming out and going home.
Later, Joan comes to visit Zoey at home, apologizing for putting so much pressure on her, but admitting that it was really because she was worried about "having her predecessor in place before she left." She's moving to Thailand to lead SPRQ Point's Asian division (a thin explanation for Lauren Graham's departure as a series regular), and wanted to appoint a new manager who she believed in - hence, Zoey.
Meanwhile, the rest of the Clarke family are struggling in their own ways. David and Emily have welcomed new baby Miles, but as Emily confides to Maggie, the two are overwhelmed with the change. When she reaches out for Maggie's help with the baby, however, Maggie seems unresponsive.
Zoey has to hack into her father's laptop to get banking information for Maggie, but instead, she accidentally finds a file called "Testimonials," with video messages for Zoey, Maggie and David. The Clarke family gathers around to watch them, but Maggie quickly shuts it off, because they were made as Mitch's ability to speak was beginning to deteriorate and she doesn't feel ready to relive those times.
That night, Zoey and Maggie commiserate on not knowing how to be in the world anymore, with Maggie even admitting that she feels like she can't hold Miles because it's not fair that she gets to do that and Mitch can't. That's when David and Emily call them into the other room, where they have Maggie's video from Mitch pulled up. Turns out, it was filmed on one of his "good" days, and his message - of love and remembering old times - is just what everyone needs for a blessed moment of release. As the four go to make dinner together, David, Maggie and Emily sing fun.'s "Carry On" (If you're lost and alone / or you're sinking like a stone / Carry on / May your path be the sound / of your feet upon the ground / Carry on).
Zoey realizes that she, too, should be "carrying on" - and gets to just that the next day at work, taking the promotion from Joan and ordering Tobin to stop hazing George.
George later thanks her for standing up for him, admitting that acts of kindness don't often occur in his life and calling Zoey a "superhero." She looks at the shield ring, realizing it may have given her powers after all...and she seemingly makes her final (and arguably biggest) decision of the episode.
As Max comes to tell Zoey about the restaurant idea, Zoey asks to talk about what happened between them the night Zoey's dad died. She wants to "carry on," she tells him….with him! They kiss, and the episode ends.
I really respect this show for not shying away from the grief aspect of the story. It's clear that unlike most shows stories about death and grief, Mitch's death won't be a "blip" plotline, and his character won't just be forgotten now that he's gone. The real, honest thoughts and the rawness of emotion that is so inherent to "Zoey's" structure is truly one of the crowning achievements of the show as a whole, and is still present in full force going into season 2.
If this show was a breath of fresh air when it came out at the beginning of the pandemic last year, it's a full-on oxygen pump now. A show so joyful and positive while still so honest about pain and grief and tragedy is just the thing TV needs in these terrible, horrible, no-good, very bad times. I think objectively, this episode was a slow, uber-cautious start to the season (save for that Zoey/Max shocker at the end!), but that's not necessarily a bad thing after such a painfully fast-paced year.
We'll have to see how the rest of the season goes, but, personally, my outlook is fairly positive. The show hasn't seemed to lose any momentum in the hiatus, and there seem to be plenty of interesting places to go in the next dozen episodes.
Overall, I'd say I relate a lot to the SPRQ Point employees; I'm more than happy to say "Hello, Zoey" once again.
What did you feel about Zoey's Extraordinary Return? What did you think about all the changes in Zoey's work life and personal life? Is there any chance that Max's restaurant plan will actually work out? And how do you feel about the speedy coupling of Max/Zoey (is there any way it will last if it happened that quickly)? Let me know in the comments!
Zoey's Extraordinary Quotes-List:
Mo:(To Zoey) No, honey, you look like a Sad Emma Stone Halloween costume!
Joan: I can't possibly walk a mile in your shoes….are those your shoes from when you were a toddler?