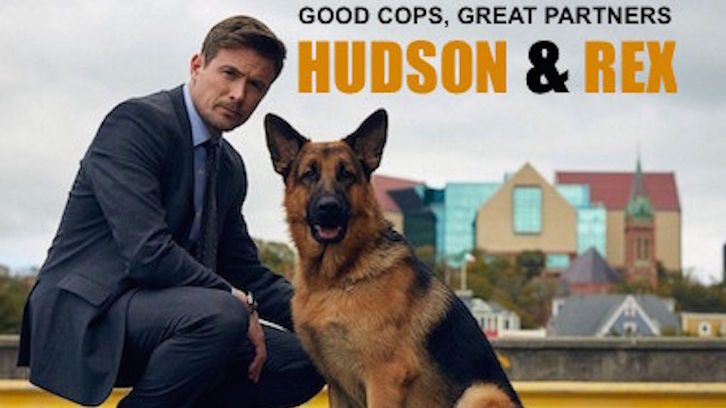 In Hudson & Rex's pilot episode, Sarah asks Charlie how Rex came to be his partner in Major Crimes. While taking a boat to where he hopes a young girl, and Rex, are, Charlie recounts the story of the loss of Rex's partner, and how taking him home for a couple of nights led to the bond we see now. Through the past two seasons, the friendships between the members of Major Crimes have only deepened. Most noticeably, Charlie and Sarah's. During Season 1, their friendship grew and in season 2 the audience saw sparks of something more. It is Sarah in the first episode of season one who asks for the story of how Charlie and Rex met, and it is Sarah who, in the season three premiere, on the anniversary of this first meeting, is told the full story. Welcome to Origin Story. Bring tissues.
Origin Story
opens three years in the past. Rex's partner, Constable Grace Lindsay, is in pursuit of a suspect who has kidnapped a child. Lindsay catches up with the suspect just after Rex has attempted to save the child. Sadly, Lindsay takes a bullet and is mortally wounded. Rex tries to rouse his downed partner. When she won't wake up, he lies down and rests his head on her. Cue the opening credits – and tears. Lots of tears.
One thing to note about this episode, filmed during 2020, is how subtle the effects of the pandemic are in what we see on the screen. With so many shows referencing the pandemic in their season premieres recently, it's refreshing, it's a nice escape from it all, to watch a premiere that appears to take place outside of this world we currently live in. I don't know what the season holds, and if the pandemic will become a part of Hudson and Rex's world, but even just this one episode without a mention of it felt like a chance to breathe normally again for the first time in almost a full year.
"It began with an abduction."
Back in the past, Charlie arrives on the scene. Rex is still guarding Lindsay's body, not allowing Gus and his forensics team to process the scene. "He's trying to protect her." Charlie approaches Rex and an attempt to coax him away with food fails. Charlie gets down to Rex's level and gently tells the dog that Lindsay's death isn't his fault. The beginnings of trust are created, and Rex moves away from Lindsay's body and into the back of a car. Charlie promises Rex that they'll find the person who shot Lindsay. An understanding has been reached between Hudson and Rex. This is the start of a beautiful friendship.
In the present, as Charlie is telling his story, the walk brings them to the street where the child – Sam – was taken from. Returning to the past, Joe and Charlie meet with Emma, Sam's mom, and search the child's room for clues. One of Sam's pieces of artwork on his wall catches Charlie's attention. It is a dark piece, and its imagery concerns Charlie. He asks Emma about it, and while she claims to be unaware of any significance the drawing might hold, this isn't Charlie's first case, and he knows she is holding something back. Another woman is also present. Veronica. She runs the neighborhood watch and supports Emma while the police question her. Veronica teaches a weekend art class, which Sam attends, but she too claims to have no insight into the shadowy figure in the painting.
What we will soon find out is that there is more to Emma's story. Charlie's suspicions she knows more prove correct. To escape an abusive relationship, without custody of Sam, she fled with her son and changed their names. Emma is actually Lisa.
Watching someone who has clearly never had a dog before learn how to work alongside one is part of this episode's charm. It is Rex who has to remind Charlie that he needs food, and Charlie meanwhile is learning the commands Rex is used to. Charlie also learns – the hard way – that dogs in a K-9 unit would have water training and swimming skills.
"Still miss your partner, huh? Yeah, I know. I know. Sometimes they go away. It will take a while to get over them."
Charlie takes Rex home with him that first night and Rex makes himself comfortable on the small couch. There's sadness in the dog, and Charlie sees it. Charlie is dealing with his own loss, having recently gone through a divorce. It's so fresh, boxes still litter his apartment. He hasn't even finished unpacking yet.
The pieces start to fall into place. Veronica, Lisa's neighbor, appears to be part of the kidnapping. They won't get any answers from her, however, as her body is soon found in a car. With Gus's help, the team discover that the kidnapper – Jackson Waters - is taking Sam out on a boat to be delivered to his father. With all the pieces now in place, the puzzle is complete. The team knows the whys. They just need to stop the exchange from happening. At the pier, Rex tracks Jackson's scent and finds him with Sam. Rex won't lose another partner. He takes Jackson down while he flashes back to losing Lindsay. Joe arrests Jackson and Sam is safe. Jackson quickly gives up the location of Sam's father off-shore, complete with coordinates, and mother and son are reunited.
Day 3 comes around, and Charlie and Rex await the results of the assessment. "I don't care what the decision is I'm not letting anything happen to you. Promise."
Renley and Joe deliver the news. The decision, of course, is a positive one. Rex will be partnered with Charlie on a trial basis, subject to review.
Another relationship to note during this episode is that of Charlie and Renley. In early season one episodes Renley made it clear she didn't like the partnership, because Charlie lacked the necessary skills and training to work with a K-9 unit dog. But through two seasons, Charlie has worked to gain those skills, and Renley sees the work he has put in. There is mutual respect between them now.
"You're a good boy, Rex."
And you're a heart-warming, beautiful show,
Hudson & Rex
. Welcome back. You have been missed.
Missed the episode? Catch up at CityTV.com.