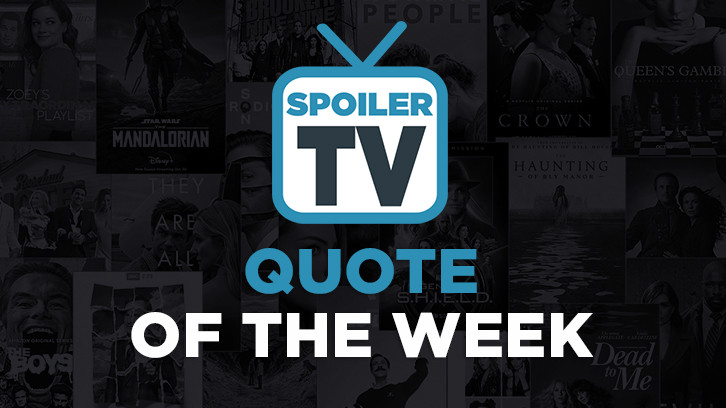 A weekly feature highlighting the best quotes on TV as picked by the Spoiler TV team. We'd love to hear your picks too so please sound off in the comments below.



The Bold Type -
1. Jacqueline: "Who feels sexy and confident." Andrew: "Me." Jacqueline: "Good for you, Andrew."
2. Woman: "I didn't realize you were.." Kat: "Oh, queer? Yeah, I am and I can assure you, there is no liberal agenda to turn straight people gay, promise. We just want equal rights and opportunities, the same ones you have."
3. Mr. Sloan: "Some things take time but you have that now. You get to fill all those days. Every one of them, Jane. And you know why? Because you did something brave. Not just for you but for me and your brothers and your friends." Jane: "Dad." Mr. Sloan: "When you told me that you tested positive for the same gene that took your mom, I... I thought, "I can't lose you too.". But I couldn't tell you what to do. It was your body, your decision." Jane: "And I don't regret making that decision, I just... I don't know. I didn't think it would be this hard." Mr. Sloan: "I get that. But that part of your body, it's not the enemy. It's the part that saved your life. It's not about muddling through. It's about embracing and enjoying your life as
much as you can... Every moment of it." (Jamie Coudeville)
4. Mr. Sloan: "I vaguely remember that picture." Jane: "I'm wearing yellow rain boots and mom's in a brown pattern dress." Mr. Sloan: "Oh, I remember that dress. She loved how easy it was to take on and off." Jane: "Yeah, the photo is on the wall by the stairs, in a silver frame." Mr Sloan: "You okay? 'Cause you didn't say 'gross' when I alluded to your mom and me, you know... doing it." (Folie-lex)
1. Renee: "There's this guy... thought it was different, you know? Turns out he's just another trick." Sunshine: "At least you know now." Renee: "Yeah." Sunshine: "How long you been working here?" Renee: "Too long." Sunshine: "Then you should know men are only good for two things: money and dick. You catch feelings, that's on you." Renee: "...Yeah."
2. Jackie: "Donna, you should know that everything that Junior did, getting sober, trying to make money, going to AA... he did that for you." Donna: "I know you're trying to be nice, but all that mean is that I'm the one who wasn't enough for him."
3. Junior: "Why'd you do that for me?" Osito: "Because, fuck Frankie. I'm the one out here doing it. And fuck Kizzle too, degenerate motherfucker. Man's got to have a code."
4. Jackie: "So what happens when we get him? You want Junior to testify against Frankie?" Ray: "From your lips to God's ears." Jackie: "Is that safe for him?" Ray: "He gives me Frankie Cuevas, I will wrap his ass in Bubble Wrap and let him sleep on my fucking couch." Jackie: "You always this intense about everything?" Ray: "Me? Intense? What about you...? Sherry Henry? She was my CI. I promised I'd keep her safe. Obviously I didn't do that." (Folie-lex)
The Order -
1. Alyssa: "81 years ago, some idiot failed to follow The Order's first rule of demon summoning. So now, every 27 years, we clean it up." Randall: "There's a first rule of demon summoning?" Alyssa: "Well, its' the only rule. DON'T."
2. Kepler: "My incompetence is not in question here." Vera: "No, it isn't." (Prpleight)
Perry Mason -
1. Barnes: "I've seen the pictures, heard some stories. Lots of stories, actually. Practically an original member. One of the 'best young men the city contained.'" E.B.: "Smaller city back in those days. And "best"... has always been a relative term."
2. Sister Alice: "Blessed are the mourners. Isn't that the truest thing you ever heard?"
3. Mason: "I don't like it here." E.B: "We do what we don't like when there's a greater good to be served. You more than anyone should know that." (Folie-lex)
1. Melanie: "You know, people seem to think that those in power answer to no one, they're free to do as they choose. It couldn't be further from the truth. The person in power answers to everyone. I make choices not because I want to, but because everyone demands it. The train demands it."
2. Till: "What I did for you and Layton, I just... I just did it because it wasn't right." Josie: "It's the only reason you need." Till: "I still have a duty to this train." Josie: "We have a duty to each other, and to the workers, and to the weakest among us. There's no future without it, Bess. you just have to decide what's right and wrong. It shouldn't matter what the consequences are for you."
3. Miles: "Are you happy as an Engineer?" Melanie: "The needs of the train are more important than our own happiness. We're Engineers. We keep the world alive." (Folie-lex)


Stargirl -
1. Janitor Justin: "There is no book so bad, that it has not something good in it."
2. Mike: "He's my dad you know. Not yours." Courtney: "What are you talking about?" Mike: "I'm talking about you and him, hanging out all the time, teaching you how to learn to drive and cook and be annoying. Do you see me with Barbara 24/7 because I don't have a mother? No, you don't." Courtney: "Mike..." Mike: "'Cause I deal with it. Pat and I have been through a lot. More than you know."
3. Janitor Justin: "Until death, it is all life." (Folie-lex)