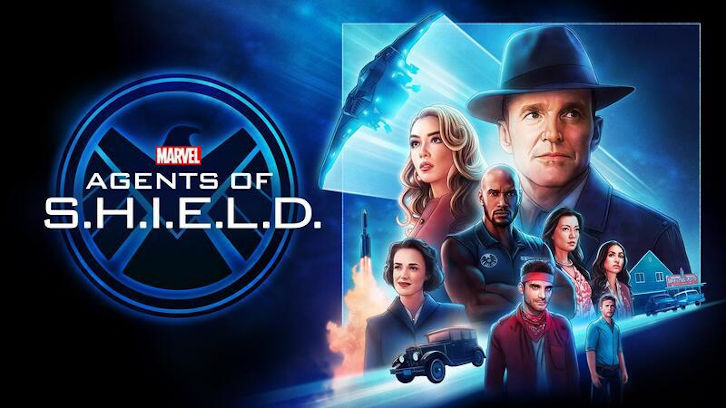 Agents of S.H.I.E.L.D.
"Adapt or Die" was written by DJ Doyle and was directed by Aprill Winney, whose other credits include
Siren
,
Good Trouble
, and
The Fosters
. The show is at a point where it can mostly run without a director - I thought it an odd time to bring in new blood, actually. The epiosde has fewer and much shorter fight scenes than usual, which might be accounted for in the choice of director. The episode features Coulson (Clark Gregg) dying – again!!! – and some answers about what's been happening to Simmons (Elizabeth Henstridge). The episode also sees Daisy (Chloe Bennet) and Sousa (Enver Gjokaj) grow closer… and I'm a fan! Is this match a "dousa" of one??
Stoner (Patrick Warburton) is not happy with May (Ming-Na Wen) and Coulson for blowing up his rocket – and sucker punching him! Once again, I just love the chemistry in this entire episode between May and Couslon – Wen and Gregg have great timing. Stoner isn't happy to have to use his celebratory steak to take the swelling down on his eye – and guesses that May's real name isn't Chastity – another disappointment. She also breaks it to him that she's not from HR – and Coulson leans over to tell her that Stoner got that from their bag full of explosives!
On the way to the Lighthouse, Mack reminisces about the party his parents threw on the Bicentennial. YoYo tries to reassure Mack that they work best under pressure. It's not how he'd imagined she'd meet his parents, but she suggests it'll make quite the first impression! Love the chemistry between these two too!
Back on the Zephyr, alarms start going off. I really liked how this went back to Sibyl's monologuing. Simmons and Enoch explain to Deke that there is something wrong with the shielding around the Zephyr that allows it to time jump. Without the shielding being intact, a jump would pull it apart. And are we also seeing the parallel to S.H.I.E.L.D.? Without the team intact, it too will be pulled apart… Simmons is at a loss as to how to fix the ship – but Enoch can fix her.
May tells him that what she thinks is that he never dies! She complains about how many times she's had to mourn him, and she insists that she's not doing it again. Coulson points out that her emotions are coming back – or maybe she's just mimicking him… and then he realizes that it's really the Chronicoms who are mimicking him. On the train, Luke told him that they could adapt – and they saw him and realized that they could steal personalities. The plan is to replace the Agents and take over.
Mack's parents are getting impatient with their "rescue." Mack and his father bond over getting the door opened that is separating them from the Quinjet. The two couples work together to open the door. YoYo shares that she calls Mack "turtleman" and Lilla asks if it's because he slowly won her over! They hear someone coming, and John's arm is injured. Mack leaves them to make sure that the Chronicoms don't get anywhere near them.
Coulson tells Sibyl that she's not like any other Chronicom that he's met – she's a poet for one thing – and she returns the compliment – but again, Coulson points out – or starts to – that he's NOT a Chronicom! He's bemused that she's willing to answer any questions he has.
Back on the Quinjet, Mack asks where Coulson is, and May tells them that he's gone. YoYo asks if he's dead, and May insists that he'll come back – he always does.
Back on the Zephyr, YoYo sits with Mack trying to comfort him. Daisy is in the healing chamber with Sousa watching over her. Deke tells them that they're about to jump – and Sousa declares that he's where he needs to be – he's not staying behind. Coulson hasn't returned. As soon as they jump, Mack takes his motorcycle out for some air. Mack doesn't go far, but Deke goes to check on him. He gets what he's going through. Simmons calls Deke frantic – they're about to jump again. And then the Zephyr jumps, leaving Mack and Deke in the past – 1982.
I really liked the scenes between Coulson and May and Sousa and Daisy in this episode. Henry Simmons gives a really solid performance too – and as always, Cordova-Buckley and he also have great chemistry. Stoner is hilarious – and it's hard not to like him in the end. The casting on this show is just first rate – but then, so is the writing. I can't say that I'm too fussed about the scenes for the next episode – in a short, final season, it feels a bit too much like filler. I need Fitz back! And Coulson! What did you think of the episode? Let me know your thoughts in the comments below!