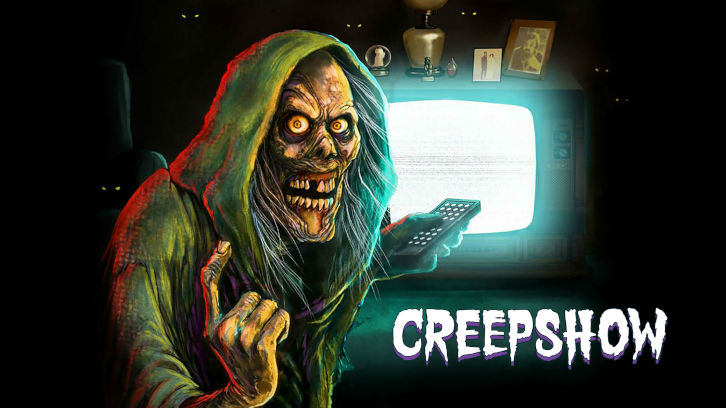 SPOILERS AHEAD - PLEASE DON"T READ UNLESS YOU'VE WATCHED CREEPSHOW 01.03! Yes, you've been warned!
Please note, these reviews are being written about six months after they were originally uploaded to their original Shudder.com network home and right after each individual episode was aired on the AMC network.
All Hallows Eve:
Helmed by the director of the pilot's "The House of the Head" sequence, John Harrison, "All Hallows Eve" was adapted by famed comic book writer, Bruce Jones. Do you enjoy classic Halloween-themed episodes airing in May? Well, then you must have enjoyed AMC airing this (including a fun introduction with The Creep and
Night of the Living Dead
playing in the background)!
This segment found
Creepshow
trying to go the YA route, ie.
Scary Stories to Tell in the Dark
, or
Goosebumps
territory, and coming close to succeeding. Here, a group of teenagers (Connor Christie, Madison Thompson, Jasun Jabbar, Andrew Eakle, and Michael May) in a gang called the "Golden Dragons," wearing some really cheap, unimaginative costumes are walking around their small town, terrorizing certain residents by....yup....
TRICK OR TREATING
(YE GADS!). These rather suspecting residents are surprisingly expecting them to arrive. These young adults clearly have an agenda and know that this will be the their last Halloween to go trick or treating. Is it b/c they are getting too old (or cheap) for their costumes? Not exactly. The twist of the episode isn't too hard to figure out if you pay attention.
Reading some of the reviews when this episode was first uploaded to Shudder, some critics didn't care for this segment and felt it was a mistake to have included it in the first place. I can see where the complaints were coming from watching it for the second time; The acting is wooden and unconvincing from pretty much the entire cast (most of whom seem to think they're performing in either s tudent film or regional theater production), it isn't scary or suspenseful, the sets and cinematography show the limited streaming series budget way too much (seriously, it made sets from Nickelodeon's original 1990s
Are You Afraid of the Dark?
series look high-budget in comparison. Of course, the rebooted 2019 version that aired when this episode was uploaded actually did look much higher-budgeted), and...the less said about the costumes the kids are wearing, the better, oh...and it's really predictable on top of it.
Despite these complaints, I felt this was one of the more evocative, poignant, and successfully tragic segments of the whole season. I found the quaint, old-fashioned aspects of the storytelling to be endearing and I actually wished this story could have been fleshed out more to be a whole episode or movie. Some of it sort reminded me of the more emotional scenes in the 2005
Trick or Treat
film. I kind of enjoyed that there wasn't a huge reliance on CGI special effects or giant monsters. Here, the only "monsters" are within. I appreciated that
Creepshow
actually tried to show a heart on its sleeve that wasn't specially one of darkness, even if it felt cheapened and short-changed in the execution.
The Man in the Suitcase:
This segment was directed by the co-writer/director of 2007's
The Signal
, and sole director of Netflix's
The Ritual
, and the recent Sundance premiere,
The Night House
, David Bruckner, and adapted by award-winning poet/playwright/novelist (
The Lesser Dead, The Suicide Motor Club, The Blacktongue Thief
), Christopher Buehlman. Shockingly, this was Mr. Buehlman's first-ever TV writing credit. Nonetheless, this is a quote he had to say about this segment, "a nifty little tale of comeuppance...[which] delivers much of what's been missing with Shudder's show so far." Well, I guess he hadn't seen the previous segment, which also delivered on the theme of comeuppance.
Here, though, a young man (Will Kidrachuck) returns from a trip only to find that a middle eastern man (Ravi Naidu) is mysteriously re-positioned into the incorrect suitcase he accidentally picked up from the airport who somehow spits out gold coins when pain is inflicted upon him. Instead of helping this poor individual, him and a few of his selfish friends decide to do the "millennial generation" thing and exploit him for all of the easy money they can get out of him.
Anyone who has ever read any horror morality tale can probably guess what will happen at the big climatic finale. Yeah, there is nothing new under the horror streaming/TV sun here, but Mr. Naidu gives a good performance, the rapper "Big Boi" contributes a fun rap song set to a very 80s-esque spending money montage, and the cinematography is vastly improved from the previous segment. Though, like the series thus far, it is not scary or suspenseful in the slightest, showcases poor acting from the young performers, and contains a cartoonish Djinn-like monster that looks ripped from a midwestern amusement park. Still, David Bruckner will be returning to the director's chair for the series in the next segment in the next episode, same Creep time, same
Creepshow
.
I can wait, and so can you.