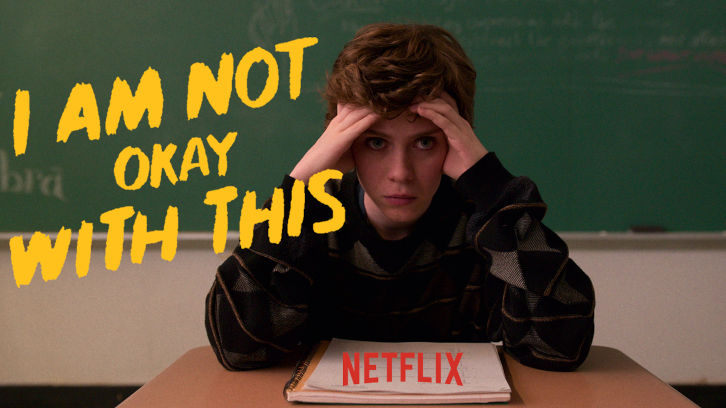 Have you ever wondered what "Carrie" would look like if it were directed by John Hughes?
"I Am Not Okay With This," the new Netflix dramedy directed by "The End of the F---ing World" helmer Jonathan Entwhistle, is set in present day, but it might as well be set in the idealized, late-80's setting popularized by Hughes' films. In fact, there were many moments when I had to remind myself of the show's setting - with its quaint, small-town vibes, jewel-tone color palette and near lack of the use of cell phones, "IANOWT" is a direct result of the culture we currently brew in; an easy, pleasant take on the popular "high schooler gets superpowers" genre.
Sydney Novak (Sophia Lillis) is a normal, small-town girl with your normal small town girl secrets - she's friends with the town stoner/weirdo Stanley Barber (Wyatt Oleff), she's angry that she has to take care of her younger brother Liam while her mother works, she's in love with her best friend Dina (Sofia Bryant), she feels like she's always being followed, and she's recently discovered that she has telekinetic superpowers that explode in uncontrollable bursts of energy whenever she gets overwhelmed. Just another day in the life of your average teen, right?
Syd is by all means the modern teen protagonist: an emotional 14-year-old loner armed with an adorably naive younger sibling, a tragically deceased parent and an enormous chip on her shoulder. Everyone around Syd is trying to live their own lives, which is often infuriating to her. You see, she's already been so destroyed by the world that she can no longer in good conscience live in it, but must be above all of it, upheld by the superior knowledge of life and reality that only the broken-hearted teen can possess.
There's really two ways one can play this role - one is in a frustratingly hollow way, as you might see on many-a-CW show (or "SNL" CW show parody). The other is in an emotionally grounded, truthful way, one in which the audience is allowed to forget about the self-centric worldview of the main character and disappear fully into this world in which every molehill is an enormous mountain, and every mountain causes you to gain extra-normal abilities. Lillis' performance is solidly in this second category, and the show is arguably made for it. Syd is a bitter, spiteful, angsty troublemaker, but she's also a confused, broken kid. Lillis shows us both sides of that coin, and seemingly rather comfortably.
Syd's mother Maggie, played by Kathleen Rose Perkins, is essentially a background catalyst for Syd's emotional outbursts. Her role is to come in, yell at Syd for not doing enough, and then get marginally angry at Syd's angsty retorts. Maggie constantly pulls double, triple, and possibly even quintuple shifts at the town diner, making barely enough to afford groceries for her family, which is why Syd hates her so much because she's "never around" (like I said, Syd is pretty entitled). Syd also takes care of her little brother Liam (Aidan Wojtak-Hissong), with whom she shares a few tender moments throughout the season. Syd's father committed suicide the year before, and the mystery behind his feelings and intentions is a major factor in the emotional instability that triggers Syd's powers.
Dina, Syd's best friend, is not nearly as socially awkward as Syd is, and in the first episode, she begins dating the school's resident d-bag jock/bad boy, Brad Lewis. Syd's jealousy of Brad as Dina begins to spend more and more time with him leads to the very first time she uses her powers, accidentally making Brad's nose bleed as he and Dina hang out in the diner. Dina's relationship with Brad also leads to Syd realizing her feelings for Dina were deeper than just friendship. When Syd makes a move on Dina at a party, Dina initially rebuffs her, leaving her heartbroken and causing her to run out into the woods and break down, clearing out an enormous amount of trees, Daisy-Johnson style, in her wake.
Stanley Barber is Syd's neighbor, and around the same time that Dina begins to ditch Syd for Brad, Stan and Syd also begin to grow close. The two hang out, smoke weed, and hook up. Turns out, Stan has been harboring a huge crush on Syd, and even when she realizes that she doesn't like him back, in a mixture of pity, embarassment and social awkwarkness, she agrees to go to Homecoming with him. Later, when Syd breaks down in the woods, Stan is there to see it, and he takes it on himself to help her discover the secrets behind her powers, leading to arguably the best scene of the series as he and Syd attempt to test her abilities in an empty bowling alley.
Near the end of the season, Syd finds out that her powers may have a stronger connection to her father than just being an emotional reaction to his death. In episode 6, Maggie reveals that after Syd's father returned from military deployment, he experienced a similar paranoia to what she had been feeling since her powers came about. This plot point is quite intentionally left open for a potential season 2, and we don't learn whether Syd's connection to her father was metaphorical or more literal.
Syd finds out that on the same night she tried to kiss Dina, Brad was downstairs, cheating on Dina with another girl. Being the good (and still jealous) friend that she is, she tells Dina, who breaks up with Brad. For revenge, Brad steals Syd's diary, in which she has not only been writing about her friendship with Stan and her relationship with Dina, but also her mysterious powers. He brings it to the Homecoming dance, where he gets on the loudspeaker and begins spilling Syd's secrets to the entire school.
This is where the "Carrie" comparisons become the most relevant, as Syd, in a blaze of fear, anger and embarrassment, accidentally uses her powers to violently explode Brad's head. The entire school, including Dina and Stan, scramble in shock as Syd runs, covered head to toe in blood just like the King protagonist, from the school, into the woods and to a treehouse, where she is confronted by the mysterious entity that has been following her this whole time - aaaaand, cut to black.
All in all, I felt that this was a pretty solid first season. It was a little too "Riverdale" at times, and at others it took itself a bit too seriously. This season consists of only 7 20-ish minute episodes, so it feels like a lot of plot points could be more fleshed out, but that in itself is not necessarily a bad thing, since the writers are clearly setting us up for many future seasons, no doubt overflowing with lore.
One of my favorite things that this show did was reunite "It" alums Sophia Lillis and Wyatt Oleff. I'm a huge fan of the new "It" films, and appreciate the fact that the casting directors at Netflix continue to recognize that the actors from those movies are some of the best young actors working today. Additionally it was also great as an "It" fan to see Oleff get to show off his range, as his character in those films (also named Stan) was stiffed narrative-wise.
This show is a metaphor wrapped in a million other metaphors. Like many a Stephen King novel or 1980's teen movie, the main events in the show are meant to echo the dramatic turmoil of high school life. Superpowers and self-discovery go hand-in-hand, and in the post-Harry Potter world stories like these are, frankly, a dime a dozen. The appeal of "IANOWT" doesn't come from its premise half as much as its directorial style - "being real" without "being pretentious," - and its dream-team cast. As mentioned, Lillis and Oleff are the standouts, but Wojtak-Hissong, Bryant and Perkins are all also worth a mention.
All things considered, I really liked this show. A pleasant little blend between Stranger Things and Life is Strange (and all the other "strange" properties in between), "I Am Not Okay With This" isn't revolutionary, but it's solidly made and engaging enough to get me on board for a potential season 2.
What were your thoughts on "I Am Not Okay With This" Season 1? Are you hooked? Are you, in fact, okay with this? And fans of the original graphic novel: I didn't forget about you! Did you like this adaptation?