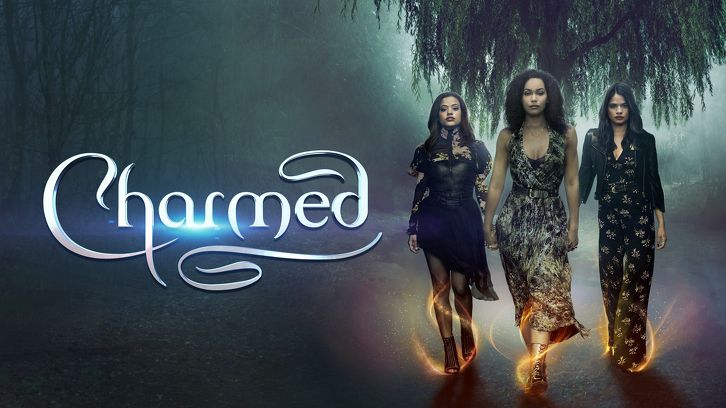 Charmed returned after a Valentine`s Day break with two strong outings, which put the show back on the right path. Well-paced and with solid character moments both outings pushed the story forward and revealed enough new information to set up the back half of the season.
Breaking The Circle
Episode 13 of season 2 was directed by Joe Gallagher and written by Blake Taylor. I wasn`t really a fan of some directional choices, as the transitions felt a bit wanky at points but the story and reveals the episode delivered made it worth a watch. The episode followed two storylines, on one side we had the Charmed ones trying to reestablish Macy`s powers and their power of Three, while Harry went on to face his dark self, with Abigael.
The sister's story revealed quite a bit of Charmed mythology. A lot of original fans are/were annoyed by the changes the writers put upon the Charmed mythology, from the pilot episode. I found them quite exciting, to be honest. The original mythology was so stiffy at some points and set in their ways. The reboot is exploring the magical world differently and trying to expand it. The revelation that the girls aren`t the first Charmed ones caught me off guard and for a moment I thought it does make them less "worthy". But as the episode unfolded and the revelation of destruction came to surface I realized it isn`t the Charmed powers that make them special or worthy, who they are is what makes them stand out, what makes them truly Charmed. The visuals during their confrontation with the Guardian and former Charmed one (played by the wonderful Kandyce McClure) were simply stunning. Kandyce delivered a gripping performance, the emotions she carried and with her voice and posture just hit all the right places. The sincerity and strength she brought to the role transferred so well through the screen and made a lasting impact on the sisters.
The Guardian: The Power of Three can set you free or way you down.
The revelation that the Power of Three comes with the destruction of the sisterhood and death of one of them rose the stakes quite a bit. I don`t believe either sister will permanently die but it does loom over their shoulders, as seen in "Sudden Death". While Maggie and Mel were all in on it, Macy`s struggle felt understandable. She confessed she missed being just by herself but that doesn`t mean she doesn`t love her sisters beyond anything. The love for her newfound family is stronger than anything and she wouldn`t let anything or anyone take that from her. Her sister`s standing by her side and letting her make the decision on her own was such a poignant moment, I just wished they hugged to make it a full circle before they went on breaking the circle.
The escape room situation was a well-thought idea with a funny and emotional execution. The introspection of their motivations and fears was beautifully delivered by the girls and made me cheer for each of them individually. Macy revealing to Maggie that Parker was alive was such a relief, I thought Maggie would find out on her own, which would`ve sucked. I wasn`t expecting either confession but in retrospect it all made sense. Maggie`s motivation to become a better fighter, to do all this good, it came from the fear she was a bad person for letting Parker go this easily. The burden on Mel`s shoulders to keep her family at bay and safe. No one wants that pressure, no one wants the weight of the world on their shoulders. But she will take it on nevertheless, cause her family needs her and there is nothing more important than her family. Macy`s desire for being a loner again resonated so well and I am surprised that it wasn`t explored earlier. She was tossed into this family and did feel like the third wheel occasionally. Sometimes it is easier to be alone than afraid of getting hurt.
Meanwhile, Harry recruited Abigael on the mission to find Jimmy. It was an odd choice, but understandable to a point. Harry needed the extra power but wouldn`t risk either of the sister's lives cause of Jimmy. Also, neither of the sisters would kill Harry to keep themselves safe from Jimmy, they rather die fighting. Yet, the story took an unexpected turn as Jimmy sent Harry on a rescue mission instead. In Maine, Harry and Abigael encountered the powerful but very young time-witch, Cassie. The Baddies went after Cassie to extract her mighty power. It was a good show of how cruel and relentless the Bad guys are. Not even Cassie`s young age would turn them off from their mission. It was great to see Harry be there for Cassie and give her the needed comfort and stability in this dark hour. I am sure this isn`t the last we saw of Cassie, especially after even Abigael taking a better glance at her. Talking about Abigael, I am not a fan of the manipulative game she is playing but I desperately wanna know more about her motivation. Why is she so infatuated with Harry? Is it jealousy? Jealousy of Macy and how she was expected by the magical community unlike her. So she wants to taint everything she has. I just need more information.
The confrontation between Harry and Jimmy was everything I didn`t know I wanted. Rupert Evans gives both characters so distinct but nuanced differences. Also, I didn`t know how much I missed Jimmy, after 8 episodes he was finally back and he was so deviously toxic and condescending. Excited to see the two sides of James Westwell interact more down the line.
Other Tidbits:
- What is Abigael searching for? The mysterious talk with Godric kept me thoroughly intrigued.
- Abigael calling The Charmed Ones Bouncy, Grumpy and The one you can`t bring yourself to bang had me in stitches.
- Did you feel there wasn`t an appropriate reaction from Maggie and Mel when Macy told it was Harry whom she drew and not Jimmy? Like it was tossed so fast, I was still gasping and they already hit us with a different truth bomb.
- I like the normalcy that Ruby brings to Mel`s life. They are cute and adorable. I just hope Ruby ain`t working for the bad guys.
- The way Maggie`s foresight power works is great. It is so complex and works beyond the obvious contact premonition.
Sudden Death
IMHO,
Sudden Death
was the slightly superior episode to
Breaking The Circle
. It did lack a few sisterly moments, as the girls were on individual missions again. But the gore and fast pace of the episode kept me on the edge of the seat. The VFX of this episode just pushed it up a notch as a new monster rose and put the fear of the Gods into Mel and Harry. Stacey N. Harding directed the episode written by first-timer Tommy Cook & executive producer Jeffrey Lieber.
After a new distress call from Jimmy, things went highwire in camp Vera-Vaughn as they embarked on a mission to save Harry (and Jimmy). Mel and Harry`s mission was one hell of a ride. I am a sucker for a Mel-Harry team up, cause of the road the two of them went through the course of the two seasons. From strangers to best friends it was an emotionally rocky road. The two of them discovered quite a bit and finally understood the extraction mentioned by Jimmy last week. The evil Scientists were combining the extracted magical powers to create an even more powerful monster. The visuals as they were recreating the experiment and the fight against the monster were spooky and looking so good. Mel being the badass Witch we know her for and taking that monster apart was magnificent. I was surprised that they did succeed in getting
Genie
Jimmy in the bottle. I wonder how their further interactions will look like down the road.
Meanwhile, at Safe Space, Macy was going all sciency on her path to sever the connection between Harry and Jimmy. Macy being in her element and using all her knowledge and combining it with magic just brings out the best of her. Julian`s addition to the story was executed rather smoothly. Macy, of course, felt not comfortable discussing this with her loverboy but she was desperate and needed help and who can say no to those kind eyes? Julian`s infatuation with Macy`s brilliance is something I will never not stan, but boi comes second to Harry by a long mile. Eventually Julian gave Macy the much-needed clue, as she realized she couldn`t break the connection, instead she can make them "whole" again.
The follow-up scene at the end of the episode with Macy sharing this information with Harry was such a mind fuck. Seeing Harry this happy about the possibility of being "whole" again was super sweet. The road the writers took with him this season, certainly could`ve been explored better. But his unstable actions were indications of what he was going through. The fact that they don`t know which Harry would be in charge is definitely raising the stakes, yet is that a better option than having a wildcard Jimmy loose? After this brilliant revelation to Harry, we came to the Hacy moment. Like, let`s be honest no one expected Harry to say that. Friendship? Like you guys are two drinks away from making Witch-Demon-Whitelighter Tribrids. But I made peace with the fact that this is the ultimate slow burn. So I`ll take that beautiful hug which was followed by the perfect background score. Lily Kershaw`s Darker Things.
Now onto the story that slightly infuriated me. Maggie`s quest to get the power stripping knife. It felt so forced and unlogical. Like, I do get the sisters and Abigael are at truce but it is really pushing the boundaries at this point. Yes, Abigael isn`t rotten at her core, but she looks weak whenever she lets the girls play with her this way. Abigael making Jordan feel uncomfortable was so hilarious, though. Abigael could`ve smelt the dirt on Jordan and it was just a blast seeing him squirm and getting played by her. Abigael sharing her Witchness protection book with Jordan was an unexpected move, but it gives her another dimension. Where does Abigael stand? What is her end goal? Again, I need information.
The forced scene between Maggie and Parker delivered the sparkles we are used from the two of them. But is it really over between them? I hope yes, but at this point, it seems like only death can separate them. Jordan in the meantime is looking like the much better option for Maggie.
Parker: Hey, Jordan. Take care of her.
Jordan: She can take care of herself.
We stan a supportive dreamy boyfriend to be. Honestly, my stand on Jaggie isn`t that clear. I am not sure either of them is ready for a relationship. Not sure if Jordan is even single, but he is the type of man Maggie needs in her life, strong and a believer in her own powers.
The episode ended with an expected reveal. Aunt Viv is behind the evil scientist organization and Jimmy`s Master for that matter. An expected twist, but with a lot of potentials. What is her motivation? And how much does Julian know about it? Will a potential magical background to his parents' death sway him to Vivian`s side? Or will his tiny innocent eyes stay that way?
Other Tidbits:
- How great was it to see the girls almost restore the Power of Three? While it is getting a bit. frustrating for them to fail time after time, they eventually getting it back should be quite satisfying.
- Also, why are Macy`s powers this wonky? I can`t wait to see it getting explored more.
- Maggie calling Macy out on the longing looks she and Harry are exchanging was so me. I would be all up in their faces.
- Maggie calling Abigael: Evil demon horny pants! We stan a Queen.
- When will we get to meet Choochie? We really need to.
Charmed is all new on March 27th, so there is quite a bit of time left for speculating. After this break, there shouldn`t be any more pesky breaks ahead till the season finale. What are your thoughts on the latest two Charmed episodes? Share your thoughts in the comment below and let's keep talking till the show returns. Till we meet again.