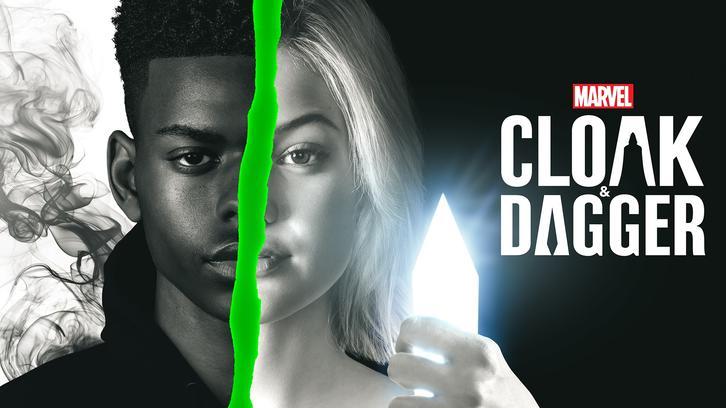 Well, that was awesome. The strength of the episode, for me, was that it depended so much on Tandy and Ty's friendship. A smart move because, given how the villain attacks, it was a battle that couldn't be fought in the real world.

I really couldn't articulate it until I was watching this episode, but one of my favorite things about Ty and Tandy's friendship is that they are willing to tell each other hard truths when they need to hear it. It's easy to tell a friend the supportive truth when they need it, the hard truths are more difficult.


I was happily surprised to see Brigid show up to protect Evita while she kept the doorway open for Ty and Tandy's return. She's been so much about vengeance, that it was nice to see the protector reappear.
Thus far the show has been about Ty and Tandy becoming superheroes. Season one was about them discovering their powers and deciding whether to use them to help others or not.
Season two has been directly about them figuring out how to be the heroes they've decided to be. What will work and what won't. This included finding the inner strength to be heroes in the real, often ugly, world.
Deschaine stuck to the approach he used against Tandy, when he kidnapped her. It makes sense. Most of us find ourselves fighting our inner demons repeatedly. We have to overcome them again and again.
Tyrone has always struggled with the belief that he's supposed to be perfect and that his inability to be perfect is the root of his problems. He didn't win until he accepted that human's aren't perfect. It's an unattainable goal.
I did love the callback to season one when Ty suggested they use "That thing where see each other's sh*t more clearly from the outside."
I loved the way they used that idea. They not only fought each other's battles, but were able to be objective when they were forced to fight themselves again. It was a much better way of moving a character forward than the traditional therapy scene.
The final fight was awesome. Ty and Tandy coming together as a unit literally. Beautiful shot.
Tandy giving hope to her mother, Dr. Hess, and the young woman, whose disappearance started her on this quest, was a great idea. It was a moment I wasn't expecting.
Their brand of justice was pretty cool too; putting on Deschaine's album then scratching it so that it would skip for eternity. Personally, I can't think of anything worse...or more just.
For the most part I really liked the wrap up.
Tandy, whose relationship with her mother was rocky, said good by. I don't understand why Ty didn't. It was the only blemish of the episode.
I was able to pause and read some of the note there with Father Delgado?
It appears that Ty entrusted the church to him, as a way for him to start over. He did appear to be in his "priest uniform" again.
I'm glad the corner dealers are acceding to Ty's demands not to sell to people using drugs to control or hurt others. I still don't believe that will last long, but it was good to see.
It was a perfect conclusion to season two for Ty and Tandy to leave New Orleans on a quest to help other forgotten people who need heroes.
They've accepted the mantle of Hero. Excellent.
Miscellaneous Observations:
I like the idea that Ty repeatedly appears in a police uniform. A core element to his personality hasn't just been doing the right thing, but protecting others.
The light sword was freaking
awesome
. Dare I say, better than a Light Saber?
Nice seeing Dr. Hess again.
Kudos to the artist that designed the album covers used this season. Really nice.
Love the version of "Take On Me" they used in the episode and the song they played during the wrap-up montage was also beautiful.
I thought this season's finale was awesome. The battle with the season's villain was satisfying on all points for me. What did you think of the episode?