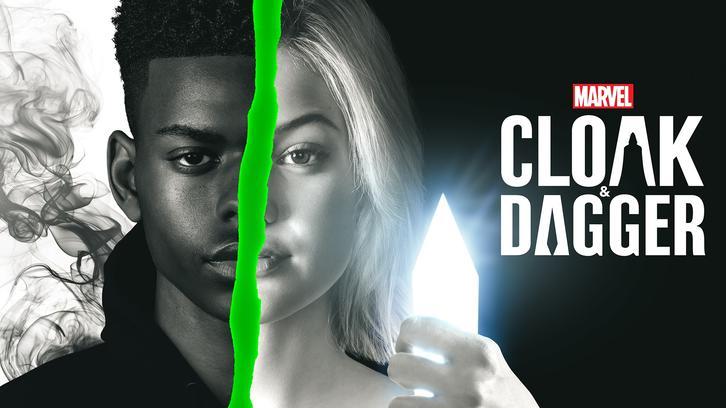 "Blue Note" set us up for the finale by providing some backstory for Andre Deschaine. Not only did we learn how, and when, Andre got his power, but we learned how Andre intends to turn into a loa.

Once he gains the power of a god he intends to suck everyone in the city as dry as he did Lia.


The episode title is center to Andre's goal.
"In jazz and blues, a blue note is a note that—for expressive purposes—is sung or played at a slightly different pitch than standard."
(I had to look it up.)
In the opening, Andre failed to hit the "Blue Note" during a gig. Hitting the Blue Note is key to activating his veve and becoming a loa.
The information about the Blue Note was interesting and required to fully understand what was happening when he was playing for the audience of his victims; most of his story was repetitive. There were beats that provided information we already know.
I felt they missed an opportunity by not giving us a sense of what kind of man Andre was before he got his powers.
He discovered his powers accidentally, but was Andre already the kind of man who would twist and morph a woman's hope into despair to make himself feel better? Or did he lose his humanity when he gained these specific abilities?
As with his other victims, Lia's version of her life before she met Andre was wildly different from the truth. It all managed to make me feel sorry for Lia.
It's clear why Ty was feeling so protective of Tandy. She decided to get her mind off her mother by throwing herself into the search for Andre.
It wasn't enough to allow her to bury that anger and Lia was a perfect target...considering her guilt. It makes complete sense; Lia was culpable in facilitating Tandy's rape, but Tandy is a superhero.
When it came down to it, Tandy fought to stop Brigid/Mayhem from killing Lia.
Ty has his own plan to find Andre. He wants to get the drug dealing gangs to locate Andre. Pretty good idea, but it led to another reminder that Ty is a teenager. Ty actually believes that he can dictate how the drug dealers should run their operations. I'm guessing he'll discover how long that lasts, next season.
Ty's plan ultimately works. They finally track down Andre.
Andre's added Pied Piper to his repertoire.
When Ty and Tandy find Andre, he's summoned all of his victims to be his audience. They will bare witness to his ascension(?).
I was kind of happy to see Tandy's mother there, because it means she didn't just give up on her sobriety or her daughter. She was attacked.
Watching those women/zombies, stand there humming along with Andre's trumpet, was almost as creepy as the void that Andre leaves behind in his victim's minds.
Ty and Tandy
almost
stop him, but not soon enough to keep that door from opening or keep his victims from disappearing. I really hope that after all Ty and Tandy have done to save these women, that they aren't lost for good.
I thought it was a pretty good episode, but I felt that, if they'd skipped some of the repetitive beats they could have answered a few new story questions. As I mentioned, I would have liked a moment where we learned what kind of man Andre Deschaine was prior to getting his abilities. Perhaps they could have taken a few minutes to deal with Ty's realization that his mother may have killed Conners.
What did you think of the episode?