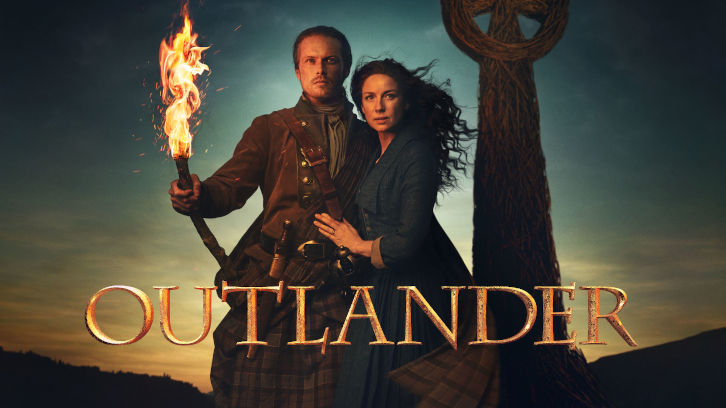 Title: Into the Woods

Happy Holidays all. Thanksgiving brought family to my house, hence a double review.

Both The False Bride and Common Ground moved between the eighteenth and twentieth centuries. (I almost got my Mom hooked on the show, but the time switch frustrated her. lol )

Jamie and Claire left Jocasta's estate for North Carolina while Roger and Brianna got to know each other better.


Do No Harm
. Not only does she make sure the Frasers have all the supplies they'll need for their journey, she gives Jamie a bag of coins and silver candlesticks that belonged to his mother.
Jamie told Jocasta that he and Claire were heading west to find a town with a number of Scottish settlers, Woolam's Creek, where he would return to his respectable printing work.
Jocasta's farewell to Claire was a tad cold. Perhaps formal is a better word. She made it clear that while she disagreed with Claire's beliefs she respects her. I had the impression that, when it comes to Jocasta, it is extremely difficult to earn her respect.
Jocasta made it clear to Claire that she felt that forcing Jamie to be a printer does a great disservice to Jamie's innate talents. Claire basically told her to butt out.
I really want to see Jocasta again and can't help but hope that she and Claire can develop a more friendly familial relationship.
Jamie's attempts to return Ian to Scotland are met with proof that Ian is just as stubborn as the rest of the Fraser clan. Ian mounted a hardcore campaign to be allowed to stay with his aunt and uncle.
Ian proved his maturity by writing the letter, informing his mother that he was staying in The Colonies, himself.
I loved the moment when Ian "informs" Jamie and Claire that he's going to ride on to the trading house with Myers. Jamie, having been a young man once, did nothing to give Myers the impression that he was giving Ian his permission.
Their journey was uneventful until they rode into a storm and Clarence the Mule took off. Claire took off after the mule and was thrown by her horse. She found shelter from the rain, took her shoes off and settled in to wait out the storm.
I couldn't help but wonder if any of the servants on Jocasta's estate noticed the zippers. I had to look up the year of the zipper's invention. The initial patent that led to what we know as a zipper was granted in 1851.
Claire found a skull half buried in the leaves and began to examine it. The sudden howling of wolves startled her and moved us out of a pioneer's adventure and into a ghost story.
The Cherokee man just stared at her. His intensity was a bit disconcerting for me. I can't imagine how Claire remained so calm.
After a moment he just turned and walked away. It was a pretty creepy sequence. I loved the way the sequence was edited. Very cool and effective.
The next morning Claire realizes her boots are gone. But there are boot prints in the mud, made with her shoes. She follows them back to Jamie who found them beside a river and decided to sit and wait for her to return.
Claire realizes the ghost used her boots to lead them back to each other. Jamie, who is a Highlander married to a woman living two centuries before she was born, takes the news of a ghost orchestrating their reunion in stride. I mean the man didn't even raise an eyebrow. LOL
Claire actually took Jocasta's advice about squandering Jamie's natural talents behind a printing press.
They decided to take Governor Tryon up on his offer of 10,000 acres of land.
They met their neighbors, the Cherokee, while marking the boundaries of their land.
It looked like things were going well until the hunting party tossed several of their land markers at their feet and yelled at them in Tsalagi, despite at least one of the hunting party being fluent in English.
Jamie, as usual was very strategic in how he approached the situation. He spoke with Meyers about approaching the Cherokee and opening a dialog in an effort to find a way to live together.
Meyers explained that The Cherokee had been on edge recently because of a Tskili Yona. Yona means bear. Meyers thinks Tskili has something to do with an evil spirit.
Because of the unrest in the Cherokee community Meyers offered to make the initial approach in Jamie's behalf, but, before that could happen, Meyers was attacked by the Tskili Yona, that attacked Jamie's horse the night before.
He finds himself fighting a man wearing a bearskin and claws. Jamie manages to kill him and return his body to the Cherokee.
He learns that the man was banished by the Cherokee and had been harassing them for about a year. Because he was already dead to them, they could do nothing to stop him.
Stopping this monster was the action that broke the ice between the Frasers and, as Jamie refers to the Cherokee, their neighbors. Jamie learns his new Cherokee name, Yona Dahi.
Jamie invites the Cherokee party to join them at their fire, and Claire meets Adawehi. She's an important elder in the Cherokee community, but I wasn't certain if she's the healer, the grandmother of the chief, or their spiritual leader.
Also, it seemed, Adawehi had a premonition about Claire's future. The only thing we know is that people will die, and, though Claire will blame herself, it will not be her fault.
The Cherokee culture is, as expected, being treated with respect. However, I, as a viewer, would like to learn more about them as a people.
For example, while Jamie was fighting the Tskili Yona, we saw Adawehi leading a ceremony. We were left to guess the purpose of the ceremony and I found that disappointing. I'm not really sure how it could have been managed within the episode, but still I was disappointed.
We got several sweet small scenes in this episode. I especially liked the scene between Marsali and Claire. Marsali confessed to missing her mother. Claire's response was compassionate and highlighted how close the two women have become.
My other favorite scene was the knitting discussion between Claire and Ian. Ian's shock that anyone wouldn't know how to "clicket" was priceless.
Roger was invited to North Carolina to sing at a Scottish festival. Fiona pushed him to tell Briana how he felt about her.
I really wish we could have seen the scene when Roger explained to Fiona how his declaration of love to Brianna went. I know it was one of those moments when a woman looks at a man and realizes how much of an idiot he is.
Brianna and Roger's trip to North Carolina got off to a nice start. Brianna and Roger hung out and enjoyed their time together.
Brianna sat, listening to Roger sing and seemed to step over the line of being smitten with a guy to falling in love with him. So much so that she decided that he would be the first man she made love to.
When Brianna told him it was too soon, and she wasn't ready to think about marriage, Roger's feelings were hurt, which caused him to turn into an a**h*le.
After some fairly nasty, hurtful words, he melodramatically declared that he would have all of her or none.
The next night, at the Calling of the Clans, Brianna approached him to talk things out, I thought he would apologize for being such an idiot.
But, nope, he decided it was more prudent to make it clear that he wanted nothing more to do with her if she wasn't going to accept his proposal. I cannot use the word idiot enough.
I try to avoid comparing the show to the book, but there were a couple of elements in the book that I was disappointed were omitted in the episode.
Brianna only recently learned about her Scottish heritage, why wouldn't she be interested in learning more about her roots.
The other omission left me a little stumped. Why were the Frasers left out of the Calling of the Clans? Especially after they made a point of noting that Fraser's Ridge was so connected to the Scottish presence in the area. The inclusion of the Fraser clan in that ceremony wouldn't give Brianna any undo hints.
Weeks after the disastrous trip to the festival, Roger finds a mention of Fraser's Ridge in the book Brianna purchased for him.
He asks the author for more information and learns that Jamie and Claire settled Fraser's Ridge. He even receives a copy of the land grant that Jamie signed.
Roger calls to let Brianna know that her parents found each other and have moved to North Carolina. She's thrilled to get the news and thanks Roger.
Beyond conveying her gratitude Brianna, can't think of a way to start a real conversation. The call ends without any change to their relationship.
After a bit of hesitation Roger finally decides to tell Brianna the bad news. Brianna's roommate informs him that Brianna headed for Scotland two weeks earlier.
I really enjoyed both of these episodes. Claire and Jamie's story was primarily a transitional story, which I didn't mind. I'm a sucker for the quiet character scenes and the episode included some awesome ones.
The two storylines worked well to prevent the episode's pacing to slow down. I'm still annoyed with Roger, which is to say, well done. The only thing I was missing was the Fraser's presence at the Scottish festival.
Did anyone else think the footprint of the cabin Jamie's building can't fit all the stuff he's planning on putting in there? What did you think of the episode?