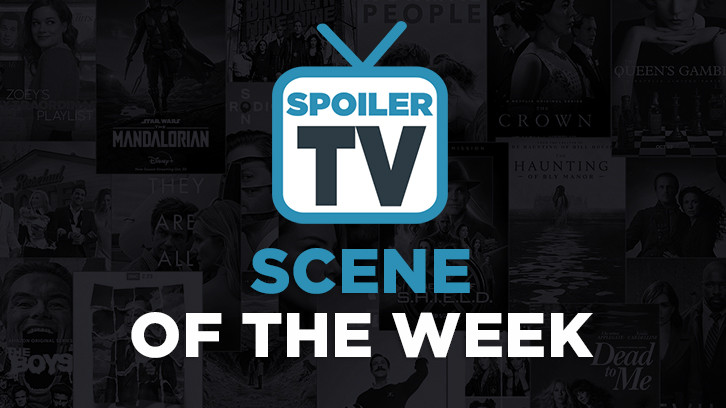 A weekly feature in which we're trying to find the most compelling, best acted, written, directed and just generally great, memorable scenes that we've seen in past seven days on TV.

AMERICAN HORROR STORY: APOCALYPSE, "The Morning After", September 19, 2018, Actors: Leslie Grossman, Adina Porter, Joan Collins, The Scene: Evie, Coco and Dinah relax in the bunker's sitting room
Claire: So many great scenes, but since I have to pick just one, I'll choose an obscure one. It's the scene where Evie, Coco and Dinah are relaxing/cat fighting in the bunker's sitting room. Dressed in 19th century garb and listening to the radio playing "Time In A Bottle" by Jim Croce, Dinah reminisces about how the song was a major plot line in the 70's Hardy Boys tv show. She also gushes about her major crush on Shaun Cassidy. I can testify to that! He was my first love at the tender age of 10 and I'm guessing he was AHS creator Ryan Murphy's, too! Aside from my Shaun Cassidy obsession, I love the fabulous Adina Porter's portrayal of Dinah. She is the perfect foil to the other two women's bitchy narcissism. In this literal hellhole, I look forward to some of Dinah's sweet disposition. And for all of the Coven fans desperately waiting for the witches, look no further than this group! Adina Porter, Joan Collins (at her best) and Leslie Grossman.

AMERICAN VANDAL, "The Dump", September 14, 2018, Actors: Travis Tope and more, The Scene: Kevin's story
Ellys: As the search for the Turd Burglar winds to a close, Kevin sits down for his second-to-last interview. The season has slowly unwrapped every character, pulling away the personas they've created until only who they really are remains. And yet everyone is still recognizable. Travis Tope's meticulous performance as the refined outcast and main suspect reaches Shakespearean levels of excellence, as Kevin puts everything on the table. He returns to the inciting moments of the story to provide a new take on it, but the scene doesn't just function to provide another clue to the mystery. Kevin, unlike some other characters in the season finale, gets to choose whether or not he will reveal who he truly is. If the world will know his insecurities and regrets and heartbreak. It's a decision that he's had to make on a smaller scale throughout the documentary, but Kevin has kept back as much as possible. This scene determines the success of the entire season.

BETTER CALL SAUL, "Something Stupid", September 17, 2018, Actors: Bob Odenkirk, Rhea Seehorn, Giancarlo Esposito and more, The Scenes: The opening split screen montage & Gus stops Hector's treatment
Laura B: A fun cutesy throwback to 60's and 70's films was actually rather bittersweet, as we watched Kim and Jimmy continue to live together, but not really being together as they once were, becoming roommates just sharing space. In the last episode Kim made her choice to push herself forward and away from Jimmy's hope that they would one day have a law firm together [again or in a way they hadn't quite] and you can feel the tragedy of that choice with Jimmy in nearly every shot he's featured in pushing him closer and closer to Saul Goodman. In addition the scene also served as a way to jump ahead in time, which I'm so happy about. I keep hoping that we will be so close to Breaking Bad by the time season four is finished, that maybe season five will jump ahead to a post Breaking Bad world and dissemble "Gene" to see if Jimmy McGill can be recovered.
Shirleena: Gus met with Don Hector's doctor to get an update on his treatment. She shows him the video of Don Hector's therapy session. Gus saw Don Hector knock over the cup of water to check out the nurse's butt and knew that he was aware of what's happening to him. So Gus decided to stop treatment, which leaves Don Hector in the wheelchair with the ability to only move one finger.

ELEMENTARY, "Whatever Remains, However Improbable", September 17, 2018, Actors: Jonny Lee Miller, Lucy Liu, The Scene: Sherlock says goodbye to Joan
Justyna: It's been a wonderful season, one of the show's best, so I had high expectations for this finale. I'm so glad to say I wasn't disappointed. The reveal about the true killer turned out to be more painful than I imagined. The fact that it was Captain's daughter and both Gregson and Holmes chose to protect their loved ones suddenly destroyed the family they built in these last six seasons. Their conversation was another highlight of this hour, but the very best part have to be the last 5-10 minutes when Joan learns what Sherlock's done to protect her and the two are forced to say goodbye (before the London reveal). Jonny Lee Miller and Lucy Liu did an amazing job in this moment. Both Holmes and Watson are very emotional but are trying their best to stay strong and not to cry. Sherlock's thank you is a beautiful result of his character development and it's a true testament to the relationship between these two. The two people who love each other. Simple (and wonderful) like that. As for the very ending, it was absolutely perfect. As much as I've always enjoyed the show it never really felt like a Sherlock Holmes story. Other than a few names, the show was pretty much just one of the procedural drama series out there. Which is probably why I loved the final reveal, with Sherlock Holmes at Baker Street 221B at last. It seems so fitting with Watson by his side. Their story in New York was a great one but it definitely feels like they're finally where they belong. Kudos to cast & crew for all their fantastic work on the episode and the season. Till the next one!

FEAR THE WALKING DEAD, "MM 54", September 16, 2018, Actors: Lennie James and more
The Scene: The escape via the elevator (picked by DarkUFO)

IT'S ALWAYS SUNNY IN PHILADELPHIA, "The Gang Beats Boggs: Ladies Reboot", September 19, 2018, Actors: Kaitlin Olson, Mary Elizabeth Ellis, Artemis Pebdani and more, The Scene: Dee, Waitress and the other ladies fall prey to Artemis' uni-tea
Mads: This episode is one of my all-time faves I think. It's so ridiculous and I love the way they lampoon and skewer societal perceptions of women and "all female reboots". The ending scene though, where we find out Artemis spiked the tea she's been giving out, resulting in everyone spontaneously throwing up and the hilarious chaos that follows had me in stitches. It was a page right from the Bridesmaids playbook. I loved the casual foreshadowing earlier in the episode about gross-out humor. Usually, I'm not a fan of that style of comedy, but when it works, it works.

KILLJOYS, "Sporemageddon", September 21, 2018, Actors: Hannah John-Kamen, Aaron Ashmore, Luke Macfarlane and more, The Scene: The ending
Justyna: I did not see this one coming. The moment when John and Dutch appear together on the screen, I had to blink, double check if I'm seeing it correctly and then rewind the episode to make sure I didn't miss something very important a minute ago. The other reality at the end was definitely a shocking twist if you ask me. Everyone's lives changed, D'Avin is a Killjoy (but without his brother or Dutch) with a warrant for his son, Dutch and Johnny are a married couple and no longer Killjoys, that's quite a power and not at all what I expected the Lady's plan to be. I have to say, I'm honestly not sure what I think about this new situation. It's interesting, different, a possibility to explore something new. However, I do hope that whatever happens in this new reality will not break the relationships our main characters have built over the course of the show. Especially when it comes to Johnny, Dutch and D'Avin. Johnny and Dutch have always been my favorite duo so I wouldn't want to see anything changing that, whether they stay a couple or not. It's going to be a long wait for sure. Kudos to cast & crew for all their great work.

MANIAC, "Windmills" & "Furs by Sebastian", September 21, 2018, Actors: Emma Stone, Jonah Hill,Julia Garner and more, The Scenes: Annie tells Owen about the night her mom left & The car crash
Mads: Annie tells Owen about the night her mom left. Annie's struggle to come to grips with her sister's death and the events that led up to it is one of the main plot lines on the show. In this episode, Annie and Owen find themselves in a caper for a lemur in their shared dreamscape and one of the final scenes is Annie having flashes of who she really is outside of her current "character" Linda, and telling a touching story about how she took care of Ellie and they made a cake the night her mom left them while in the car with Owen. It's a touching scene made better by Stone's emotionally grounded performance, and helps paint a better picture of Ellie and Annie's relationship beyond the volatile nature of Annie's traumatic memory.
DarkUFO: Scene in which we see Annie and her sister in the car crash.

MAYANS MC, "Búho/Muwan", September 18, 2018, Actors: Edward James Olmos, J. D. Pardo, Clayton Cardenas, The Scene: Felipe 'tucks' Ez and Angel in
Beth: We have seen Felipe have meaningful scenes with his son EZ, but had yet to see him share a scene with his other son Angel. I had been hoping for a moment between Angel and his Pop to get a grasp on their dynamic, and this subtle gesture of him covering BOTH of his sleeping grown sons was reassuring to me that Felipe holds both of their well-being close to his heart. For Angel, it had been a rough day and he needed to be in a place that was reassuring and familiar, which led him to his Pop's. I loved how understated, yet important this moment was, and it cleared some things up as to what this family is to each other.

THE SINNER, "Part VIII", September 19, 2018, Actors: Elisha Henig, Carrie Coon, The Scene: Julian decides to stop running away and face what he's done
Claire: Wow! What a great season. Again, difficult to pick just one scene. But, I pick the scene between Julian and Vera in the Chinese restaurant where they are hiding while waiting to run away to the west coast. After talking to Harry, Julian makes the hardest, most grown-up beyond his years decision to stop running away and face what he has done. What an unbelievable 13 year old. The love, disappointment and understanding between mother and son is so real and heartbreaking. They say everything they need to say to each other with just their eyes and facial expressions. The always wonderful Carrie Coon and mesmerizing Elisha Henig. Runner up: Jack's confession scene... Also picked by DarkUFO

YOU, "The Last Nice Guy in New York", September 16, 2018, Actors: Penn Badgley, Lou Taylor Pucci, The Scene: Joe kills Benji
Mads: A great episode ending thrill. I had a feeling Joe was going go kill Benji but I wasn't quite sure, what with all the games and tests that came before. The second Benji remembered Joe's name though, I knew his fate was sealed. Though, as Joe points out, Benji is a liar and he could have been lying about his peanut allergy, so it was sort of a final test, one which Benji both passed... and failed.