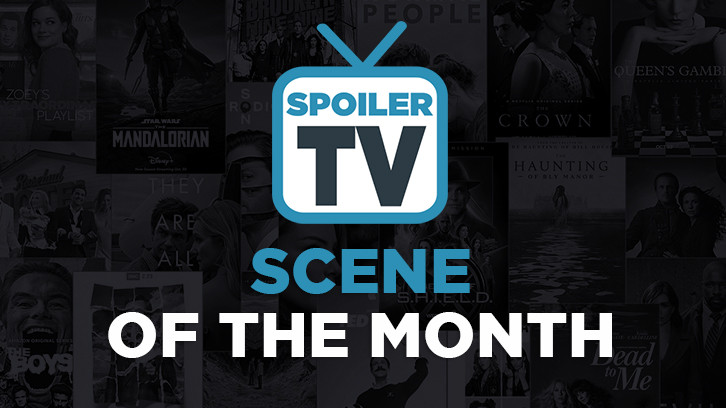 A monthly feature in which we're trying to find the most compelling, best acted, written, directed and just generally great, memorable scenes that we've seen in the past month.
CHICAGO PD, "A Good Man", October 5th, 2022, Actors: Jesse Lee Soffer, Tracy Spiridakos, The Scene: Jay and Hailey's goodbye
Morgan:
As much as this goodbye hurt, it's also one of my favorite scenes for the couple because of the performance given by the actors. They made every emotion palpable, just leaping off the screen and tugging at you in the best and worst way. From the words said, to the way they were said, and the tight embrace and heartbreaking kiss they shared…the scene encapsulated everything Upstead is even with Jay leaving Hailey. The actors gave such an authentic goodbye for their characters and the fans, and I really appreciated the way it was done.
DOCTOR WHO, "The Power of the Doctor", October 23rd, 2022, Actors: Jodie Whittaker, David Tennant, The Scene: The regeneration
Justyna:
In my experience with the show, the regeneration has always been a tragic and sorrowful moment but to my surprise this has not been the case for the most recent one. The Thirteenth Doctor has remained her rather hopeful and positive self till the very end and even got playful final words to prove that. I never imagined the Doctor saying goodbye with "Tag, you're it" and yet that's exactly what happened here. The words seem very fitting for Thirteen, though they also remind me why she never felt quite like the Doctor to me, despite all the wonderful work done by Jodie Whittaker in her portrayal (kudos!). The shot of the regeneration itself was beautiful. We couldn't have asked for a better scenery and even the TARDIS for once remains intact (!). But then comes the biggest surprise of them all - The Fourteenth Doctor is once again played by David Tennant. David Tennant is the current Doctor... I'm still shocked but also absolutely delighted to have him back. It's been a long time since I could honestly say: I can't wait for the next episode of Doctor Who. I'm happy and excited to see what's next. Also, still truly, truly shocked. In the best way possible. I know it's temporary but I'm grateful for any extra time with David Tennant's Doctor all the same. A jaw dropping moment in a memorable and emotional goodbye episode.
FBI, "Victim", October 11th, 2022, Actors: Zeeko Zaki, Shantel VanSanten
The Scene: Nina comforts OA Zidan
Dahne:
Special Agent Nina Chase comforts Special Agent OA Zidan by comparing OA's situation to that of an informant in their case. I love how even though they are new partners, Nina knows OA enough to get through to him. OA is always hard on himself and the embarrassment of being mugged has him especially on edge. Nina helps him see the truth of the situation.
GHOSTS, "Halloween 2: The Ghost of Hetty's Past", October 27th, 2022, Actors: Rose McIver and more, The Scene: Sam performs a séance
Chris:
In an effort to impress the neighbors, Sam enlists the ghosts for a little trickery while performing a séance, and the result is a remarkable sequence for the show's second Halloween episode. While nothing happens in the "real world", the scene is cut by multiple shots of the ghosts at the same table, screaming and freaking out over a portal opening and another ghost joining their realm.
GREY'S ANATOMY, "Wasn't Expecting That", October 13th, 2022, Actors: Ellen Pompeo, Aniela Gumbs, The Scene: Zola's panic attack
Luana:
I was surprised by this moment and again it makes a lot of sense, Zola hasn't been showing up too much but it seems like they might use this storyline to write Meredith out of the show and I have to say it's a pretty good way to do it.
HOUSE OF THE DRAGON, "The Lord of the Tides" & "The Black Queen", October 9th & 23rd, 2022, Actors: Paddy Considine, Matt Smith, Emma D'Arcy and more, The Scenes: King Viserys enters the throne room & The ending
Justyna:
My story with this show might be over but I still want to give a shout-out to my favorite scene of the series - King Viserys I entering the court room. Who would have thought this could be such an impactful moment? Viserys is at his weakest when it comes to his physical health. He's in constant pain, barely awake or aware of his surroundings. He has trouble speaking and he has almost no strength to stand, much less walk. And yet despite all this he finally gives us his strongest appearance as the King, for the first time having everyone's attention and respect as the ruler of the Seven Kingdoms. Viserys shows up determined to fight for his daughter and it feels like it's his love for her that keeps him going. Long enough to reach the throne, to pass his judgment and even confront Vaemond. It was great to see everyone's reactions to his entrance. I loved the shot of Rhaenyra watching her father walk towards her, worried but hopeful and proud. She really does look so similar to her mother. And then there's the part that got me the most. The king has almost reached the throne but his crown falls to the ground and he has trouble walking up the stairs. That's when his brother appears by his side and offers his hand to support him. Daemon has doubted his older brother since the start of the show. He loved him, but he never saw him as a good ruler. But in this moment he places the crown on Viserys' head and it feels like he truly sees him as the king. Beautiful scene all around, accompanied by wonderful music in the background. The entire scene at the court is surely a memorable one but it's the part with the entrance that will stay with me for a good while. Kudos to cast & crew for all their work on this one!
Luana:
The ending – This scene was so brilliantly performed, both Matt Smith and Emma D'Arcy have been incredible this season, but in this particular moment D'Arcy killed it without saying a single word. Rhaenyra's back was turned for most of it but we see the pain in her body language and then when she turns around you feel for anyone who'd stand in the way of her revenge.
KEVIN CAN F**K HIMSELF, "Allison's House", October 10th, 2022, Actors: Annie Murphy, Eric Petersen, The Scene: Kevin steps out of sitcom world
Folie-lex:
As Allison finally takes her stand under the bright lights of the sitcom world, slowly the laugh track gets muted and the vibrant colours fade away, and Kevin reveals his true sinister form under the spectrum of the real world. We finally get to see him for the petty, vindictive, manipulative and emotionally abusive small manchild that he is. Eric Petersen is brilliant in playing the switch in tone, knowing that he's still the same character even if the abrasive over the top disingenuous "comedic" behaviour isn't there to excuse him. And Annie Murphy plays off this new yet old face of Kevin's to absolute perfection. This is the only way this show could properly end.
ONE OF US IS LYING, "Simon Says Let's Get Personal", October 20th, 2022, Actors: Annalisa Cochrane, Jessica McLeod, The Scene: Janae tells Addy that they are currently questioning their gender identity
Allie:
It was such an important moment to see portrayed on television and McLeod and Cochrane had amazing performances.
QUANTUM LEAP, "Somebody Up There Likes Ben", October 3rd, 2022, Actors: Raymond Lee, Jon Chaffin, The Scene: Ben convinces Daryl to seek professional help
Dahne:
Ben convinces his "brother" Daryl to seek professional help for his PTSD or he refuses to fight. Ben helps shed light on PTSD before it was even known as that. It was a great scene that highlights how far we have come in the area of mental health, even as we have much work to do.
SHE HULK: ATTORNEY AT LAW, "Whose Show Is This?", October 13th, 2022, Actors: Tatiana Maslany and more, The Scene: Jen breaks the fourth wall to confront the show's writers
Justyna:
A part of me definitely wants to choose any scene with Matt Murdock in it but I gotta say, I did not see this one coming. To be honest, I'm still not entirely sure how I feel about this specific fourth wall break, however it's impossible to deny the impact of this moment on the series as a whole. Jen has interacted with the viewers in the past but this went so much further than I ever expected it to. It absolutely had me shocked and fully invested in the scene. Maybe not my favorite, but it has to be the most memorable moment of the series. The concept itself sounds crazy, yet the execution of it feels essential and powerful. I definitely appreciate Jen being at the center of her own story and fighting for the stakes to be true to her character. Although I admit that I feel like we skipped over some important stuff at the end and the conclusion felt incomplete to me as a result. Still, for the sheer boldness and creativity, I do want to give a shout-out to the creators. It was something new, unexpected and one-of-a-kind experience. That sudden switch to Disney+ Marvel homepage really had me wonder what happened for a second. Also, Tatiana Maslany does such a wonderful job on the show and in this scene in particular. Kudos! I'd love to see Jen show up in future MCU projects.
STAR TREK: LOWER DECKS, "The Stars at Night", October 27th, 2022, Voiced by: Tawny Newsome and more, The Scene: All the Callifornia class ships come to the Cerito's aid
Folie-lex:
Mariner pulls through for her crew and her mum when she shows up to save the day, having send word to all the Calli class ships. Together they take a stand against the new AI ships and come out the victors. It's a beautiful moment, showing the best Starfleet has to offer and proves one more time that Lower Decks will always manage to balance both its identities of being a bit of a Trek satire, while also being very much a Trek canon show.
THE GOOD FIGHT, "The End of Playing Games", October 27th, 2022, Actors: Audra McDonald, Andre Braugher, The Scene: The move to fool STR Laurie is revealed
Laura B:
It's revealed that Ri'chard & Liz fooled STR Laurie. Ok, I totally didn't see this "The Good Wife" Kalinda kind of move coming from either of these characters, especially Ri'chard! It was such a great moment calling back to both Liz and Adrian when they were playing up the Democratic party and the whole construct of "mere puffery" The Good Fight has been thematically playing with since its beginning!
THE HANDMAID'S TALE, "Together" & "No Man's Land", October 12th & 19th, 2022, Actors: Elisabeth Moss, Yvonne Strahovski, O-T Fagbenle, The Scenes: June helps Serena give birth & Luke freaks out and June tells him to stop
Laura B:
Just when you think this show has run its course or can't produce any more Emmy-worthy acting, along comes an episode like this, putting our frenemy characters in unexpected situations together. Both Moss & Strahovski gave excellent performances all the way through, but I chose the actual birthing scene itself, because of the conversation they had and because of the way the tables had turned.
Luana:
Luke feels for the first time in the flesh how insane June's journey has been by experiencing one of the milder things she's had to go through. I loved seeing the contrast between these two, and I love that they never gloss over how insane it all is, it was a great episode with amazing performances.
THE LORD OF THE RINGS: THE RINGS OF POWER, "Alloyed", October 14th, 2022, Actors: Morfydd Clark, Charlie Vickers, The Scene: Galadriel confronts Halbrand
Justyna:
Any kind of big revelation is always a difficult thing to balance in a story. You don't want it to come out of nowhere but you need to avoid it being obvious from the start. For me personally, this worked much better than I expected. I've heard people theorizing about Halbrand being Sauron early on in the series so I paid extra attention to all of his scenes. Truth be told, I could honestly see him going either way until the end of penultimate episode - as Halbrand, the lost King of the Southlands or Sauron, future Lord of the Rings. Charlie Vickers did a fantastic job of always playing his character right at the edge, to keep both options possible before the reveal in the finale. And what a great moment it was! Sauron certainly proved that he's a clever manipulator and a powerful deceiver. The entire exchange back on the raft is wonderfully done. He attempts to bring Galadriel to his side, speaking of their shared connection and his plan to heal the Middle Earth as a way to repent for his past evil deeds. He can be terrifying when he chooses to, but he can also be surprisingly charming. He keeps Galadriel's attention for a while, using her guilt, confusion and the feeling of betrayal to his advantage. Then in the middle of their exchange comes one of my favorite shots of the series so far. I absolutely loved the sudden stillness of their surroundings and the reverse water image of the Dark Lord and the Queen - beautiful and terrible as the dawn. I continue to enjoy all the LOTR references and this one is no exception. When Galadriel refuses to stand by his side, that's when the storm takes over and Sauron begins to show his true self. "What will they do when you tell them that you were my ally? When you tell them that Sauron lives because of you?" Such a great delivery by Charlie Vickers! Let's not forget Morfydd Clark's wonderful performance during the entire confrontation. I've really enjoyed getting to know so many different sides of Galadriel in the series. Excited to see where her journey takes her next. And I never expected to be genuinely interested in watching Sauron's rise to power. And yet here we go. Finally, another shout-out to the beautiful music on the show. Thank you Bear McCreary! Kudos to the entire cast & crew for all their work on the series. Can't wait for season two already!
Laura B:
Galadriel discovers who Halbrand really is - Whether one may or may not have been able to figure out plot twist beforehand, I feel the scene was super important to Galadriel's character in particular and the whole story at large. She's been a headstrong protagonist whose choices have been questioned at every turn only for this revelation to happen at such a pivotal point, given whom Halbrand really is and what the two characters have been through. It shows an honest great flaw in the character and calls into question interesting debates between a kind of nonchalant deceit vs a zealot determination and which of those traits is really responsible for evil in the world.
THE PERIPHERAL, "Haptic Drift", October 28th, 2022, Actors: Chloë Grace Moretz, Gary Carr, The Scene: Flynne and Wilf are able to subdue the robot London police constable
Laura B:
Just woah! This show has laid down so much sci-fi ground work already that it could be quite mind-boggling for casual sci-fi viewers, but I find getting this stuff out of the way now can only mean bigger things and hopefully smoother story-telling down the line. I chose this scene because I simply love the dynamics between the actors, but also it showcases the complexity between all of this technology: A robot police officer, a conscious time traveler in a robot body (a peripheral), a kind of soul-merging tech between Wilf & Flynne (a robot & a human), along with Wilf being able to use linking tech to mimic romance to get out of a legal dilemma with his unregistered peripheral! But it's the cast and the intriguing cinematography that is making all of this heavy stuff work!
THE ROOKIE, "Labor Day" & "The Fugitive", October 2nd & 23rd, 2022, Actors: Melissa O'Neil, Eric Winter, Mekia Cox, The Scenes: Tim tells Lucy to go to UC school & Chen is temporarily in charge of the station
Folie-lex:
As Lucy had spent the whole episode allowing her guilt over Chris (both about Rosalind's attack, and her almost tryst with Tim) to wrongfully inform her decision about going to UC school, Tim shows up at the right moment, and at Chris' urging, to tell her she should go. The air between them is loaded and thick with emotion and guilt and longing, as Eric and Melissa make the best use of their well established and beloved chemistry, as they end the episode with the decision to spend time apart.
Luana:
Chen is temporarily in charge of the station – I just loved Nyla reminding Lucy of how much her coworkers respect her, and then how good she was at handling things despite not being prepared at all. Chen is an incredible character and I just can't get enough of her, O'Neil's incredible performance is of course a huge part of that.
THE WHITE LOTUS, "Ciao", October 30th, 2022, Actors: Jennifer Coolidge, Jon Gries, The Scene: Tanya finds two of the macaroons
Laura B:
In a lot of ways White Lotus is a kind of unnecessary guilty pleasure show about the absurdities of elite, but I am amazed how good writing and exceptionally good acting coming from Jennifer Coolidge can produce such a sad, heartbreaking scene from such an often ridiculous and even cruel character that is Tanya McQuoid. In an earlier scene her now husband berated her for eating five macaroons, telling her she will never lose weight. She was certain that she didn't eat more than three. So when she makes the discovery later to try and smooth over what he felt was her deficiency from their earlier conversation by showing him she was right, only for him to not care and go on about what she ate for dinner instead was truly disgusting, leaving Tanya to go sit alone on the side of the hotel room's bed, I couldn't believe how bad I felt for her, even though I know I shouldn't.
VAMPIRE ACADEMY, "The Trials", October 13th, 2022, Actors: Sisi Stringer, Kieron Moore
The Scene: Rose and Dimitri's fight
Luana:
This type of scene was what made me fall in love with these characters in the books and the dynamic was perfectly shown here. They both have very particular ways of showing their love for each other but it's in these moments that you can truly tell how strong their bond is.