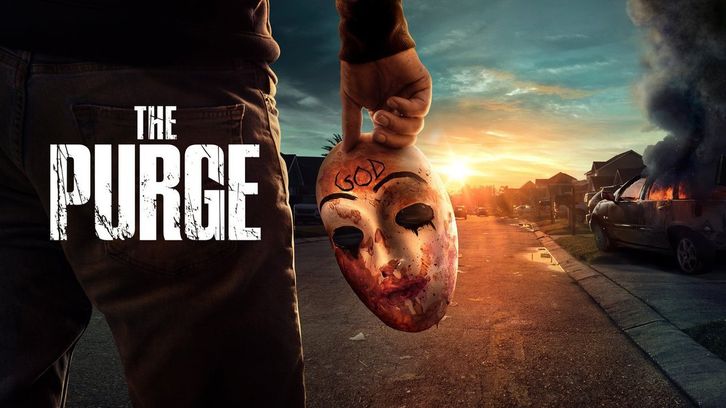 WARNING: THE FOLLOWING PREVIEW MAY CONTAIN SPOILERS FOR PREVIOUS EPISODES.

We're only a few days away from a new episode of The Purge! Last week we saw Alison succumb to her "urge to purge" in order to get a promotion. Jenna revealed that she's pregnant. Rick and Jenna inched closer to a deal with Albert. Penelope was selected as the next cult tribute and immediately got carted away by a group of psychotic nuns. Miguel got so close to seeing her but he was just too little too late and thus his wild goose chase continues.


This week, our flashback focus is on Rick and Jenna. We learn more about their relationship, which isn't nearly as perfect as it initially looked, and how Lila factors into it. Jenna finds herself at a crossroads.
Outside the NFFA party, Jane is dealing with the aftermath of Alison's bloody burst of violence. Though, she doesn't really have much of a leg to stand on when you remember her cash exchange to rid the world of her boss. She makes a pretty drastic decision, one with consequences that resonate through the episode and aide in introducing a new batch of characters that I'm pretty excited to see more of.
Across town, there's a carnival! A carnival unlike any I've ever seen before, the
Carnival of Flesh
to be exact.
The Purge
is definitely starting to crank up the horror as we roll into episode four. Penelope's situation is as dire as ever. Something unexpected finally causes a crack in her eerily serene façade.
Miguel and Phil continue to bond and Phil offers him further assistance in tracking down the nuns that took Penelope. There is definitely more to him than meets the eye. If you ask me, under that gruff demeanor is a giant teddy bear.
WHAT ELSE CAN YOU EXPECT?
-
The Purge
tackles gendered violence.
- Two characters get into a loaded confrontation.
- One character learns the shocking way their new ally makes money. They'll have to decide if their assistance is worth sacrificing their morals for.
DIALOGUE TEASES
"I'm still gonna get that promotion right?"
"It's like the McDonalds of Purge. Supersize it and kill 'em."
"Life lesson number one: When someone is helping, you don't interrupt them."
"With crime being so low these days, women develop a false sense of security. Then when Purge night comes, we're not ready. Easy to forget just how bad it can get out there."
"Living your dream don't come cheap."
"People say that Purge night turns us into animals. Newsflash: Humans have been the most vicious animals all along."
"Man wasn't designed to be polite. Man was designed to survive."
THIS EPISODE OF THE PURGE PREMIERES TOMORROWS, SEPTEMBER 25TH @ 10/9c ON USA NETWORK.