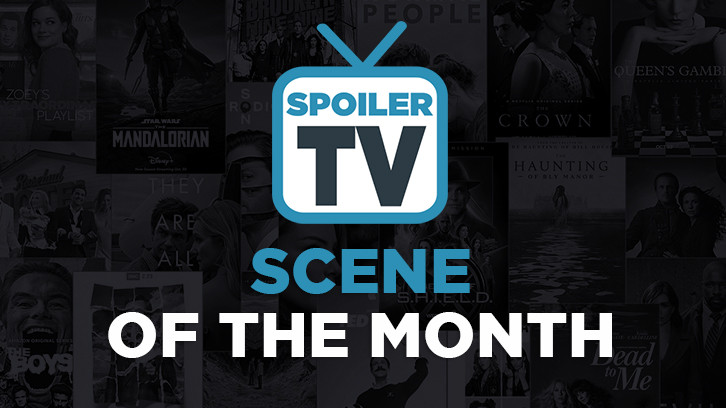 A monthly feature in which we're trying to find the most compelling, best acted, written, directed and just generally great, memorable scenes that we've seen in the past month.
1899, "The Key", November 17th, 2022, Actor: Emily Beecham, The Scene: Maura wakes up at the end
Justyna:
It's very disappointing to learn of the series cancellation just when we've reached the next chapter in the story. I've certainly enjoyed watching the show and was excited to continue the mystery. In the final moment of the series Maura wakes up in a starship called Prometheus, surrounded by the other Kerberos passengers, placed under suspended animation. She also discovers that it's the year 2099, not 1899 and her brother leaves her a message to welcome her to reality. The end. Just when the possibilities were endless and with so many questions left unanswered. It was a great and engaging cliffhanger to finish a season on, a perfect place to craft some theories, so if there's any chance at all for the series to still be saved, I'd be happy to continue to support it and watch wherever that might be. Kudos to the cast & crew for all their work!
1923, "1923", December 28th, 2022, Actors: Sebastian Roché, Jennifer Ehle, Aminah Nieves, The Scene: Father Renaud punishes Sister Mary and Teonna
Laura B:
Father Renaud doesn't just hit Sister Mary, but Teonna gets another round from him too. If it wasn't hard enough to witness a most-beloved Elizabeth Bennett (Ehle) in the role of a school-teaching nun who beats up the hands of the free-spirited Teonna Rainwater (Aminah), the show found a way to be even more horrific when at first Father Renaud seeks justice by doing the same act to Mother Mary before Teonna's eyes, but then his taste for justice quickly turns into some rather disturbing abuse when he beats Teonna again! I've seen Sebastian Roché play some bad customers before, but this role may yet take the cake! Overall, 1923 had a pretty amazing opening episode!
GHOSTS, "The Christmas Spirit", December 25th, 2022, Actors: Rose McIver, Utkarsh Ambudkar, The Scene: Sam gets possessed by Thor
Chris C:
Rose McIver gets to relive her best iZombie life as a disgruntled Thor pretends to be Sam while talking to Jay in the kitchen. Everything from McIver's elevated pitch to her glances and obsession with food is brilliantly executed and perfectly ridiculous, in a way that only a show like Ghosts can be.
HIS DARK MATERIALS, "The Enchanted Sleeper", December 5th, 2022, Actors: Dafne Keen, Ruth Wilson, The Scene: Lyra tries to escape from Mrs. Coulter
María S:
Lyra wakes up while Marisa is sleeping, so she tries to take this chance to escape from the place her mother is keeping her. But the opportunity fades away when Mrs. Coulter's daemon leads her to the girl, so she sedates her again, while Lyra tells Marisa that she will never be safe with her. I think it's really sad to see that, after everything that has happened, the only way Mrs. Coulter can keep her daughter next to her is by keeping her unconscious.
SLOW HORSES, "Old Scores", December 30th, 2022, Actors: Gary Oldman and more
The Scene: The Slough House pays tribute to Min (and Dickie)
Folie-lex:
Against Taverner's instructions, Lamb makes sure that Min (and Dickie) get a proper "Joe's memorial" and the whole crew is there to pay their respects. He might be an insufferable ass but one thing is for sure, Jackson Lamb proves yet again that he absolutely has the proper respect for his agents.
SO HELP ME TODD, "Swipe Wright", December 15th, 2022, Actors: Skylar Astin, Madeline Wise, The Scene: Todd confronts Allison about setting up a profile on a dating app
Cristina A:
Todd confronts his married sister about setting up a profile on a dating app. During an investigation for a client who is suing because her idea for a dating app is being stolen by a major corporation, Todd and his mother discover that his married sister, Allison, has set up a dating profile on the app. Todd confronts his sister and she admits that she set up the profile. She shares that her whole life has been decided for her by her mother, she's never been able to do the things that she dreamed of and hoped for. Even becoming a doctor was her mother's dream, not hers. As was marrying her husband. She wanted to see what her life would be like if she went down another path. Todd and Allison have a difficult relationship and her being able to confide in him her deepest feelings, was a huge step in their path to repair things between them. It was the first time the viewers got to see the deeply personal side of Allison, and understand the struggles she faced living in her mother's shadow growing up.
STARGIRL, "Frenemies – Chapter Thirteen: The Reckoning", December 7th, 2022, Actors: Brec Bassinger, Luke Wilson, Joel McHale and more, The Scenes: Sylvester is temporarily brought back to life by ISA & Courtney and Pat's final scene in the basement
Justyna:
It's a good thing we have a sweet and heartwarming moment also highlighted in the article, because my choice is anything but that. In fact, it's one of the most shocking and cruel revelations on the show. It left me completely stunned and is still very memorable today. In the opening scene of the series finale, we finally get an answer to the question "what really happened to Sylvester Pemberton" and it's so much worse than I've imagined. Years after his death, Starman is brought back to life by his killer and the ISA... but only for a moment. He barely begins to learn of their evil plan before his brain is removed from his body, with him very much awake and aware of the fact. It's beyond dark and is a powerful reminder that "Stargirl" never stayed away from telling the painful stories in addition to the hopeful ones. The only good thing about this moment is that the audience gets to know just how much Sylvester has truly cared about his best friend, when he asks about Pat with his final breath. It also makes it so much worse that Ultra-Humanite has spent all this time slowly destroying Starman's memory and legacy. Luckily, as we learn in the epilogue, we end the series knowing that JSA has eventually found his brain and saved Sylvester. I only wish we could have seen his true reunion with Pat. Regardless, I really enjoyed this show and will miss it dearly. Thank you and kudos to the entire cast & crew for all the wonderful work on the series.
Joshua:
Courtney tries to tell her stepfather that he is a hero and she defended him against the Ultra-humanite and Pat tells her that he already knows. Courtney has a very difficult relationship with her biological father throughout the series but she eventually comes to the realization that Pat (her stepdad) is the father she always wanted. That's a major part of her series character arc. This final scene as a result marks an end to Courtney's arc as it shows that Pat and Courtney have grown close throughout the show's run. From Courtney being initially annoyed with Pat and unaccepting of him as her stepdad in the show's pilot episode to eventually becoming closer to Pat when their superhero adventures begin. It's a short but very important scene that shows just how special and well planned this television show was.
THE ROOKIE, "The Collar" & "Take Back", December 4th, 2022, Actors: Melissa O'Neil, Eric Winter, The Scenes: Tim and Lucy openly admit their feelings & Tim asks Lucy out on a date
Folie-lex:
Since Beth gave a shout-out to the Chenford final scene in 5.09 (the nomination that I completely endorse BTW) this completely unties my hands in order to submit their final scene of 5.08. As Chenford have spent the whole episode trying to get through this tough day all while attempting to regain a hold on their current shaky dynamic, Tim watches Chris push his "let's live together" plan on a very frustrated and uncertain Lucy. He confronts her about it at the end of the episode and FINALLY, after approximately 3 years in the show's timeline (and 5 seasons for the show's audience), these two put to words their growing feelings, admit it to each other and have an honest conversation about doing something about it... and The Rookie fans REJOICE!
Beth W:
Tim asks Lucy out on a date. The Rookie is finally doing it! They are pulling the trigger on Chenford and I for one am SO excited.
TREASON, "Episode 1", December 26th, 2022, Actors: Olga Kurylenko, Ciarán Hinds, Charlie Cox and more, The Scene: The opening scene
María S:
I think the opening scene is a good setup for the show since it gives you a full idea of the story and its main characters and does a good job in keeping you interested in how everything will unfold from here, and how everything will intertwine.
WILLOW, "Prisoners of Skellin", December 28th, 2022, Actors: Christian Slater, Ruby Cruz and more, The Scene: Allagash buys the group time to get away from the trolls
Justyna:
I've been really enjoying this new fantasy series, I like its unique feeling, the adventure and the characters. It reminds me of a Dungeons & Dragons campaign that I've seen a few years ago. And Christian Slater was a great fit to bring back the 80s to this modern take on Willow. Allagash is quite a character, we've only just met him and yet we've witnessed his many different sides all in the course of a single episode. Similarly to Hubert, he's quite a scene-stealer and immediately a memorable character to cross paths with. Allagash is brave but foolish, friendly but not always loyal, he's a good fighter and far from good songwriter. He doesn't hesitate to steal the Kymerian cuirass but chooses to come back, seeking redemption for his past mistakes. He ultimately sacrifices himself to give the others a chance to escape and fights against an army of trolls, right after leaving Kit with a message to protect Elora Danan. The final shot of him falling, defeated by the trolls was another sad reminder of all the lives already lost in this fight. Kudos to cast & crew for their work on the series!