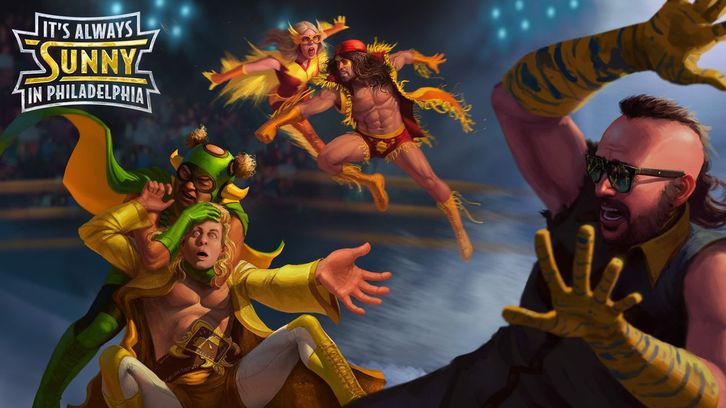 It's lady's night tonight, everyone. After the male-centric episode last week, its only fitting we get a female-centric episode this week. The Sunny gang takes on another relevant issue; the current trend of reboots, more specifically all female reboots. It's a controversial topic that is rooted in a deeper issue of sexism, and I think the show took this on pretty fairly. Not only that, but they did in a very funny way.


This episode they are re-doing the Boggs challenge. Except instead of our usual gang trying and failing horribly at it, this time it's Dee, The Waitress, Artemis, and Charlie and Mac's mothers. Dee has gathered them all to do what they think is going to be participating in the Women's March in Los Angeles, but she springs on them that they're all going to re-do the Boggs challenge. Most of them agree, but Artemas is not a fan of all female remakes, that women deserve to have their own stories, and so suggests that they change it to beating the record of a female athlete, not Boggs. Because if you change one little detail, that means it's an entirely new idea, apparently. Dee agrees.
This goes as well as to be expected considering these women are as screwed up as their male counterparts. Ah, true equality. Each of them falls apart one by one. The first one down is The Waitress. The Waitress was actually in the lead of the competition for a while (So nice of Dee to invite an alcoholic to a drinking challenge) until she fell into such a deep pit of inner despair and loneliness that she actually sleeps with Frank, who stowed away in the airplane bathroom to hook up with women. It's funny because it actually worked, as he nails both The Waitress and Charlie's mom. Afterward, she says a few more depressing things about the state of her life and then just outright passes out. It's funny but also sad. I love when It's Always Sunny takes issues like that and finds the perfect balance between something being awful but funny in its context.
Next one down is Charlie's mom, who is an irrational drunk. The bathroom gets set on fire and freaks out thinking the airplane is crashing. She's in a whole nother world now. Mac's mom is a racist drunk. Well, an extra racist drunk. She keeps on her own for the most part except for keeping tallies on everyone. And Artemis basically just drops out so she can shill her merchandise and later pull a stunt that she thinks will be innovative in women's comedy.
So not only is her competition falling apart, but Dee finds another hitch in her plan in the form of Snail. Snail heard about the challenge and was upset she wasn't invited, so she got on the same flight and bought all the alcoholic beverages on the plane so Dee couldn't have them. Thoroughly depressed, although not Waitress depressed, Dee decides to give up. But she gets inspiration from the ghost of Martina Navratilova, who convinces her it's not over. She still has Snail. Snail is better than no one. I would disagree. Dee and Snail go head to head and Dee wins! But not for long because Artemis poisoned everyone's drinks so she could get the major female gross-out she so badly wanted to show men that women could and should be allowed to be just as gross. When everyone starts losing bodily fluids from one end or the other, or in Dee's case, both, Dee winds up on a stretcher in North Dakota, and everyone else makes it to LA.
Was this a successful reboot of the Boggs episode? Well, considering it wasn't so much of a reboot as it was a comment on reboots, I don't think you can fairly answer that question. But if you compare it to the first, like originals usually are, it was better in the way that it's a classic. You can't top a classic. But this one was funny just on its own merits. These ladies work really well off of each other and I for one would love to see them do their own story in the future that's separate from riffing on reboots. The only problem I really had with this episode was just that while I enjoyed the ladies, I did miss the guys. We got a touch (As did The Waitress and Charlie's mom) of Frank, and a tad bit of Charlie and Mac, but it wasn't enough for me.
How about you guys? How did you enjoy watching Dee try to beat Boggs (again)?