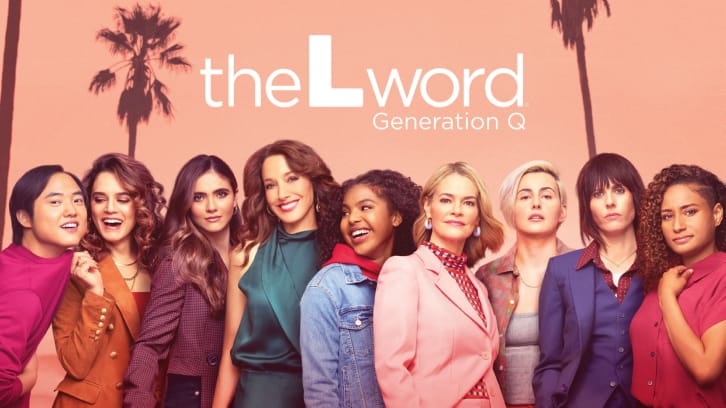 Hi again folks, we are entering the last 4 episodes of this mess of a season. When I tell you I did not expect what happened this episode seven at all. Let´s not waste any time to get into it. "Little Boxes" picks up with Finley (Jacqueline Toboni) leaving the apartment after Sophie (Rosanny Zayas) has broken up with her. Finley is struggling to stay sober, but when she calls Tess (Jamie Clayton) and Shane (Kate Moennig) they are on their way to Vegas to grapple with the death of Tess' mom. Finley ends up calling Carrie (Rosie O'Donnell) for support so she doesn't drink. I honestly do not care for that break up one bit, however I was interested to see what the characters are like apart from one another but I has too many expectations. Carrie's matter of fact comfort is exactly what Finley needs. Carrie wants to make sure Finley is hydrating and eating so they make a lasagna, which Finley ruins by burning it to a crisp. Which could be a metaphor for her life being a giant fire she struggles to put out? I don´t know. She immediately melts down and Carrie tells her that burning a lasagna is not a character flaw; one of Carrie's best lines and a much-needed reminder for Finley that not everything is a crisis. Sometimes the lasagna is just lasagna. Carrie takes Finley to her weekly bowling night to get Finley out of the house and out of her own head.
I´m dissapointed because I think Finley´s character could be so much better and her storyline about being a mess could also be very interesting, but this is The L Word and we are not here for the well written plots are we? After breaking up with Finley, Sophie tries new things to find herself again. First she gets her nipples pierced, then she gets a glam makeover with vintage inspired hairstyle and later she's drinking and flirting hard at the Fletcher album release party Dani (Arienne Mandi) is throwing. Dre (Carme LoBue) is also there, which is a bit awkward for everyone. Sophie and Dre hang out but when Sophie kisses them Dre lets Sophie know they're into Dani. Sophie ends up kissing a woman who turns out to be married to someone that could be important for Micah (Leo Sheng) and Maribel (Jillian Mercado) . Then she falls in the pool as Fletcher is singing, bringing the event to a halt. Which is by far the only interesting thing that happened.
An exasperated Dani puts Sophie in an Uber home and they share a moment of what seems like real friendship. Their bond is still there, despite all the mess. Life, and relationships, are messy. Will this new seemingly healthy relationship they have survive Dani dating Dre? Because by the end of the episode Dani and Dre are skinny dipping in the pool at the event after everyone else has left. Dani tells Dre she's not ready for anything serious, but Dre reveals they're still in a "situationship" with their girlfriend back home because of course they are, I´m still not over the Ginny breakup which you can tell by my reviews. I honetly would have taken Dani being single for a long time instead of just getting her together with anyone else that shows up so that´s all I´m going to say about that. Alice's mystery text from episode 6 was to Tom (Donald Faison). She felt like he was "the one" that Dana mentioned in her ayahuasca vision. Tom meets with her at the studio thinking she wanted to talk about another book. She is interested in doing another book, but while she's trying to talk to him about rekindling their relationship she hears a cat trapped in a vent in her office. As they're trying to catch the cat, Alice asks Tom if they gave up too quickly and should try again. But he has moved on; he's with someone else and she's pregnant. Alice tells him all about her vision and he starts asking her about the people she dated right after Dana, thinking Dana was telling Alice one of them was "the one." Alice mentions she kissed Lara, who was Dana's first girlfriend. Then she mentions Tasha and I´m getting war flashbacks, because boy was I wrong about the person that could be the "right" endgame for Alice at this point.
I just don´t know how I feel about this going through exes that could potentially be the person they end up with, I mean they´re exes for a reason, right? In other news, they eventually do retrieve the cat and Alice adopts it. During the Fletcher event Micah meets Michael (William Phelps), a man who looks, talks and has the same mannerisms as Micah. Even though it seems crazy, Micah and Maribel ask Michael if he would consider being a sperm donor for their baby. Michael says he has to talk to his wife but he would be honored to help them have a child. Unfortunately, his wife ends up being the woman Sophie kissed, so Micah and Maribel are left not knowing where they stand while Michael deals with his domestic situation. But this is quickly shut down because of Sophie´s shenanigans.
At bowling, Finley asks Carrie why she hasn't asked Misty (Heidi Sulzman) out yet. Carrie says hanging out with Misty a few hours a week at bowling is enough for her. But of course Finley wades right into the middle of that and makes a mess. She tells Misty Carrie has feelings for her, but Misty says Carrie isn't her type. Carrie overhears this, ruining bowling night for her. But even though she's upset, Carrie doesn't lash out at Finley. She takes Finley home where they make another lasagna. Misty comes over as they are sitting down to eat and admits she does have feelings for Carrie. So Finley didn't ruin the relationship after all and she may have been just what these two needed to get their relationship going. While all of this is going on Angie (Jordan Hull) goes away with Hendrix (Simon Longnight) for a reading he's doing. Feeling awkward about having sex with him for the first time, she initiates a romantic encounter before the reading. After the reading when an agent approaches him, Hendrix introduces Angie as his student, not his girlfriend. She tries to talk to him about it but he essentially breaks up with her saying he's uncomfortable dating her while she is his student. Angry, she leaves the hotel and heads back to her dorm. I have to say that this is one of the worst pairings the L Word has ever done and they had shane and Jenny together but let´s not talk about that. I will be against student-teacher relationships every time, the power imbalance makes me very uncomfortable and the man in those relationships especially eventually turn out to have done it several times before with other students so I do not support this at all and just want it to be over. But looks like it won´t be the case any time soon even if they have officially broken up.
Looks like we are celebrating thanksgiving next. I have to give it to the The L Word: Generation Q delivering an emotional episode, a nice reminder that chosen family is just as valid as blood family, and that it's ok to set boundaries. That part I liked a lot. Things open with Finley (Jacqueline Toboni) talking to Carrie (Rosie O'Donnell) about Misty (Heidi Sulzman) at Dana's, as Finley gets the Thanksgiving celebration prepared. Tess (Jamie Clayton) is back at work, hoping to lose herself in busywork to distract from feeling the grief associated with her mom's death. But she's struggling, and she's drinking again. At the end of the episode, we see her scatter her mom's ashes and say a final, poignant goodbye. Shane (Kate Moennig) and Angie (Jordan Hull) are volunteering at a holiday food giveaway on campus. Angie is clearly not dealing well with her breakup with Hendrix (Simon Longnight), but she goes from mopey to mad when she sees him at the charity event with another woman he is clearly dating. As Shane sneaks her out of the event, they see his car in the parking garage. I know this is TV but I find it very weird that Angie´s not spending the holiday with her moms. Angie, doing what a younger Shane would have done, smashes the back window of the car to retrieve the book of poems she made for Hendrix that's laying on the back seat. As they run away, Hendrix and his date return and see the smashed window. When he sees the book is missing he knows who did it, opting not to call the police. And I was right to day that this weird plot is far from over. But I´m done talking about it for now.
Dre (Carme LoBue) is getting ready to go home for the holiday, but she and Dani (Arienne Mandi) are definitely getting close. They have some deep conversations as well as some intimate moments. Both of them say they don't want anything serious and I hope they mean it because I do not feel anything with this pairing. When Dre's flight is cancelled, Dani asks her to stay and spend Thanksgiving together. Though originally planned to just be the two of them, Dani gets called to be part of the emotional support contingent heading to Dana's for Finley, whose terrible mother (Mary McCormack) shows up for Thanksgiving. I remember being mentioned back in season 1 that Finley´s relationship with her mother wasn´t good but they never really got into it until now, which does show more of why Finley has such a hard time and a little inside as to why she is the way she is.
If there was something that would have me bond with her is mommy issues and that´s valid. I´m really glad to see how Finley handled it and that there was people that had her back a well, It is not easy to stand up to family so I applaud it.
Sophie and Maribel (Jillian Mercado) are having their mother and aunt at the apartment with Micah (Leo Sheng) for Thanksgiving. Finley, trying not to crack under the emotional weight of dealing with her toxic mother, begs Sophie to come to Dana's for support. So the entire Suarez clan packs up some food and goes because that's how chosen family works. Even if you're in a weird place with each other emotionally, when one person is struggling the others show up for them. The support that Sophie's mom and aunt give is nice to see and a total contrast to Finley's mother's behavior.
Comment below:
What are your thoughts on episodes 7 & 8?
Who do you think is Alice´s the One? Do you think there´s still hope for Shane & Tess?
Will Sophie & Finley get back together? (I hope not)
Are you guys over Dani + Gigi´s breakup?