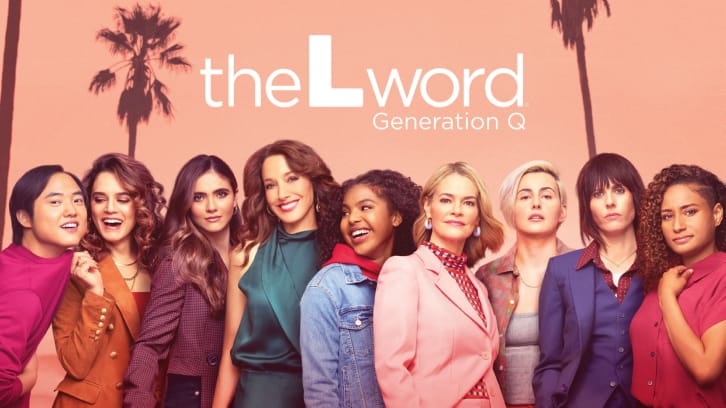 We are back! The anticipated season three is here. Why so anticipated? Because season two left us on a cliffhanger with Tibette and a few other characters as well. This is the reason we all absolutely, collectively, madly needed a season three. What happens to our loved couple, Bette and Tina? Yeah, a bunch of other stuff with loose ends too but this is fifty percent of why we all watch and you know it. We pick up right where we left off, with Tina (Laurel Holloman) arriving at Bette's (Jennifer Beals) house to confront her about what happened with Carrie and Bette's speech. The two say they still love each other, but Tina wishes Bette were better at loving her befosre leaving. You can feel the tension throough the screen but as we have seen before, TV does an awful job at having people communicate with each other, and lesbians are not safe from that trope. If anything I think we are worse at it. I can say that, I´m gay. However, I did appreciate that the question is not dragged further than the opening scene, I mean we already knew this but it turns out that, Yes, Bette is in love with Tina and Tina is also in love with Bette. That´s as far as they go regarding a conversation. And with that, we witness in what in my opinion is a very over used transition,the show does a one year time jump. What a lazy way to fast forward, but i´ll allow it.
We are now checking on everybody else, one year later, Bette and Tina are not together because, of course they are not. Angie (Jordan Hull) is moving into her college dorm. Shane (Katherine Moening) and Alice (Leisha Hailey) are helping and gossiping about their friends seeing each other again because their friendship has been strained since the love declaration. Bette is trying to be a chill new version of Bette who's less high strung, and she looks like she's doing well in her efforts. Are we going to see some real growth mindset action in Bette for the first time ever in her story arch? Imagine that!
So, Shane and Tess (Jamie Clayton) are still together. I don't know if I straight up didn't see that one coming, or if I just didn't want to see that one coming. Shane looks all the worse for the wear because of it though. Tess's Mom with dementia and MS now lives with them in Shane's house (who they have taken over, by the looks of things) and Shane looks absolutely exhausted under the weight of it all. We all know this isn´t going to end well for either of them. Because what would the L Word be if not the show that has it´s characters moving two steps forward and three steps back, more of this later. In good news, Dani (Arienne Mandi) and Gigi (Sepideh Moafi) are still together after the time jump, and I´m trying to enjoy their scenes as much as I can but it feels a little impossible with all the spoilers and the trailer for what´s to come, but i´ll keep an open mind. I just don´t understand The L Word´s issue with keeping couples together, especially couples with great chemistry like Gini and that the fans appreciate so much and actually want to see more of, unlike others from the show. Who said that? Anyway, Gigi´s about to leave but Dani asks her to move in instead, Gigi says she has to asks Nat because of the kids, kinda forgot she had those. I can already tell where this is going and I hope i´m wrong. Now for those characters that are less interesting, Finley (Jacqueline Toboni) is back from rehab. Out the gate, she´s already trying so hard to do the right thing and make amends which is something I have to applaud but I´m still not invested in her story.
Looks like she will be moving back with Sophie (Rosanny Zayas) and Micah (Leo Sheng). Speaking of, Sophie finds a ring and looks like he wants to propose to Maribel (Jillian Mercado) which caught me by surprise to be honest, and this is why I´m not the biggest fan of time jumps because sometimes everything around it feels rushed and out of nowhere, like this proposal information, however in sad news, it does not go well go for him, Maribel says no, call me crazy but if you have been dating someone for a year, marriage is one of those conversations you have previously had in some way and have some idea if your partner (I hate that word) wants to do it or not, honestly, communication in this show is bad for everyone apparently. Maribel said she didn´t want to get married but she does want a kid which is what they are going with this season, okay.
Shane offers Finley her job back at the bar after she acknowledges her past behavior and mistakes. Am I the only one who thinks this is a terrible idea? No? Good because it's a terrible idea. But okay. Also Finley already on the apology train decides to talk to Sophie, however, Sophie is not having it at all. I´m sorry but I kinda agree with everything she says to Finley about not being charming and just plain annoying, the girl says she does not want to talk to you and you don´t get out of her face? I get wanting to make things right but I don´t think this is something that can be fixed. There´s too much history there. I already knew of some cameos this season, but I was still shook when I saw Kehlani, what I was not thrilled about was that she has her eyes set on Shane and we already know this is going to end up with her cheating, again. Groundbreaking. Is there any other storyline for Shane at this point? We see some character development once she gets in a relationship, making it look like she will be better and not go back to her old ways, but it always gets destroyed, I do not want to see Tess hurt, I adore Jamie Clayton and want to keep her on the show, besides they are actually cute together. While that is happening, Bette is auctioning a piece of art from her own collection at a benefit held at Dana's. Tina recognizes the piece as one that had been hanging in their old West Hollywood home together. Appalled that the opening bid is $500, Tina jumps all in with a $10,000 winning bid. "I didn't want someone else to have a piece of us," Tina tells Bette before they leave the bar together. I really thought that there was going to be a whole season (again) of will they/won´t they but they actually can´t keep their tension in check anymore and kiss, but they get interrupted by Angie, who voices what we´re all thinking at the moment.
Speaking of Angie, the whole reason she went back home is because Jordi (Sophie Giannamore) broke up with her a few hours after arriving on campus, harsh. At least we got a cute Dani and Gigi scene before disaster hits next week.
A few thoughts:
I completely agree with what Maribel told Sophie about her and Finley being toxic. Still we are going to get more of them because apparently Sophie slept with someone while Finley was in rehab. There is nothing compelling about this couple at this point, they are not good for each other and we´re going to continue to invest time on them.
I´m already dreading this season and the direction they are about to take with Gini, anyone else?
Shane is gonna Shane seems to be the route they will be taking with her and Tess, not looking forward to it either.
Also, did I miss the whole Dani got arrested last season and we won´t mention it anymore? I´m not insane right, that actually happened in Season2 ? Oh well.
What do you guys think will happen this season?