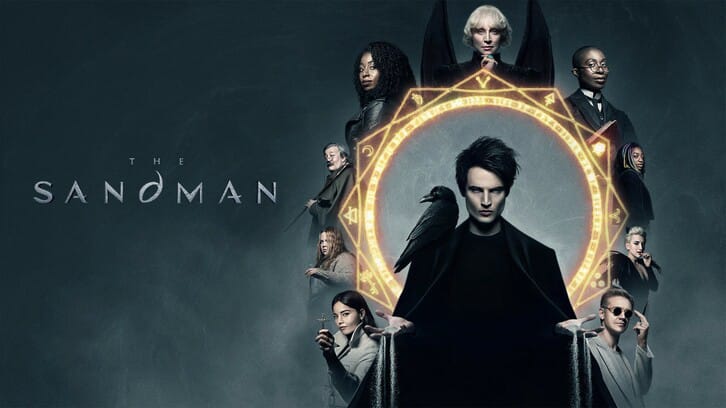 The Sandman "Imperfect Hosts" was written by Allan Heinberg and was directed by Jamie Childs, whose other credits include His Dark Materials and Doctor Who. Like the first episode, this one is also gorgeously shot and realized. The Dreaming truly comes alive. The entire cast also continue to impress. This feels like rather a short episode as it continues to establish plot and character.
Sanjeev Bhaskar and Asim Chaudhry are perfect as Cain and Abel. Dream (Tom Sturridge) doesn't absorb Gregory in the graphic novel but uses his signature off of Cain's and Abel's letters of commission. In fact, it is Cain who gives Abel Irving/Goldie – but he does kill Abel for not naming the gargoyle properly.
The entire sequence inside the castle is gorgeous. I'm really enjoying Vivienne Acheampong as Lucienne, and the fact that they aren't treating her character as a joke. In order for Dream to return to full strength, he must regain his lost tools: the bag of sand, the helmet, and the ruby. In order to find them he calls on the fates: Dinita Gohil, Souad Faress, and Nina Wadia. Like all good fates, they answer his questions, but the questions really only lead to more questions.
In the novel, we are told that Dream gets the crossroads from the dream of a Cambodian farmer, but I loved the visuals of his giant hand coming down and taking it. Interestingly, the Japanese movie buff isn't into British films – but Hammer horror films… I wonder if they couldn't get permission for a clip or permission to reference them – though that would be odd. The remaining gifts are snakes, honey, the crescent moon, and a black she-lamb. There is no egg…
I loved the final scene with Abel and Irving/Goldie. It's pretty much right out of the novel. However, the CGI'd Goldie is perfect. Abel's eternal – literally – optimism is pretty much infectious.
What did you think of this second episode? Let me know your thoughts in the comments below! I'm hoping to get the reviews up a bit more quickly now… I'm also looking forward to people's comparisons of The Sandman to House of the Dragon and the other fantasy epic coming our way very soon – the Lord of the Rings prequel… Which are you most excited about?