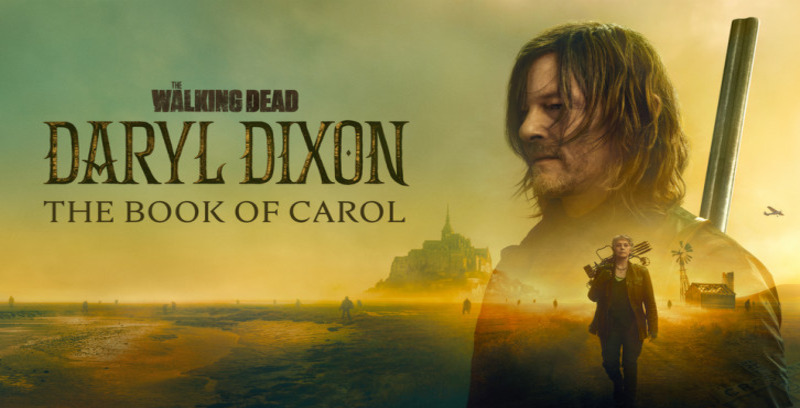 The Walking Dead: Daryl Dixon "Paris Sera Toujours Paris" was written by Coline Abert (Dangerous Liasons, Interview with the Vampire, and The Returned) and was directed by Tim Southam (The Good Doctor, American Gods, Lost in Space, NOS4A2). It's always great to have a director used to working with effects. This episode featured one of my favorite ever scenes in the series! A zombie orchestra and a mad conductor, conducting the Hell out of Bolero by Revel? The episode is somewhat predictable – of course Quinn (Adam Nagaitis) is running the underworld (literally). Nagaitis's other credits include Chernobyl and The Terror in fairly major parts so there was no way he was a one off. The Cabaret unfortunately suffers in comparison to the Bolero, and did we really need that cliffhanger? But let's dive in and take a closer look…
The episode begins in Angers, where Isabelle (Clémence Poésy) tells Daryl (Norman Reedus) they'll find a radio he can use. I loved the shot with the gargoyle in the foreground – still loving the scenery! Daryl and Isabelle leave Sylvie (Laïka Blanc-Francard) and Laurent (Louis Puech Scigliuzzi) with the wagon, and Daryl tells them to protect the horse! Meanwhile, Daryl and Isabelle enter the theatre. She assures him it's the right place. Her contact (Éric Frey) is a musician and has lived there for years. He's clearly odd from the first moment he appears from a side door. He takes them right to the radio as soon as Daryl insists, but when they get to the radio, it isn't working because he's cannibalized it for parts for amplification. He asks them if they want to see a show…
He runs off and tells Isabelle and Daryl to follow. The arrive in the theatre, and he's on the stage conducting his orchestra – made up of the dead. Bolero is, of course, a brilliant choice as it is the story of a bullfighter. The dead, in various stages of decay, are variously tied to instruments. A head dangles and plays the harp… The conductor entices them to move, just as a bullfighter entices the bull. The music is so loud, Sylvie and Laurent – and the walkers outside – can hear it, luring the walkers. Daryl is disgusted and tells Isabelle they should have stuck to the plan – this was a stupid detour…
Outside a walker drags a dead person attached to it by handcuffs toward Sylvie who can't shoot. Isabelle and Daryl come out as she declares that Paris is too dangerous. Daryl takes the gun from Sylvie, shoots the walker, and declares that they are going to Paris. As teasers go, this wins everything. Bolero forever!
They arrive on the outskirts of Paris. As they look down on the city, the Eiffel Tower can be seen in the distance – with the top missing (we learn later that a helicopter flew into it early on). Daryl tells Isabelle, welcome home – and then the second brilliant musical choice of the episode kicks in – a French version of The Doors "People Are Strange" – my favorite Doors song. And of course, they just happen to walk past Jim Morrison's grave – and yes, he really did die in Paris – quite famously. In a bathtub of a heart attack at 27. Laurent reassures Daryl that he will not die in Paris.
They walk past Notre Dame (intact because the fire actually happened after the apocalypse of the show…). They see "Pouvoir" written on a car, and Isabelle tells Daryl that it was a movement that started after the outbreak. She tells him that Genet (Anne Charrier) controlled the city and that in desperate times, people turn to order – and Daryl adds or God.
In the Cemetery, they are accosted by Fallou (Eriq Ebouaney). As soon as Isabelle identifies herself, Fallou knows who Laurent is. He takes them to their community – there are 64 of them. Emile (Tristan Zanchi) is clearly interested in Sylvie and asks her if she'd always planned on being a nun. Laurent is clearly a bit obsessed about the Eiffel Tower. Daryl is not impressed when he finds out that they only have Homing Pigeons – not a radio!!! Fallou tells them that you can trade for anything in Paris, and Isabelle tells Daryl she knows where they can get something to trade. Meanwhile everyone is bringing Laurent gifts/offerings. Daryl suggests it's a bit much to be putting on a kid. Isabelle tells him "God chooses our burdens." When Laurent sees a woman clearly in mourning, he goes to her. Fallou tells them that Sonia (Sabine Pakora) just lost her husband and no one has been able to console her – and Laurent does as they watch.
Codron (Romain Levi) shows up at Genet's headquarters. On the way to her office, he sees people experimenting on a walker. Codron tells her about joining the movement. He plays her the tape that Daryl stupidly made. He tells her that he'll kill Daryl for her because he made him break his word to his parents to keep his brother safe. He promises that he won't stop. They check in on the experiment, and it seems that whatever they are doing may be working? The walker breaks free of his chains and his head explodes. The scientist tells Genet 18 seconds. Have they found a way to kill them?
Daryl and Isabelle go to her apartment. Ever the gentleman, Daryl tells her to wait by the door while he clears the apartment. It looks like someone had been living there – or squatting there at any rate. Daryl finds photobooth strip with pictures of her and Quinn. She tells him that they were always stupid together, and he replies, "You upgraded… with God…" She takes a picture of Lily by the Eiffel Tower that was taken on her 16th birthday.
Naturally, when they are ready to leave, walkers are blocking their path. They take the back stairs and of course, the little girl, Aimée (Naïa Pichler), that Isabelle left behind is there as a walker. Daryl offers to take care of her, but Isabelle stops him. And then all hell breaks loose as walkers start throwing themselves out of the building – they are burners and seem to have no problem getting back up again. I loved that Daryl skewers one and uses it to burn through the vines holding the gate shut!
Isabelle and Daryl wait for the others. Daryl tells her that he's sorry about the little girl, and she confesses that she left her. They are joined by Laurent, Sylvie, Emile and Fallou. Isabelle gives Laurent the picture of his mother. Laurent shows the picture to Daryl and he says she was pretty. Fallou takes them to people to trade with. They have to leave their weapons. They then make their way through the Paris catacombs. Daryl asks where they are and Fallou explains that the walls are lined with the 6 million who died of the Black Death. (FYI, this is true and they really did film there!)
As they exit the catacombs they are in an underground club – and the music at first sounded very much like the Canteen in Star Wars. Clearly, anything goes here – entertainers are heavily tattooed and scantily clad. It's the Moulin Rouge gone underground. The MC is played by Paloma – who won the first season of Ru Paul's Drag Race France and of whom Reedus is a fan and insisted be given a part! Fallou tells Daryl that you can find all kinds of things there. Daryl helped them, so now he will help Daryl. Isabelle is nonplussed and tells Laurent that it is a nightclub. They used to have lots of them. Sadly, after the Ravel orchestra, the nightclub entertainment was a bit of a let down…
The walls of the nightclub are decorated with famous paintings. Daryl is reminded of home by the Water Lilies (Monet). I wonder if this is an inside joke because the painting they show actually hangs in Chicago. Isabelle tells him she used to go see them at the Musee D'Orsey, but the place to really see the Water Lilies in Paris is The Orangerie Museum. These are weird details to get wrong.
While Daryl and Isabelle negotiate for a boat, Emile and Sylvie dance. She asked him where he learned. He tells her that his Grandmother was an Argentinian refugee and she taught him two things: how to dance and how to fight for freedom.
Daryl doesn't like how the negotiations are going and punches the guy, grabbing Isabelle and saying lets go. It's Quinn who comes over to see if there's a problem. Isabelle is shocked. Quinn, however, dresses down Bernard (Michaël Erpelding) for bringing a weapon into the club. He takes the knife and slits Bernard's nose – a la Chinatown. Quinn then greets Izzy.
Quinn remarks that it's strange to see her after all these years. He asks who her friend is – she says they just travel together and Daryl tells him he's trying to get back to America. Quinn tells him that it's not impossible… he hears things.
Laurent is fascinated by the singer Nadine (Chrystal Boursin). He tells her that she sings very well, and she asks if "those" are your parents – meaning Daryl and Isabelle, but we are about to be shocked (not)… he tells her no and shows her the picture of his mother. He admires her necklace which is of the Eiffel Tower – and she gives it to him.
Quinn promises to look around for them, and when Isabelle tells him she has things to barter, he tells her not to insult him. When Laurent comes over, he asks if he's hers and she tells him he's Lily's boy. Isabelle tells Sylvie to take Laurent back to the rooftop. Isabelle reassures Daryl that they've made a deal, turns out she does have connections in Paris. Nadine is clearly with Quinn, but he puts her off, and takes Isabelle and Daryl to his office. He offers Isabelle champagne and she tells him that she outgrew it.
Quinn asks how Izzy's been, and she tells him she became a nun. He asks after Lily, and she tells him she died after having the baby. He's angry that she didn't tell him – not about Lily's death, but that he had a son. Isabelle accuses him of killing Lily, and he counters that he saved her – he's the one who found her after she'd cut her wrists. Daryl wants to leave, but Isabelle insists she can do it. He insists he doesn't need a boat that bad. They leave…
Daryl tells her that he was trying to help. He tells her that everyone has shit from their past that they're trying to run from – it's not just her. She tells him that she was wrong – they are nothing alike. He tells her that she can be mad at him – but he's not who she's really mad at. She tell him that she needed his help but never needed a hero.
Sylvie reassures Laurent that they will be safe at the rooftop the way they were in the Abbey. He tells her that Sonia told him that he made her feel loved, but he doesn't know why. She tells him it's because they give him hope – and she tells him to go to sleep.
Codron shows up at the nightclub – fully armed. Quinn tells him that he has an arrangement with Genet. Codron just wants information on Daryl.
A storm is brewing over the rooftop – nice pathetic fallacy. Isabelle apologizes to Daryl, and tells him that she believes that she had to come to Paris to see Quinn – everything happens for a reason. He tells her that she's welcome – LOL. He tells her that she doesn't need him anymore. He tells her to make something up to tell Laurent – she's good at that. He tells her that she needs to stop lying to him. She counters that Daryl just won't accept how special Laurent is. Daryl doesn't believe that he's a gift from God. Maybe the fact that he lives is all the miracle he needs to be. Laurent interrupts them to yell at them that they "did this" and he hates them both – this is just before Codron bursts in with his men, so it looks like once again, Laurent knew what was about to happen…
Codron and his men start destroying the rooftop, tearing it apart for Daryl. Laurent has already taken off. Daryl tells Isabelle to meet him back at her place. Daryl makes some Tom Cruise level jumps to other buildings, followed by Codron. The two fight as the storm rages. Daryl almost chokes him out before Codron's people open fire. We see Isabelle calling for Laurent as she leaves the building. Others are also fleeing and many are dead. Daryl is alone on a rooftop when it gives way… leaving us with a cliffhanger.
I loved the Ravel – sorry, but I've been listening to it all week! The scenes between Daryl and Isabelle were excellent. I love how close they've become – but as kindred spirits – not in a romantic way. I'm still not sure about Laurent either. He's spooky – but is he supernatural?? I hope they don't go there. Quinn as his father is a bit predictable… Codron is still not really doing it for me. What about you? What did you think of the episode? I'm also curious about Sylvie – and I fully endorse her with Emile, but I'm betting they are the tragedy of the season. Let me know your thoughts in the comments below!