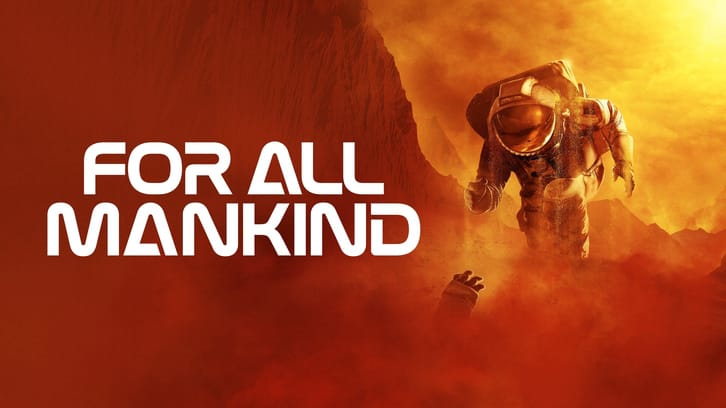 Despite their apparent value to the world of the very online, it's actually not very often that IMDb scores tell an especially interesting story. With only rare exception, season premieres and season finales are the peaks, and the many episodes between are the valleys. However, the IMDb scores for the first two seasons of "For All Mankind" are somewhat noteworthy.

When the alternate history series first premiered on Apple TV+ in November 2019, it wasn't exactly beloved. In his Rolling Stone review of the first eight episodes, Alan Sepinwall wrote, "[the series] doesn't seem to know the best way to get where it's going." Indeed, most viewers appeared to agree with him; IMDb users scored the premiere episode with an average rating of only 7.5 stars. By the end of the season, the highest-rated episode (predictably, the season finale) had only earned a respectable 8.9 ranking.

In 2021, the second season seemed destined to repeat the previous pattern: low-rated early entries, followed by only mildly more exciting notes at the end. However, the season finale earned dramatically higher scores than all prior episodes, leaping to a prestige-quality 9.5. Indeed, many critics seemed eager to note that something had changed by the end of the show's sophomore season. Not only did the tone of Sepinwall's third feature on the series suggest a sizable re-estimation of the series, but he even included it in the No. 1 spot on his best-of-the-year list, which, of course, now brings us to the third season.

This long-winded introduction is not only so I have an opportunity to say "I told you so," but also to remind everyone about how great this series can be when afforded a modicum of patience. With that out of the way, let's dig in.
—
As teased at the end of the second season, "For All Mankind" Season 1, Episode 1 ("Polaris") picks up in the last decade of the 20th century, quickly catching audiences up with a somewhat tiresome recap of notable historical alterations. While these changes can be fun, the excitement of watching strange headlines fly across the screen lulls the senses rather quickly. Still, it's a relatively effective way of getting us all up to speed. In addition to a Beatles reunion tour and the surprise election of President Gary Hart in 1984, the timeline of "For All Mankind" finds the United States and the Soviet Union locked in a secondary space race to Mars.

Margo Madison (Wrenn Schmidt) spends much of her time dedicated to ensuring that NASA will meet its quickly approaching Mars launch date in 1996. This means overseeing the day-to-day operations of the organization and maintaining covert connections with her Soviet counterpart, Sergei Nikulov (Piotr Adamczyk). One of few loose threads left at the end of Season 2, this storyline certainly seems destined to break hearts. Ever since we've known her, Margo has been virtually married to her job, and though she seems tempted to try something outside of her comfort zone, it's likely going to come with a cost. Like many character arcs throughout Season 2, Sergei's story seems like one that will be a slow burn. Unfortunately, it has been noted that Margo can be a bit of a social oddball, and there are definite hints that this story could eventually hurt Margo in a big way. Let's just hope it doesn't suddenly make one of this show's smartest characters look like a buffoon.

As is usual on "For All Mankind," the more interesting storylines take place in the sky. In the more than two decades since governments began semi-regular voyages to the lunar surface, a number of private companies have also started similar ventures. Although the first episode of Season 3 doesn't dwell much on Helios, a competitor of Polaris shepherded by Dev Ayesa (Edi Gathegi) that will play a big role this season, the introduction of space tourism certainly feels like a natural and ripped-from-the-headlines story progression. In fact, the majority of the episode is set on Hotel Polaris, a first-of-its-kind space tourist attraction operated by Sam Cleveland (Jeff Hephner) and Karen Baldwin (Shantel VanSanten). During a doomed debut, Hotel Polaris hosts the wedding of Danny Stevens (Casey W. Johnson), the son of the late Gordo (Michael Dorman) and Tracy Stevens (Sarah Jones). Although the absence of Gordo and Tracy certainly casts a noticeable shadow over the Season 3 premiere (particularly in regards to the couple's troubled children), the series doesn't miss a beat without two of its best characters. In fact, the standout moment of the episode quickly proves that space exploration in the '90s remains just as unforgiving to the Stevens family as it did in the '80s. As the season moves beyond this first entry, it will be interesting to see how eager or reluctant the next generation of Stevens are to repeat history.

Elsewhere, some characters are feeling and showing the effects of the passing decades, but unsurprisingly, the impact isn't always distributed equally. VanSanten dons an appropriately grey-toned wig, but the makeup department does little to hide the fact that the 36-year-old actress is, in fact, only three years older than she was when the series started. However, whereas the makeup department fails to properly convey the passage of time, the storyline introduced for the new space entrepreneur is decidedly age-appropriate. The season premiere places Karen in charge for once, gifting VanSanten some of her best scenes on the series to date in the process. In addition to suffering what will inevitably be a major PR disaster, she is forced to grapple with the fact that her choices in life have led her to where she is today, a place quite different from what she likely imagined. From the loss of her son in Season 1 to the dissolution of her marriage in Season 2 and everything since, Karen has faced innumerable hardships, but she still continues to fight on with a smile.

Of course, disaster impacts everyone differently, and the same cannot be said of all her family and friends. It's unclear exactly how long it's been since the two divorced, but Ed Baldwin (Joel Kinnaman) seems about as miserable as he's ever been. Despite his recent marriage to a new character, Ed can only seem to dream about getting away from the planet he calls home. However, he's no spring chicken anymore, and many, including Margo, look at the future of his career in space with a giant question mark. In one way, this feels like it could lead the veteran astronaut into more interesting territory; he's never been more isolated than he is right now. In other ways, we can only hope this doesn't begin to feel like a retread of other stubbornly aging characters like Gordo in Season 2 and Molly Cobb (Sonya Walger).

Rating: 8.8/10 — This certainly isn't the best episode in the history of the series, but it manages to reintroduce characters in a new decade of their lives that feels new, and, most importantly, exciting! Some story threads are going to take longer to pay off than others, but if it works anywhere near as effectively as it did last season, we'll be in for quite a ride.