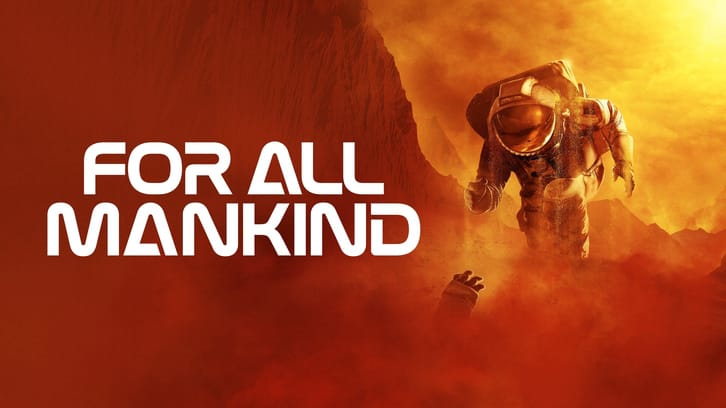 Previously on "For All Mankind": As the third season of the series jumps forward a decade, history continues to play out with a variety of differences; some are minor and others are extraordinarily consequential. Of course, the first wedding in space and the ensuing disaster both fall directly into the latter category. Although Danny Stevens (Casey W. Johnson) manages to pull himself together just long enough to save the day, the disaster of Hotel Polaris is sure to have a number of wide-reaching impacts. In the aftermath of the incident, Karen Baldwin (Shantel VanSanten), the only surviving owner of her company, will have more than a few difficult issues to confront back on Earth, not the least of which is her recent reunion with her ex-husband, Ed Baldwin (Joel Kinnaman).

After two seasons focused almost exclusively on young and middle-aged protagonists, it only makes mathematical sense that Season 3 of "For All Mankind" would begin to explore stories related to the glorious process of aging. To paraphrase J.K. Simmons in those obnoxious Farmer's Insurance commercials, these characters "know a thing or two, because they've seen a thing or two." Beyond any misgivings I may have about the show's age-related makeup, "For All Mankind" handles this metamorphosis with a deft and steady hand.

Although we've certainly seen has-been struggles in the past (see Gordo Stevens (Michael Dorman) before he and Tracy (Sarah Jones) saved the Moon in Season 2), we've never witnessed characters in this series grapple with their own mortality in this unique manner. Struggling with their own physical disabilities and career failures, this episode sees Ed and Molly (Sonya Walger) essentially put out to pasture at NASA as remnants of a bygone era. Although neither respond well to their respective bad-news days, writers certainly make the most of the narrative decision, giving the always quick-witted Molly some of her best one-liners yet and managing to show viewers an entirely new dimension to Ed.

What could have easily come across as a repetitive bit of self-destructive behavior on Ed's part actually turns out to be a super interesting focus on this show's most deeply layered friendship: the relationship between Ed and Danielle (Krys Marshall). After Margo (Wrenn Schmidt) announces that Danielle will actually be leading the first mission to Mars, Ed sees fit to rationalize his failure by openly implying that Danielle is simply being chosen as a diversity hire. On top of the fact that the comment is extraordinarily insulting and ignorant, it's also an exceedingly silly thought to voice. Not only is Danielle every bit as qualified and arguably better-tempered for such a mission, but she's also the best friend Ed has at this point. Earlier in the hour, Danielle manages to be excited for Ed's accomplishment, a kind gesture that Ed is simply too weak to reciprocate. Despite his "maverick" attitude in the cockpit, Ed consistently shows that he is decidedly weak-willed when it comes to allowing others (even his own family members and closest friends) the opportunity to grow for themselves.

Elsewhere, fans also witnessed the return of the most-universally despised storyline of the series: Karen and Danny's fling. In Season 2, these characters' hookup was widely reviled among critics and fans, and I honestly have no idea why writers are going back to this dried-up well of storytelling. Unfortunately, after exchanging a handful of awkward glances last week (during Danny's wedding, no less) and Danny's admission that he is still in love with Karen all these years later, the story of the unlikely couple's short-lived romance seems poised to make an equally awkward comeback at some point. Ugh.

Of course, the most exciting portions of this episode focus on the upcoming missions (yes, that's missions with an s). Helios, the brain child of Dev Ayesa (Edi Gathegi), is essentially an amalgamation of Apple and SpaceX, and with the stated goal to make it to Mars before any state-sponsored astronauts or cosmonauts, the company is easily the most exciting piece of this season's narrative. Most obviously, this move throws a sizable wrench in NASA's plans, but something tells me this isn't going to work exactly as Ed hopes either. Although it would have been relatively easy enough for writers to construct a basic competitor for NASA and a safe haven for Ed, this episode goes a step further by creating a new player in the space race entirely unlike anything we've seen in the series so far. It probably doesn't take a genius to realize that the Helios vote-by-committee rule is likely to be a hurdle for a headstrong captain like Ed. Even though there are guaranteed to be bumps in the road ahead, I also have to admit that the end of the episode left me eager for the upcoming journey to the red planet.

Rating: 8.5/10 — This episode certainly isn't as thrilling as the season opener, but it's also clearly not meant to be. The next era of the space race is just starting to heat up, and not everyone seems destined to make it to their destination.

Best quotes (all by Molly Cobb):
"I decide who goes up and when!"
"Do not f**k this up."
"Way to go, Ed. Stick it to the bastards."

Another note: According to CNN, 26-year old Katya Echazarreta recently became the first Mexican-born woman to travel to space. Notably, this occurred only shortly before "For All Mankind" fans watched Aleida Rosales (Coral Peña), also born in Mexico, travel to the moon for the very first time.