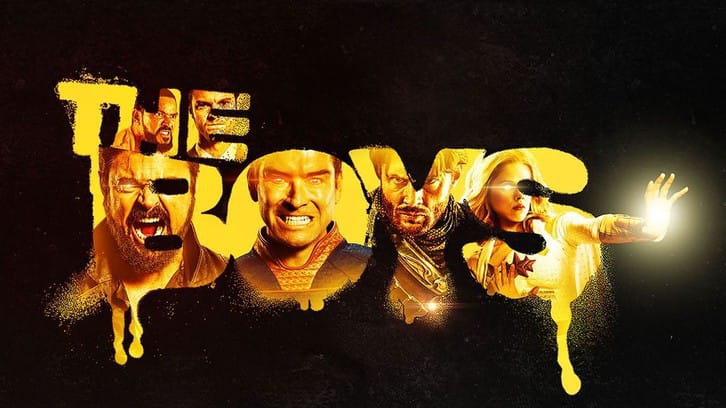 The Boys returned with a three-fer – a three episode drop on day one. I'm going to do a quick re-cap in three separate posts and hopefully catch us up with episode 4. Not surprisingly, The Boys returned like a punch to the guts with all the violence and mayhem that we've come to expect from the show (and the comic!) The show is also still holding a mirror up to our world and delivers some hard satirical truths. There's also a bunch of great new characters played by some terrific and familiar actors!
"Payback" was written by Craig Rosenberg and was directed by Phil Sgriccia. The episode picks up a year after the fight with Stormfront (Aya Cash), who is miraculously still alive. Starlight (Erin Moriarty) is the new star of the seven with Homelander's (Antony Starr) popularity in the toilet. Edgar (Giancarlo Esposito) even offers Starlight Co-Captain of the Seven! Hughie (Jack Quaid) and Starlight are still very much in love, and Hughie works for Victoria Neuman (Claudia Doumit) at the FBSA. A quick aside here to ask if anybody else thinks that her superpower which requires her eyes rolling back and turning white is a shoutout to her character on
Timeless
? Meanwhile, Butcher (Karl Urban), Frenchie (Tomer Kapon), and Kimiko (Karen Fukuhara) are under contract to Hughie… what could go wrong?
The first major cameo – your eyes weren't playing tricks on you – was Charlize Theron playing Stormfront in the Vaught movie showing at the beginning of the episode! She makes a better Nazi – being a bit more traditionally Aryan than Aya Cash.
One of the things that I really love about this show is the little touches that resonate throughout it. So, we see Butcher shopping online to bring a present to Ryan (Cameron Crovetti) who is living with Grace (Laila Robins). He decides to bring Connect Four – pretty low tech, but it resonates with Butcher's attempts to connect with Ryan – but the "Four" is also a reference for Butcher trying to get the four team members back together – Frenchie, Hughie, Kimiko, and MM (Laz Alonso).
Antony Starr is terrific in these first three episodes. I love how Homelander plasters on the fake smile when he has to and then just goes blank when the cameras are off. He's up to his old tricks once Edgar makes Starlight co-Captain, however. He begins bullying A-Train (Jesse T Usher) – and body-shaming him. It's clear that A-Train has never regained his speed. Homelander also comes close to having a meltdown when the Deep (Chase Crawford) appears on a talkshow in the slot before him. Ashley (Colby Minifie) tries to placate him and the Deep quickly starts following her lead, debasing himself. It looks like Cassandra (Katy Breier) is all about bullying the Deep too.
Hughie seems to have a good working relationship with Victoria, but he's also a little disappointed that they can't go after bigger Supes. When Butcher tells Hughie that he wants to go after the Termite (Brett Geddes), Hughie wants to check with Victoria first. Butcher shames him into making the decision himself, but Hughie tells him to observe only. Butcher watches while Frenchie and Kimiko go to Termite's party – where they first observe him screwing Barbie – because he can shrink… Frenchie calls it non-consensual.
Termite then heads into another room with a friend where they do some drugs and then Termite shrinks and goes into the guy's penis… and when Termite sneezes, he 'blows' his friend apart – it's gross and hilarious and quintessential Boys! Frenchie rushes in – and then tries to leave, but Termite attacks him – and it's also hilarious as he's screaming at Kimiko to stop him before he gets up his ass! Butcher ends up saving the day by trapping Termite in a baggie full of cocaine…
Meanwhile, things aren't going great for MM. Janine (Liyou Abere) turns 10 with a Seven inspired birthday. At least she's dressed as Starlight! Monique (Frances Turner) has a new boyfriend – Todd (Matthew Gorman) – who is creepy and a dick, who naturally dresses up as Homelander. MM's OCD is still front and center. He tries to get Monique to go out to dinner with him to discuss Janine, but Monique doesn't fall for it.
Edgar is busy promoting his pharmaceutical business – he's now got a version of V that lasts 24 hours that he's trying to sell to Secretary of Defense Robert Singer (Jim Beaver) – Dakota Bob – who, if you've read the comics, you already know is going to end up winning his election! Dakota Bob isn't interested and tells Edgar that V is now synonymous with Gestapo and Nazis and won't fly in Congress. Edgar tells him he wants to get out of the Supe-business – he's tired of babysitting – and that he has some influence in Congress…
Once again, we have lots of commentary on the industry – starting with the Dawn of the Seven movie premiere – with the awkward red carpet – and with Ashley and Adam (P.J. Byrne) – the Director – having sex in a bathroom stall with her telling him he's terrible and him pulling her hair out. With "Herogasm" on the episode horizon get ready for even more bizarre sex… Then we have the Cameron Coleman (Matthew Edison) talk show. The Deep has apparently been doing TED talks – and has been described as the "thinking man's superhero" – but of course, we all know that he's as dumb as a post!
But it all pales next to the reality show American Hero – on which Starlight will pick the next two Supes to join the Seven. One of them is Supersonic (Miles Gaston Villanueva) – who used to be Drummer Boy – Starlight's old boyfriend. The "reality show" sees Starlight and Supersonic running lines – because it really IS scripted. Hughie is surprised to see them having lines – and begins to believe the fiction that Starlight might have a lingering interest.
The episode ends in blood and gore – as all good Boys episodes should. Hughie has already encountered Tony (Kyle Mac) at the movie premiere and at the FBSA, calling Victoria Nadia. After leaving the office with Victoria, he follows both of them into an alley. Victoria does know this Tony and he wants her to tell the truth about "Red River." She tells him ok and hugs him – but when his nose starts to bleed, he realizes she's trying to use her powers on him. He too has powers and sends her flying, but in the end, she wins. She's clearly not happy she's had to kill him.
When she completely explodes him, Hughie is once again covered in blood and guts. She calls someone telling them she's in trouble and needs a clean up team….
This was a great start to the season. Lots of nods to the comics and the blood and gore and general craziness we've come to expect. But the show also continues to be smart. It's easy to miss the satire if you are just enjoying the broad strokes, but there are just so many tiny details too. I love the social commentary on so many issues. What did you think of the episode? Let me know in the comments below – and look for my reviews to come thick and hopefully fast to catch up with the weekly releases!