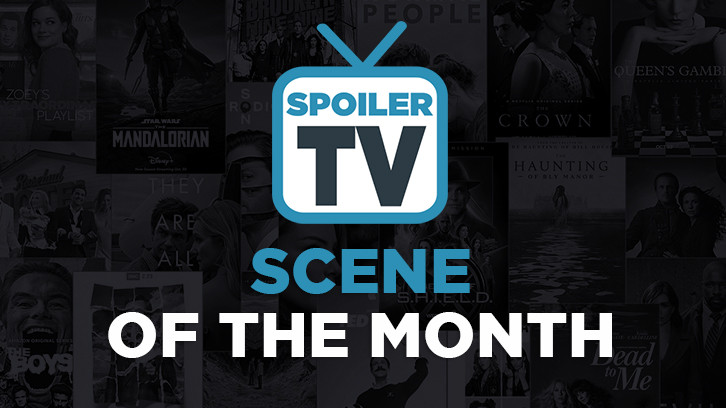 A monthly feature in which we're trying to find the most compelling, best acted, written, directed and just generally great, memorable scenes that we've seen in the past month on TV.
A MILLION LITTLE THINGS, "Crystal Clear", October 27, 2021, Actors: Grace Park, Nikiva Dionne, The Scene: Katherine and Shanice talk about their feelings for each other
Marko:
Sadly even in this day and age, you can rarely see two women openly talk about their feelings and struggle with their feelings. The interaction between Park and Dionne is simply a standout and the words communicated in this scene were just so honest, raw and emotional. Perfectly on point.
CHICAGO FIRE, "Two Hundred", October 20, 2021, Actors: Jesse Spencer, Taylor Kinney and more, The Scene: The original crew says goodbye to Casey
Beth:
It was a scene I hoped would never come, but if it had to, it needed to be this way. Seeing the 'original' guys come out onto the apron before Casey left for Oregon just got me, but I really lost it when Severide said he loved Casey. It was so beautiful but I refuse to call it goodbye, just see you soon.
CHICAGO PD, "In the Dark", October 13, 2021, Actors: Jesse Lee Soffer, Jason Beghe
The Scene: Halstead vs. Voight
Jessica C:
Oh, the sweet, sweet satisfaction! Hank Voight has had this punch coming for a very long time. But the fact that it was Jay who delivered it just makes the scene so much better. It doesn't matter how Voight justifies his behavior and misconduct on the job, "it's just not the math anymore". And to suggest that Jay doesn't know his fiancée after they have both told him otherwise—after witnessing Hailey in complete distress--I just don't have a single tear to shed for him.
DOOM PATROL, "1917 Patrol" & "Bird Patrol", October 14 & 21, 2021, Actors: Matt Bomer, Matthew Zuk, April Bowlby, Michelle Gomez and more, The Scenes: Larry confronts his son and forgives himself & Laura betrays The Sisterhood of Dada
Justyna:
The main characters on the show often have the tendency to take one step forward and two steps back. However, this season has been pushing everyone to their limits and things truly seem to be changing, for better or worse. Episode "1917 Patrol" was a big turning point for Rita, although it feels more like a reset than growth due to her memory loss. So while I have been enjoying her story in this hour and the season overall, it's Larry's character development that has impressed me the most. And it was wonderfully portrayed in this scene. After nursing his son Paul back to health, Larry apologizes for getting Paul involved with the Bureau of Normalcy. That's when his son pushes back, appears glad to be working with the Bureau and once again confronts his father about leaving him behind and being a coward. Finally, Larry is done with his behavior. He reminds him that he wasn't exactly given any choice when the radioactivity started emitting from his body. His life is a never-ending struggle that he has to deal with all the time. He loved his son and remembers every moment he got to spend with him or even waiting for him to be born. And most importantly, he's ready to forgive himself, even if Paul isn't. Such an important and impactful scene for Larry. Wonderfully acted and written. Things are never going to be great for him, but maybe, just maybe, there's a chance for things to be okay. Kudos to cast & crew for all their work.
Alejandra:
Laura betrays The Sisterhood of Dada.
EVIL, "C Is for Cannibal", October 10, 2021, Actors: Katja Herbers, Mike Colter, Michael Emerson and more, The Scenes: Kristen's confession & Leland throws a party for Mitch
Kath M:
Yes, yes, Mike and Kristen kissed at the end of the scene. But it's the "before" I found more compelling. When Kristen arrives and tells David that she was on her way to kill Leland but came to him instead, he's not sure he believes her until she wields her Climbing Axe of Righteousness. Instead, now that he can, she asks him to hear her confession. He agrees and she kneels on the floor to begin. She can't even remember how anymore, and he helps her find the right words as she sobs, talking about trying to be a good wife and mother. She has tried to protect her children, but Leland still found a way to get to Lexis, to form a private relationship with her. LeRoux threatened her family too, and she stopped him by killing him with her axe. She even got away with it, even though she knows she should have been punished. In some ways, I think she even wanted to be punished. She's sobbing out the words she's kept hidden this entire season (except for the adultery!) and I can just feel all of her sorrow pouring out into the room and taking over everything. Herbers is brilliant in this scene. David absolves Kristen of her sins and holds her as she cries. Then yes, the kissing, but since it wasn't exactly a surprise I consider it secondary to Kristen who has had her sins washed away. It will be interesting to see what this Kristen will bring to the table next season.
Laura B:
Leland throws a surprise cannibal party for Mitch. I know, I know. It was hard not to choose the long-awaited (well, it feels long anyways) 'Kristen and David finally make out' scene, but I have to say that this Demon-Sigil inheritance Hannibal-Cannibal-like party was one of the more surprising scenes in the episode and just added so much tension, absurdity, and great mythology for the series to lean into next season. Sheryl has also joined the Demon club, seemingly to beat Leland at his own game and to protect her grandchildren, but the audience is still not sure if you can fight demons with demons and still come out of it a good person.
HOME ECONOMICS, "Giant Jenga, $120", October 20, 2021, Actors: Topher Grace, Caitlin McGee, The Scene: Sarah and Tom talk about her kiss with Jessica
Folie-lex:
As Tom originally is ready to have it out with Sarah for the betrayal over being the reason of his first heartbreak, a guilt ridden Sarah profusely apologises and explains her perspective over the confusion, embarrassment, frustration and all the other difficulties that accompanied her coming to terms with her own sexuality. Tom undestands and apologises in turn for being selfish and self centered and offers his sister just the right kind of comfort she needs. It's a beautiful sibling moment between the two.
IN THE DARK, "Expectation is the Root of All Heartache", October 6, 2021, Actors: Perry Mattfeld, Casey Deidrick, The Scene: Max confesses his love to Murphy
Marko:
This season was everything but Max-Murphy centric but in the face of danger and possibly never seeing each other again, Casey Deidrick brought his A game as Max confessed his feelings to Perry's Murphy. Despite all the good and mostly bad Max will always love Murphy and vice versa. It was sweet from the writers to let us remember that.
LEGACIES, "We All Knew This Day Was Coming", October 28, 2021, Actors: Danielle Rose Russell, Riley Voelkel, The Scene: Freya tells Hope how proud she is of her
Luana:
It was nice to see Hope in the company of family again and Freya was the perfect choice, it's easy to forget the roots of the show but it's always nice to get a reminder of the characters we love and miss.
LEGENDS OF TOMORROW, "The Bullet Blondes" & "wvrdr_error_100 not found", October 13 & 27, 2021, Actors: Amy Louise Pemberton, Olivia Swann, Arthur Darvill and more, The Scenes: The Legends welcome Gideon to the team & Astra brings Gideon back to life
Justyna:
I may not be watching the show on weekly basis anymore but I did want to see this 100th episode. It turned out to be much better than I expected. I loved the focus on Gideon who was there from the start but never officially as one of the Legends. Amy Louise Pemberton's performance throughout the hour was wonderful, it's so good to see her with the rest of the cast. There were many memories we went through during the episode and it was great to see so many characters come back to celebrate this milestone for the show. The highlight that I wanted to include in the article has to be "welcome to the team" part near the end of the hour. All these past and present Waverider crew members show up for Gideon to offer support and guidance, and most importantly make her realize that she's not alone, that she truly is one of the Legends. The message starting from Rip (!!) and ending on Sara was perfectly done. Congratulations to the cast & crew and kudos on all the work on these 100+ episodes.
Alejandra:
Astra brings Gideon back to life.
LEVERAGE: REDEMPTION, "The Harry Wilson Job", October 8, 2021, Actors: Aldis Hodge, Noah Wyle and more, The Scene: Hardison makes his entrance
Folie-lex:
As much as I've enjoyed this sequel series it has been terribly missing Alec's presence from the show and the team dynamics. Hardison makes a kick ass entrance in the season one finale of Redemption reminding us exactly why we've been missing him so much.
MAID, "String Cheese" & "Bear Hunt", October 1, 2021, Actors: Margaret Qualley, Nick Robinson, Andie MacDowell, The Scenes: Paula tries to break into the house & Sean turns back into an abusive partner
Marko:
Paula tries to break into her house. The shock on Alex's face was petrifying. Seeing her mother so erratic and bloody pushed Alex over the edge, reawakening all her past and present trauma. The chemistry between real life mother and daughter once again brought all the necessary emotions in this scene.
Eve:
After being suspiciously nice, Sean turns back into an abusive partner. Alex finds herself trapped again in an abusive relationship with no apparent way out. All the progress that she has made is gone. It's a gut wrenching scene of Alex disappearing into the couch with a look of total desperation and hopelessness.
SQUID GAME, "Gganbu" (Kkanbu 깐부), September 17, 2021, Actors: Jung Ho-yeon, Lee Yoo-mi, The Scene: Ji-yeong's sacrifice
Justyna:
This one took me by surprise. This is easily the hardest hour of the show to watch. Ali's fate was heartbreaking to see and the interactions between Gi-hun and Oh Il-nam were wonderfully done. The ending with Gi-hun walking away had one of the most powerful performances in the series. And yet, with all those moments with the characters we've watched from the start it's the unexpected duo of Ji-yeong and Sae-byeok that surprised me the most. While we've been following Sae-byeok from episode one, Ji-yeong is introduced in the middle of the story. We don't even know much about her prior to the marble game. Despite all that, it's hard not to feel for her character as we get to learn her story and the way she ended up in the games. The simple fact that she truly had no other place to be is what hit me the most. She couldn't think of a single thing to do after winning the money, a reason to leave. With each scene I was beginning to understand what she intended to do so when the moment comes to play the game and she simply drops the marble, I realized that she just became the second person in this brutal story to display an act of true selflessness (after Ali saving Gi-hun in the first episode). She chooses to sacrifice herself so that Sae-byeok has a chance to live and fight to come back to her family. Sae-byeok has a hard time accepting her choice, making Ji-yeong's final words and smile even harder to see. "Kang Sae-byeok! Thanks for playing with me." Kudos to cast & crew for all their work on the show.
SUPERGIRL, "Magical Thinking" & "I Believe in a Thing Called Love", October 5 & 26, 2021, Actors: Chyler Leigh, Azie Tesfai, Mila Jones and more, The Scenes: Alex proposes to Kelly & Alex and Kelly decide to adopt Esme
DJRiter:
After a fierce battle with Lex and Nyxly at Al's Alien Bar, the others fear that love is lost when the Love Totem is seemingly destroyed. However Alex believes just the opposite when she says the love totem appeared in her jacket for a reason, and that reason was the deep love she had for all of them, she then takes Kelly's hand and asks her "You are the person I want to watch Die Hard with for the rest of my life, will you marry me?" It was a beautifully written scene performed touchingly by Chyler Leigh.
Marko:
Alex and Kelly decide to adopt Esme. The look on Alex's face when she saw poor Esme being pushed to a corner of despair again and realized "this is my daughter" was everything. Alex's search to find where she belongs and who she is was long and the moment she decided Esme is her and Kelly's daughter gave me goosebumps. Alex stretched out arm and the smile on her face was beautiful.
THE MORNING SHOW, "A Private Person", October 22, 2021, Actors: Reese Witherspoon, Billy Crudup, The Scene: Bradley talks to Cory about her outing
Alejandra:
Bradley talks to Cory about her outing and how it might be a good thing that happened - Reese crushing my soul once again.
THE ROOKIE, "Five Minutes" & "A.C.H.", October 3 & 31, 2021, Actors: Melissa O'Neil, Dylan Conrique, The Scenes: Tamara and Lucy talk about Jackson's loss & Tamara says she feels safe with Lucy

Luana:
Tamara says she feels safe with Lucy - After one crazy day Lucy is worried that Tamara feels unsafe but she reminds her she's been in unsafe places before and she never had a kick-ass superhero looking out for her, and she's never felt safer. It was so heartwarming.

Folie-lex:
Lucy and Tamara talk about her living in the apartment instead of Jackson. Tamara and Lucy have a proper heart to heart over how Jackson's loss has affected them. Moving on is hard and they've both been hesitant in "erasing" him from the apartment as Tamara moves in instead. But they both know in the end he would want them to be happy and move on and would really, really mock them over how they've been acting about stupid wall colours. It's bittersweet and heartfelt and a very well needed homage to a character we all miss dearly.
THE SINNER, "Part III", October 27, 2021, Actors: Bill Pullman, Frances Fisher and more
The Scene: The dinner
Luana:
Ambrose is a dog with a bone and it was super interesting to see him in his element, avid to get to the truth and getting everyone off balance.
YOU, "What Is Love?", October 15, 2021, Actors: Penn Badgley, Victoria Pedretti
The Scene: The last supper
Luana:
That was insane, and we can agree or disagree on how good or bad that was, but it's certainly in line with the show's energy, and it was great to see Victoria Pedretti in this role, and she certainly deserved to go out with a bang.
WHAT WE DO IN THE SHADOWS, "The Wellness Center", October 14, 2021, Actors: Kayvan Novak, Harvey Guillén, The Scene: Nandor tells Guillermo he's happy for the first time
Folie-lex:
As Guillermo attempts to rescue Nandor from the brainwashing he's suffered in the Wellness Center Cult, Nandor is firm and dead serious in explaining that this is the first time he's felt really happy. There is something terribly captivating in Kayvan's delivery of this speech. The show and all the performances very consciously tip-toe around its absurdity and OTTness all the time. However in this moment Kayvan plays Nandor completely sincerely and there is something terribly tragic about how that relays into what that means for the character.