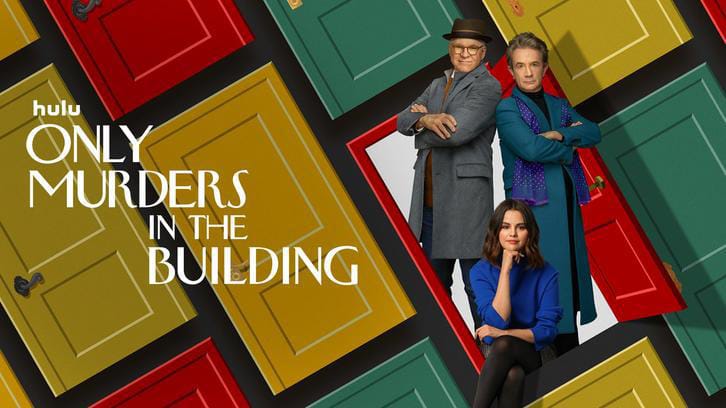 It's not what you'd think would be the most relevant developments to make so close to the finale, but Only Murders in the Building took a good look at Charles' fraught relationship with...well, relationships this week, ending with the biggest twist of the season so far. Read on for my review:
After discovering her stabbed and bleeding out in her apartment at the end of last episode, Charles narrowly rescues Jan from sharing Tim Kono's fate. The two grow ever closer in the following weeks, as Charles helps her recover. He even considers quitting the podcast to protect her, but before he can act on that plan, another woman from his past re-enters his life. Charles' former "Brazzos" stunt double Sazz Pataky (Jane Lynch) arrives in town, much to Charles's chagrin. Sazz has always had poor timing in her visits, but more prominently has been better and more than Charles on every occasion, and in every way. She even managed to steal his girlfriend while they were working together - and with Charles' unfortunate love life, that in particular still strikes a nerve.
Meanwhile, as the podcast retracts their conclusion that the Dimases killed Tim, Mabel finds a note that the building is having a community meeting about the podcast. Oliver also finds a dismaying note on his door - an eviction notice.
As it turns out, the residents of The Arconia aren't happy that the podcast has made people afraid of the building. The amount of complaints filed against the three sleuths has reached an evictable level, and Bunny, the building manager, holds a vote at the building meeting to evict Mabel and Charles (along with Oliver, already on his way out).
At the same time, their cat-obsessed neighbor Howard - unknowing that he's the trio's #1 suspect again after Jan's attempted murder - reveals that he's actually grateful to the podcasters. He got a toxicology report back on his cat Evelyn, finding that the same poison that killed Tim also killed Evelyn. This development once again eliminates him as a suspect, but the Only Murders crew doesn't have time to discuss. The vote to kick the trio out of the building goes through and the three are evicted, effective the next day.
To keep themselves off the streets, Charles, Oliver and Mabel work even harder is to solve the murder and change everyone's minds about them. Sazz ends up being a significant help in the matter, determining that the evidence lines up with a crime of passion, and the murderer was someone in love with Tim. Mabel realizes that Tim's trash bags were a different brand than that of the trash bag he was carrying on the elevator the night he died. Thinking about the crime of passion theory, Oliver and Mabel estimate he might have been taking out trash for his lover - who must live in the building.
When Charles expresses concern that Jan is pulling away, Sazh convinces Charles to go see Jan's bassoon recital as a gesture. Charles attends the recital to find another man also there to see his girlfriend perform...the first chair bassoonist, a young girl named Allison Tipton. But why would Jan lie about her role in the orchestra? Unless...
Around the same time, Oliver and Mabel question Tim's next-door neighbor, who talks about how she heard a woman in Tim's apartment many times. They look over the sex toys they found in Tim's apartment, only to discover that one of them might not actually be a sex toy...but a bassoon cleaner. Bum bum bum!
I can't say that this twist was entirely unexpected, but that doesn't make the ride to get here any less fun. What this show lacks in surprise it more than makes up for in charm, this week invigorated by the insanely upbeat guest presence of Jane Lynch. I am a bit concerned what the already-confirmed 2nd season will have in store - there's not many narrative bridges at this point that haven't been burned - but for now, it looks like we're ramped up for a killer finale.
What did you think of "Double Time?" Final predictions for the finale (we might know the who, but how about the why? And the how?) Let me know in the comments!