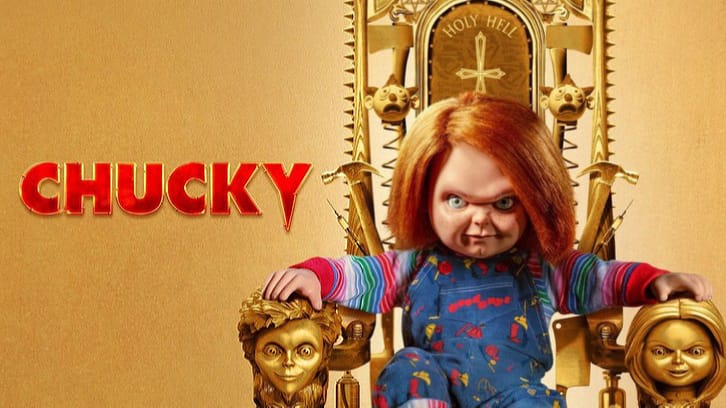 Hi folks, welcome to the second episode review of Chucky. If the first episode of Don Mancini's Chucky series laid the groundwork, episode 2 feels like an indication of where the story could head. In the fallout from last week, Jake (Zackary Arthur) is now living with his aunt and uncle alongside the (not so) secretly killer doll Chucky. Here we see Chucky really get his claws into Jake's mind whilst also showing some of the hallmarks of his now deceased father. While Chucky may seem like an advocate for Jake and an LGBT+ ally, he is clearly using the kid for his own nefarious means. Very much the doll becoming the puppy master. But hey, at least he´s not a homophobic monster right?
Jake continues to be everywhere, however who can blame him? He witnessed his father's demise and knew his doll was finishing up killings within the city. The second episode shows a toxic relationship now in the form of a doll. Even though Jake's relationship with his father wasn't the best, at least, he wasn't urging his son to start killing people. The masterstroke of this episode is setting it around Halloween, as Jake is invited to a party by potential love interest Devon (Bjorgvin Arnarson), but Chucky might be coming along for the ride. The standout sequence is Chucky trick or treating on the streets of Hackensack, and putting a razor blade in a ladies candy, harking back to something from Charles Lee Ray's childhood. Again they don't dwell on Ray's past in the town, at least not yet and instead sprinkle hints to a wider plot which will surely be explored as the series develops. The best part about the Chucky series so far is that it is clearly having so much fun, with Easter eggs for the Uber fans and a straightforward killer doll plot strand for the newcomers.
We already knew Lexy (Alyvia Alyn Lind) is the worst from episode 1. Seriously, this child is probably the most egocentric character on the small display, probably extra so than Chucky. She needs all the eye on her, however she additionally needs to bully Jake to the purpose he would not need to reside. That's all I can take from the Halloween celebration. We know Lexy is excessive up, and probably her mom, because of her saying that violence is incorrect to Caroline (Carina Battrick) (that scene was hilarious). Caroline was a enjoyable little addition to the episode as a result of Chucky appears poised to control her into turning on Lexy, which may make for some comical one-liners. Chucky nearly killing Lexy and Junior (Teo Briones) by sticking the knife by the mattress made for some tense moments as a result of there actually is not any telling what is going to come subsequent on this present. Also Annie's dying on the prime of the episode took me abruptly as a result of it has efficiently put lots of consideration on Junior's household, and by extension, Jake.
Detective Evans (Rachelle Casseus) could have her work lower out for her investigating this case, however now that she is aware of Chucky was alone within the Hello Kitty masks, it makes issues extra intriguing. Jake was not within the line of sight, and he or she strikes me as the kind of person who would be the most understanding when this case is turned on its head. Bree (Lexa Doig) performing as if Annie was this vital a part of the household was one other huge second as a result of it confirmed Detective Evans that Bree shouldn't be truthful. That leads me to consider that Annie's dying could possibly be pinned on Bree sooner or later to throw in some extra difficult drama for her. We already know she's hiding secrets and techniques from the household, however will these secrets and techniques be unhealthy, or are we being led to consider?
I have no idea what Chucky's endgame with Jake is supposed to be. Why is the serial killer doll so determined to get Jake to murder people? Chucky even tried to justify murders to Jake by saying some people deserved it. And you know what? Going by what Lexy did during the Halloween party in Oliver's house, I think Jake might just say yes to ending her life after another conversation with Chucky. Again, why does Chucky want Jake to take part in his killing spree? He even brought up his genderfluid child, much to Jake's surprise. Does Chucky want to adopt Jake for some reason? Or is Chucky secretly working on a plan to pin all of the murders on Jake and make a run for it? I have so many questions right now. The maid's death did make me wonder if there was already more than one Chucky doll running around town, though. Chucky swore to Jake that he didn't kill the maid. And I think he might be telling the truth. This wouldn't be the first time more than one Chucky doll got used in a story. But then again, he could be lying? As I already mentioned, I have so many questions. With two "accidental" deaths occurring quite near Jake, I liked seeing Devon's mother trying to piece the puzzle together. While her partner didn't hesitate to share his suspicions regarding Jake, I think Detective Evans will be more understanding. She might even start to entertain the possibility of the Good Guy doll being alive. I just hope nothing bad happens to her. I'm okay with her partner getting hurt or killed, though.
Speaking of people I'm okay with dying, what the heck is wrong with Lexy? I get that she has certain issues at home, but that's not enough to excuse her behavior. She's a completely different breed when it comes to middle school bullies. The way she dressed up as Jake's father to reenact his death during the Halloween party was a low blow. Even Chucky's desperate to kill her. I couldn't help but laugh seeing him try to stab her from under the bed and fail (numerous times). I think Chucky's going to try and get to Lexy through her little sister. And unless Lexy goes through some kind of well-written redemption arc soon, I won't miss her. Here's hoping the upcoming episodes give us longer flashbacks exploring Ray's childhood instead of a few random seconds that distract from what's happening in the present. The episode ends with Chucky manipulating Jake by educating him about the "kill or be killed" world he faces. Chucky tempts Jake with the knife and inspires him to stand up for himself in the wake of all the torment he continues to face. The closing visual of Jake taking the blade from Chucky's hand, and the reflection in the cold steel switching from Chucky's sinister smile to Jake's vengeful look of determination, perfectly punctuates the story.
This second chapter of Chucky is a much stronger outing than the premiere. In some ways, the series would have made a better first impression had this episode been its first offering, as it brilliantly sets up a heated battle for Jake's soul. At this point, few signs point to Jake's redemption, but some hope can be found with the friendly face of Devon, the lone person who treats Jake with kindness. Based on the various pushes into madness the boy has already been dealt, Devon and anyone else who might want to save Jake will certainly have their work cut out for them. At this point, based on Lexy's blatant abuse, the viewer can't be blamed for rooting Jake (and Chucky) on in their quest for revenge. Whatever happens next, the series has certainly set itself up for success moving forward.