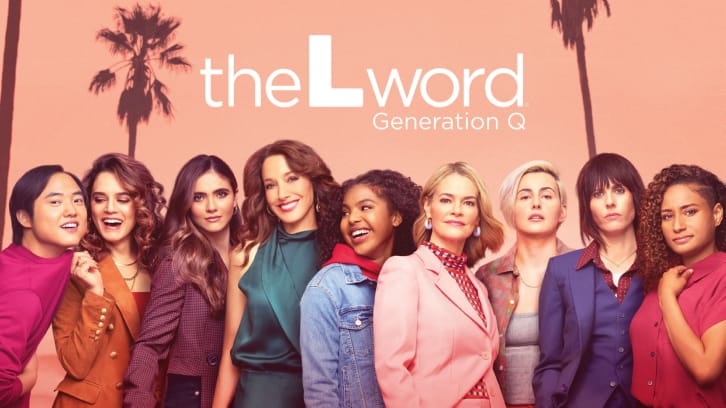 This week´s episode in beautiful Los Angeles is brought to you by another big poker game, because that's what lesbians do for fun here! This particular game is a fundraiser for MS that Tess Van De Berg (Jamie Clayton) i love her full name, and Shane (Katherine Moennig) seem to have organized in one calendar day, but logistics like that won't stop this from being the new social event of the season. Until, of course, next week when it will be replaced by the launch party for Alice's (Leisha Hailey) book because that´s the only way all of the new and old characters can interact with each other, through a social event.

For now we are hanging at Dana´s again, we´ve got Alice and Nat (Stephanie Allynne) hooking up, again because they don´t really care about breaking my heart over and over, we know they´re not going anywhere as a couple because they want different things but it doesn´t make it any less painful, and the intense chemistry they have doesn´t help either. I wish we would spend more time on them even if it won´t work but instead we have a lot of the episode on Sophie (Rosanny Zayas) and Finley´s (Jacqueline Toboni) unhealthy and annoying relationship.

Honestly, a lot of events transpire in this episode that i didn't love, including drunk driving, Bette (Jennifer Beals) being horrible to Carrie (Rosie O'Donnell) And a lot of events i did love, like a wholesome promposal from Jordi (Sophie Giannamore) to Angie (Jordan Hull) while dancing in a fountain, so many people kiss in the rain and i´m very happy about it, but we are not there yet. Ah here we are, everybody is ready to let the light in for this recap of The L Word: Generation Q Episode 207, "Light." The episode truly had its ups and downs, with plenty of room in between for me to experience anxiety and second-hand embarrassment. I don´t really want to stay a very long time on Finley and Sophie´s sex marathon, so let´s just say that it happens and we can move on.

We then cut to a serene restaurant where everybody is wearing clothing but memories of sexual activities linger in the air as two dear friends, Bette and Alice, share lunch while noting that somehow, Gigi (Sepideh Moafi) and Nat are having lunch in the same damn restaurant. Alice goes to say hi so the ynaturally end up having sex in the car. In yet another car in another section of our fine city, Shane's dropping Tess off at her AA meeting and discussing their upcoming Poker Event for The M.S. Society. Tess is thrilled about it! Shane also spots the one and only Carrie also entering the building.
At Angie's she´s in her bedroom deciding which questions she will ask Marcus if this show ever stops teasing us and truly grants them an actual in-person encounter, but Jordi just wants to talk about prom queen and her "look" and how they're gonna hang in the park tomorrow. You know the usual teenager problems. Angie feels unsupported, because for some reason I cannot comprehend, Jordi is clearly not supporting her. I guess the one thing this show is consistent for is bad communication with your partner and it starts at a very young age. Let´s go to the offices of Bette Porter, where she's got something pretty special up her consistently innovative sleeves for Pippa (Vanessa Williams): a show at the legendary CAC on the topic of Black Lives Matter, built around the one and only Pippa Pascal. Now to everyone´s favorite couple and also the sexiest, Dani (Arienne Mandi) and Gigi are lunching at a food truck and Gigi, bless her communicative heart, would like to discuss emotional events that transpired in the past. She's surprised by Dani's response: after her horrible night and seeing Finley and Sophie together, she found Gigi's revelation to have "shitty" timing. She needed a friend. Unfortunately I disagree, she needs to be Gigi's girlfriend ASAP. However, props to Dani for speaking her mind! And this right here is why i love them so much together. Dani feels like things are moving too quickly because What About Bette? Gigi's confident Bette won't care. Dani's afraid to make Bette feel like she did with Sophie. Gigi insists Bette does not have strong feelings for her. Dani finds that hard to believe and so do i but it is true actually, i don´t think Bette will care at all.

Kayla (Brook'Lynn Sanders) and Angie are enjoying smoothie beverages together and discussing Angie's relationship with Jordi, which as we know, is crumbling in our hands. Jordi's too obsessed with prom to run over sample questions for Angie's Very Chill Meet-Up with Marcus Allenwood. Kayla says Angie can talk to her about those things if she wants. Unfortunately, Angie has determined, without even talking to Jordi about the problem they're currently having, that it's time to call it off altogether. Time for the big social event of the episode, Alice and Shane tease Bette about her obsession with Pippa and how she's been yabbering on about her for months/years and then welp! Shane spots Carrie, the Fiancée of our one and only Tina, here on a solo date. Good for her! Bad for Bette, of course, who between gritted teeth reveals that Carrie called and asked if she could come even though Tina was out of town. Alice and Shane have a great feeling about Pippa. Then, Shane asks if Alice has ever seen Dumb and Dumber and I laughed but I don't think it's fair for that movie to ruin light blue suits for everyone forever!

another person on an unfortunate track this evening is Dani, who has come to The Event to ask for Bette's blessing to date Gigi. Everybody wants Bette's blessing tonight and nobody is gonna get it! Of course, the first thing Dani sees upon entering is Sophie and Finley canoodling. So she beelines for the bathroom, where Nat and Alice are finishing up a little Stall Sex. Nat and Alice emerge from the stall, radiant from their recent sex act and unable to play it cool. Dani tells them she wants to ask Bette how Bette would feel about her dating Gigi, and Alice and Nat are wildly insistent that Bette would not mind at all, which Dani remains a bit confused about. Pippa's glad this poker game is for charity 'cause she lost so much of her money, but Bette feels a deep sense of relief to discover that Pippa is bad at something. The sexual tension, IT IS HIGH.
Alice glares as Nat flirts with an extra at the bar, realizing relatively quickly in the life cycle of this reunion that nope, this is not gonna work.
Angie and Jordi are processing the promposal. Angie says Jordi was acting so weird but now she's kinda relieved, because it was coming down to the wire and she thought she'd have to go to prom alone! I thought you like, automatically go to prom with your girlfriend, right?
Dani's decided to take her evening into her own hands and go visit someone who probably won't make her feel really terrible! She knocks on Gigi's door and then immediately retreats when Gigi doesn't answer. But before she can creep off into the bushes in search of some bread for toast, Gigi emerges to declare that Dani is a lot more dramatic than she thought. Dani said she was unable to ask Bette for her blessing upon their union, and Gigi says okay, bad timing. She's being so patient with Dani's desire to pursue this silly line of reasoning! Dani is terrified to let herself like Gigi so soon after having her heart broken, which drives her to slut-shame Gigi for being "with everyone I know." Gigi says that's an exaggeration, and Dani consents that indeed it is. Look at these two resolving their conflicts so quickly so soon into their courtship! Gigi asks her to come inside but Dani wants to take it slow, instead they will just kiss in the rain. And they are not the only ones, Tess and Shane are also doing this and i´m beyond happy, i relly hope they last and can continue this slow burn romance for the well being of my soul.

What did you guys think of the episode?
Who had the best kiss under the rain?