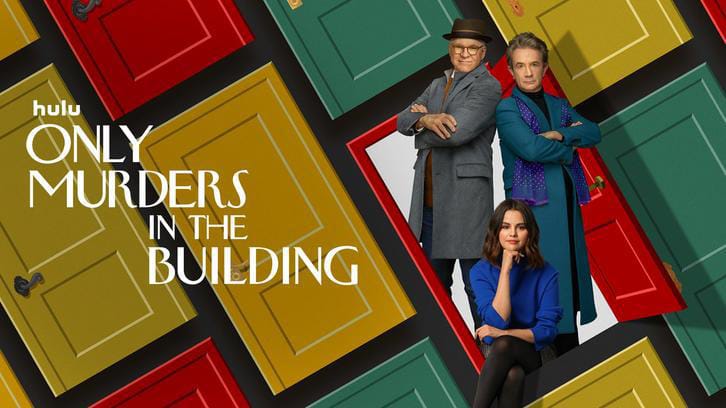 The titular podcast begins to actually make a marked difference in the Tim Kono case this week on Only Murders in the Building. Read on for my review of "To Protect and Serve":
Dee Williams, the homicide detective assigned to the Kono case who we briefly saw in an earlier episode, is fairly certain that she had done her due diligence in ruling Tim's death a suicide. However, all that comes into question when the detective's pregnant wife reveals that she has been listening to a new podcast made by some of Tim's co-residents of the Arconia. Laying out all of the evidence that Charles, Oliver and Mabel have documented, Mrs. Williams begins to cast doubt in Dee's mind that she actually closed the case.
Meanwhile, Mabel's cousin Tavo tells the sleuths (and Oscar) that Tim had been collecting black market jewels from a dealer named Angel for quite some time, but he was also in search for a particular piece that he could never get his hands on. Just then, Mabel's mom also shows up at the tattoo shop, just in time to clarify more of the muddier bits of Mabel's backstory. Mrs. Mora specifically connects with Oliver and Charles, describing how terrible it was for her after Zoe died, and begging Oliver and Charles to leave Mabel alone. After this sobering conversation, Charles and Oliver sadly agree to part ways with Mabel.
That's not the only aspect of the mystery the duo bring into question, however. While getting drunk on Gut Milk (which contains near-Vitameatavegemin levels of alcohol), Charles and Oliver begin to question both the overall morality of their amateur documentation of a real man's murder as well as the quality of their fast friendship.
But like it or not, the podcast's mark has been made. Spurred by her wife's insistence, Dee looks into the case again and discovers that much of the key evidence was mysteriously never processed. With little she can do about it officially and after some convincing, Dee sends Tim's phone to Mabel at the Arconia (why she chose Mabel and not Charles or Oliver - the podcast's respective narrator and director - seems odd to say the least, but hey, it forwards the plot).
While sharing old pictures (and also sharing an intimate liplock) with Oscar, Mabel discovers one picture, taken on the night of Zoe's death, where Zoe is wearing the same ring that Tavo said Tim had been searching for. Oscar tells Mabel that when he saw Zoe's body after she died, she wasn't wearing the ring, meaning that it disappeared sometime between the beginning of the party and Zoe's death.
We also find out this week that Cinda Canning ragged on the podcast on The Tonight Show, demoralizing the Only Murders crew quite a bit, but also providing a significant amount of exposure for their sponsor. Not knowing how close they were to suspending the production, an overjoyed Teddy provides them with a $50,000 check to keep producing the podcast. Notably, the money is withdrawn from an account under his now-deceased grandmother's business account. Unwilling to profit off of Mabel's tragedy, Charles and Oliver reluctantly agree to tear up the check - until they notice that the business account it is coming from is called Angel, Inc. - Angel, like the dealer Tim was meeting with. Just then, Mabel comes in, looking to get the band back together, and brandishing Tim's phone that she recieved from an anonymous source. They have a suspect, they have new evidence; now all they need is a passcode.
This episode was a lot of fun. I'd say that the twist with Teddy possibly being tied to Tim's death is probably the least predictable turn the show has taken so far, and there seems to finally be some pieces emerging into the picture where it's not quite obvious how they will fit in. The mystery is finally getting juicy, and as hilarious as it is to think that the podcast is underwhelmingly unpopular, its growing clout surrounding the Arconia-sphere opens some new interesting doors to explore in the back half of the season.
What did you think of "To Protect and Serve?" At the moment, who is your number one suspect as to who killed Tim Kono? Are you sold on the Mabel/Oscar romance? Anything else that stood out this week? Head to the comments!