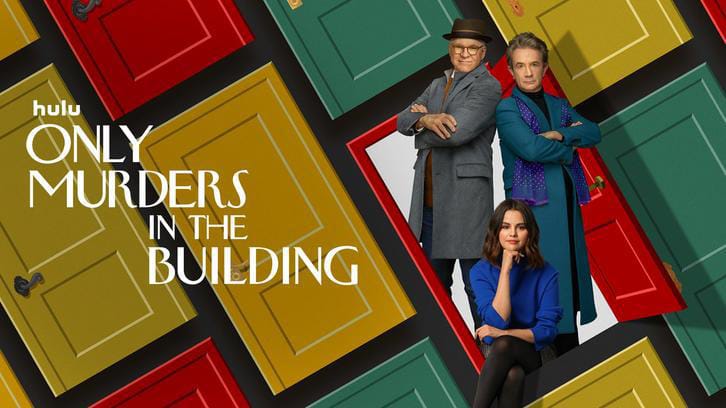 With the help of a few special guest stars, the Arconia Sleuths make some headway on the Tim Kono case - and one of them makes a development in the romantic department, too. Read on for my re(view/cap) of "The Sting":
After a threatening note is left on Oliver's door and his dog is poisoned (don't worry! she's okay!), Oliver deduces that the killer very well may be Grammy Award-Winning musician Sting, who lives in the Arconia, has no alibi for the murders, seems to dislike Winnie and, as the trio discover, had recently fired Tim Kono for mismanaging his finances.
To figure out how to investigate their famous neighbor, Charles pulls some strings to arrange a meeting with "All is Not O.K. in Oklahoma" host Cinda Canning (Tina Fey), who recommends to the awestruck amateur detectives that they "embrace the mess," and tells them an anecdote about bringing a suspect a fully cooked turkey to goad them for information.
Unable to come up with a better idea, the neighbors borrow Cinda's and make their way to Sting's apartment, poultry in tow. Much to their shock, Sting not only accepts the gift but quickly confesses that he is, in fact, responsible for Tim Kono's death. However, before anyone cuts in the police siren sound effects, we discover that Sting only thinks he's guilty; he admits that when Tim lost his money, he told him he should kill himself - and then he apparently did. Disappointed, Mabel, Charles and Oliver inform their famous neighbor that the death was actually murder, freeing Sting's conscience, but sending them back to the drawing board.
Meanwhile, Charles hits it off with a bassoonist who lives in the building named Jan (played by The Office's Amy Ryan). The two set up a date, but Charles bungles it when Jan opens up to him about some of her baggage and he can't muster up any personal stories in return. After realizing he doesn't want to let this one go, Charles returns to Jan and confesses why he's so hesitant to make any new connections. His last long-term girlfriend had a young daughter named Lucy, who Charles had been very devoted to, even after his relationship with her mother started to sour. Finally, on a family cruise meant to bring the three closer together, Lucy's mother took Lucy and abandoned him halfway through the trip. Impressed by his candidness, Jan gives Charles a second date (Just a sidenote for all my fellow mystery-TV obsessees: Jan is definitely in on it somehow, right? Right?).
Investigating items she found in Tim's apartment, Mabel discovers a clue as to who Tim might've been meeting with just before he died. Charles and Oliver, on the other hand, make some interesting connections of their own when they hear from Oliver's son that Mabel used to live in the building and hang out with Tim Kono (*gasp!* just kidding, we knew that already). As the episode ends, we see Mabel being followed by Tye-Dye Guy, - a.k.a. the guy from the beginning flashforward - a.k.a. the guy that Charles saw re-enter the building when Tim was murdered - a.k.a. definitely Mabel's childhood friend Oscar, right?
Cramming not one but two big-name guest stars the likes of Tina Fey and Sting felt like a bold move, but neither one took up too much attention from the rest of the episode, which was a relief. The show's pacing, too, felt like it settled down from the slight freneticism of the first few episodes, another positive sign.
To be honest, I didn't think much of this show on first go-round, but as the weeks are going on, I'm finding myself looking forward quite a bit to each new episode. In itself, this feels like a feat, as many shows that I've taken on to review for this lovely website have begun to feel less like shows and more like chores over time. My nitpicks from last week still stand - Gomez's performance is good, but occasionally feels oddly patronizing, and the mystery continues to be rather predictable. However, the show's focal point seems to be right on the money for the most part, and its central trio just gets more and more endearing as time goes on.
And who could hate on a show that features a bassoon/accordian duet to "Take Me Out to the Ballgame?" It's not going to be me, that's for sure.