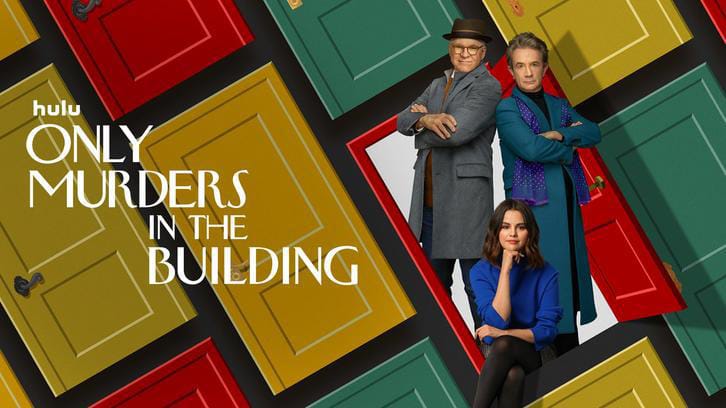 Name a more iconic trio than this. I'll wait.
Only Murders in the Building, Hulu's murder mystery satire from Steve Martin and John Hoffman, has a lot going for it. Both lighthearted and richly macabre (we're introduced to Selena Gomez's character by witnessing her fantasy of murdering an intruder in her bed), Only Murders doesn't slip easily into any one category - something that at times works against it, but mostly generates a worthy rip on the true crime genre.
Unfalteringly reliable onscreen duo Steve Martin and Martin Short portray Charles-Haden Savage and Oliver Putnam, both residents of The Arconia, a semi-luxury New York apartment building. As an actor famous for playing a TV detective and director known for his extravagant Broadway flops, both long separated from their golden years, the neighbors discover that they are both obsessed with the same True Crime podcast, "All is Not O.K. in Oklahoma." The two are joined as series leads by Selena Gomez as Mabel, a fellow "All is Not O.K." obsessee staying in the building while renovating it for her aunt. Unlike the over-the-top personas of Martin and Short's characters, Mabel is reserved and enigmatic, and as we discover, hiding a much darker backstory.
When a fellow building resident turns up dead, the unlikely trio's shared itch for murder mysteries takes over, and - despite the police's official ruling of a suicide - the three determine it was actually murder, and decide to make their own true crime podcast about their investigation into the death.
In the first three episodes, we follow Charles, Oliver and Mabel as they use questionable detective skills and even more questionable investigation tactics to narrow down suspects and discover clues, all of which they record and narrate to the score of ominous accordion music. For all of their hard work, the threesome learn hilariously little - that victim Tim Kono was universally despised in the building, and more concern is shown for the death of one resident's cat on the same night. But as we soon find out, the mystery runs much deeper than initial evidence might suggest.
As we find out in episode 2, Kono was actually a childhood friend of Mabel's; along with Zoe, the daughter of the Arconia's owner and Oscar, the son of the custodian, the two had formed an amateur detective agency of their own, calling themselves the Hardy Boys. Flashbacks reveal that Zoe died during a rooftop party at the Arconia, and Oscar, her boyfriend at the time, was convicted of her murder. Mabel never believed in Oscar's guilt, and although Tim claimed he had seen Zoe in an altercation with another man that night, he never came forward with the testimony, creating a rift between himself and Mabel.
The first three episodes are admittedly a bit light on actual mystery, with one-too-many segues into a subplot about Oliver's financial troubles - but anyone who has fallen into the true-crime podcast hole will still recognize themselves in this show in a marvelous way. Behind all the goofy satire, there is an intense understanding of the allure of the true crime story - the idea of getting so close to death and the mysterious universe of crime while still keeping a firm barrier between the unreal and the real.
Martin and Short's comedy stylings are the kind that never get old; their banter is frequently a highlight, and as can only be expected, they carry the comedic weight of the show with experience. On the same note, the comedic tone itself is pristine, smart and brewed with a healthy amount of slapstick and good-natured idiocy. The jokes and bits spill over with biting intellectualism - funding for "All is not O.K." is provided by "The Rand Corporation, The Milton and Miriam Swan For the Arts and For Dissolving the Federal Reserve, and Trader Joe's." Gomez, for her part, acts as an occasionally dry but overall effective balance for her so-stars' flighty humor, her bemused monotone shielding Mabel's many secrets (and possibly Gomez's own boredom with the project).
Much like the podcasts it parodies, Only Murders is fairly generic in its actual mystery - the crime is straightforward and the clues Law and Order-esque in their convenience. But if you're looking primarily for a murder show, I'm not sure why you're coming here to begin with, as you're most likely the very audience this show aims to mock.
Another surprising thing working for this show is the aesthetics. Gomez, Short and Martin are styled phenomenally, in ways that highlight each of the three sleuths' core characteristics, and the New York setting is actually portrayed rather brightly - even the "crappy" settings look like an avant-garde Vogue shooting location. While sounding pretentious, this actually contrasts the usual gritty side of the city that Big Apple-set crime shows tend to zero in on.
Although only a third of the way through it's story, Only Murders has already passed my watchability test - it has something it wants to say. Underneath the drama and the played-out bits about stereotypical New Yorkers, the show seeks to understand why we are so obsessed with other people's deaths. It strikes a nerve, unsparing in the way that it probes the lives of its protagonists to uncover why they revel in events so horrific. For example, while I've already skewered the parts that focus on Oliver's personal troubles, I recognize that they are there for a reason - Oliver wants to be a hero, and having failed to do so for his family and his art, he turns to crime-solving to access that heroism.
Sure, the pacing is odd, the developments sometimes out of place (what's up with the episode 3 Sting cliffhanger?) and the mystery is somewhat lacking, but Only Murders in the Building still marks itself as a promising investment. And to be fair, is it possible that a comedy murder mystery starring Steve Martin, Martin Short and Selena Gomez could be bad?
How have you been liking Only Murders? Any theories? Or would you just like to drool with me over Mabel's costumes? Head to the comments, my friends!