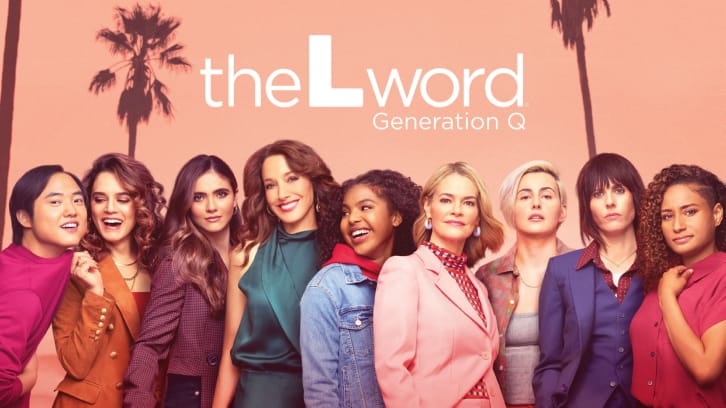 Wedding Crasher. The episode picks up immediately after Finley's wedding crasher moment. Dani's (Arienne Mandi) rightfully furious and unraveling to Sophie (Rosanny Zayas), and because of the back and forth on the verge of violence i think, actually she ends up decking Finley (Jacqueline Toboni)in the eye right before the smash to the title card. It´s a very appropiate reaction after what just happened in front of everyone, i still feel embarrassed by it. "Lean On Me" reckons with the consequences of this not wanted (by me) love triangle, something that was lacking in the premiere episode it´s a lot more explored on this one. This Dani/Sophie/Finley situation allows everyone to be messy.

About time One of the most expected things even from last season for me was Micah (Leo Sheng) ending things with (Freddy Miyares) not very fond of their relationship, i thought the sparks were missing, i don´t know. Anyway, Micah finally calls him out for being a liar and on top of that a cheater, now that he´s seen what that whole thing can do to the people involved, he even cares about Jose´s husband, which he shouldn´t as he tells him, that´s not his responsability. However it did feel like he´s storyline is way too attached as a friend of the group and we don´t really get that much of his character development, but it could be changing in future episodes because of his interesting interaction with Maribel (Jillian Mercado), which i´m excited to see.

Speaking of chemistry
This episode delivers a few scenes that make me hopeful and also sweat a little bit, first the sex scene between Bette (Jennifer Beals) and Gigi (Sepideh Moafi) honestly i think that´s not really going nowhere as a pairing knowing The L Word but who cares after watching that. Bette and Gigi do have a lot in common and are exactly the kind of people who would, well, date themselves which is why i don´t think that they will connect romantically, but i do thank everyone involved for it. Another development in a relationship i am invested in and has not even started yet is between Shane (Katherine Moennig) and Tess (Jamie Clayton) they were enemies for a bit because of the whole sleeping with the other´s girlfriend thing but they have evolved and changed for the better, mostly Shane, which Tess points after she offers Finley a job at the club, turns out she´s actually a softie. Or at least i hope because i can feel their sexual tension from a mile away.
Scratching the surface.
I get a little frustrated sometimes because i wish the show would dig deeper on the emotional stuff and would bring more stuff from the original show that the characters themselves seem to have forget they did, like when Bette is taking jabs at Sophie for cheating on Dani, did she forget what happened seventeen years ago with Tina? or the wedding itself, which parallels Shane horrible desicion of leaving Carmen at the altar. The dynamics of this poker group are fascinating, and yet the scene ultimately ends up feeling like a game of poker itself—all easily defined stakes and little emotional depth.
My least favorite thing
were all the scenes with Alice (Leisha Hailey) and Nat (Stephanie Allynne), only because i don´t want to see them fight or not talking or do anything that could end with them breaking up which i think this is were their relationship is headed, Nat finally talks to Alice and comes out as polyamorous, which comes as a shock to only Alice at this point to be honest, i´m nervous as to how they are going to handle that, on the other side, Alice is also dealing with some work things, her new editor so that´s that.
My favorite thing
is Dani ending on Bette´s arms, literally, at the end of the episode, now that´s a relationship i hope they explore, we already know that Dani had a crush on her former boss last season, hopefully she moves on from Sophie and that continues, i know i´m getting ahead of myseld but one can dream into the future.
What did you guys think of the episode? Let me know in the comments.
Is there any pairing you enjoy watching the most?