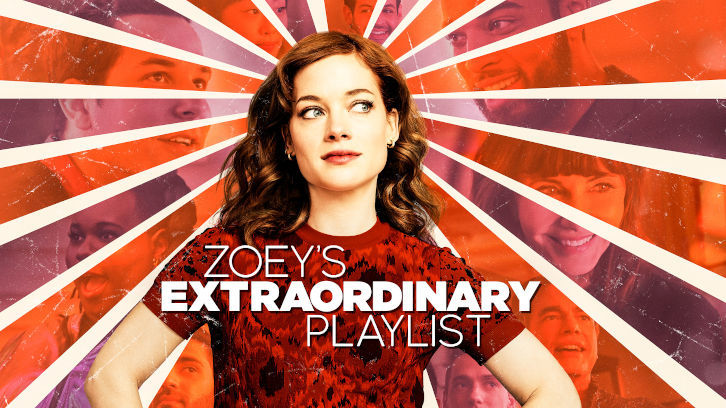 Zoey tries to focus on one important person in her life, but ends up making every relationship a little more complicated this week on Zoey's Extraordinary Playlist. Read on for my review of "Zoey's Extraordinary Double Date."
The episode opens on Zoey arriving for her third therapy session. Still new to the experience, she gets concerned when she hears several of her fellow patients sitting in the waiting room singing "Overwhelmed" by Royal and the Serpent (you know, that TikTok song?). Feeling rather overwhelmed herself, Zoey's therapist encourages her to work on her relationship with Simon. Zoey immediately takes to the idea, although she turns "work on our relationship" into "I will now be the best girlfriend ever and spend all my time on Simon" which, as I'm sure we can all guess, will lead to pandemonium later on.
Indeed, when Zoey comes to Simon to ask what he wants for them to do together, he tells her that he wants to go with Max and Rose to run a 7-mile marathon. Zoey, averse to exercise but more averse to giving up, agrees reluctantly.
The day before the marathon, Zoey visits Mo, who is with Perry. Their relationship seems to be going well, and Mo is even getting ready to meet Brad, Perry's ex. Suddenly, though, Zoey hears Perry singing "Unwell" by Matchbox Twenty. After hearing from him that he is afraid that Mo and Brad won't get along, Zoey volunteers to be a "buffer" for Brad and Mo's first meeting the next day at Maximo's. His fears turn out to be unfounded, however, as Brad and Mo actually get along swimmingly.
Meanwhile, Rose asks Max to move to New York with her to set up a Maximo's pop-up location. While Max doesn't love the idea of being closer to his family, he does like the idea of doing something new with Rose (and escaping from his rather tangled situation with Zoey), so he considers the idea.
The next day, at the race, Zoey questions whether or not anyone would actually enjoy running a marathon - a question quickly answered by Simon and Rose breaking into Queen's "Don't Stop Me Now." (Notably, Max refrains from the...refrain, indicating that he and Zoey are both doing this just for their partners). The race is run, and although no one understands Zoey's costume (she's "static electricity," not "garbage"), nothing too drastic happens until later that night at Maximo's.
After Rose and Simon get into a good-natured debate about whether the east or west coast is better, Zoey finds out about Max's possible move when he starts singing "New York State of Mind" by Billy Joel. As Zoey probes her best friend for information, things get more and more awkward between the foursome. Getting aggressive, Zoey and Max argue again about how unfair it is for Zoey "intuitiveness" to mean she knows Max's thoughts better than he does.
When Zoey tells her therapist about the incident the next day, he connects her reaction to Max leaving to a fear of loss - she lost her father, lost her mentor Joan, and now might be losing her best friend as well. "Oh. That makes sense," She says.
Trying again with Simon, she arrives at his apartment with apology dumplings. However, it seems the previous night's events rattled him, as her strong reaction to Max leaving made it seem like she still had feelings for him (to be honest, I thought the whole point of their "pause" was that they did still have feelings for one another? Did we forget about that, or…?). Zoey denies the accusation, but hearing Simon sing Elvis's "Suspicious Minds" tells her that this problem will still persist.
Meanwhile, at SPRQ Point, a new phone prototype is finally chosen after weeks of competition: the winner is the "Dronephone", a phone with drone technology invented by Leif while the Microphone and the Megaphone teams bickered. This might be just me, but I continue to fervently hate all of the technology in this show. Are the inventions supposed to be so painfully useless to be funny, or do other people actually think these are good ideas? Maybe I'm a bit lost, either way; mini-tangent over. Anyways, their newfound mutual hatred for Leif causes Mackenzie and Tobin to break the ice and officially hook up.
Also notable, Perry and Mo have a heartfelt argument after their night out with Brad because Perry expresses being uncomfortable with someone who presents themselves the way that Mo does as his boyfriend. He cites the fact that the difficulty of coming out was always made slightly better by the fact that he was still able to present as masculine. This scene was really interesting, and I am curious to know how LGBTQ+ audience members felt about it - Mo's declaration of never going back to someone he wasn't certainly felt powerful, and the entire scene seemed delicate about the topic, but was it too much so? Not enough?
There was also a weird side quest where Maggie wins a jackpot at the casino and she and Deb try and figure out what to do with the money. Just like last week, this whole plotline felt really unnecessary, but we got Mary Steenbergen and Bernadette Peters singing Gwen Stefani's "Rich Girl" so... worth it?
Zoey and Max meet up at Maximo's to talk to one another about the previous night. Zoey tries to apologize, but Max insists that they can't keep circling around each other in the awkward ways that they have been (Amen!). He asks for space, and Zoey asks if he has decided whether or not he's going to New York. He says he hasn't, but as she leaves, he reprises "New York State of Mind." Like a gut punch, that moment. Ow.
In all, I felt that this was a rather uneven episode. Much like the last episode, we found ourselves at a point where the main storyline was engaging (albeit sometimes frustrating), but the side plots felt inconsequential. I've missed the coherence of season 1 (and, to be honest, even earlier in this season), where all of the subplots meshed in well together, and often tied into the same idea or theme.
These past few episodes have mostly felt like a lot of treading water, which is hard to watch because it still feels like all of these characters have valuable stories to be told about them. Instead, we're just swirling further and further down the drain of Max/Simon/Zoey. Don't get me wrong, I love those characters, and I don't mind a love triangle, but I just wish that with the show still resting on the bubble (and our time with it therefore possibly limited), we could get as much out of this rare gem of a show that we can.
In a less negative takeaway from this week, I love the therapy sideplot! Therapy and proper mental health treatment is a topic that, even today, is rarely broached on TV, and even more rarely given a proper representation. Zoey is excellent at doing new things and handling delicate situations with sensitivity, so let's hope they keep that going here! On top of that, Oscar Nunez is always a comedic gift, and so I have high hopes that Sunday's therapy-centric flashback episode brings good things.
What did you think of "Zoey's Extraordinary Double Date?" Are you just as confused as to what happened to the "pause" as I am? And which side characters do you think deserve a little bit more spotlight in the season's final episodes? Let me know in the comments!
Zoey's Extraordinary Quotes-List:
Deb (Riding an exercise bike): I think I'm gonna get one of these. I hate bike riding but I do enjoy getting yelled at.