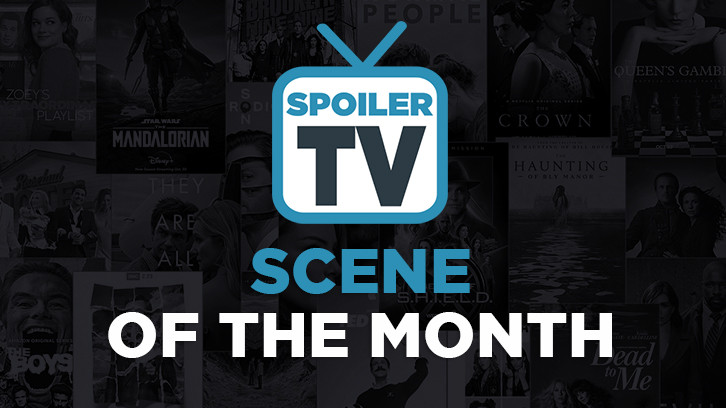 A monthly feature in which we're trying to find the most compelling, best acted, written, directed and just generally great, memorable scenes that we've seen in the past month on TV.
BIG SKY, "White Lion", April 27, 2021, Actor: Katheryn Winnick
The Scene: The truck drives through the motel room
Marko:
Big Sky has issues getting into a story but the moment they are there the show delivers some strong storytelling. In the "White Lion" the stories went strong and culminated with a smashing ending when Kleinsasser drove a truck through the motel room. My jaw hit the floor so hard.
BOB HEARTS ABISHOLA, "A Tough Old Bird" & "TLC: Tunde's Loving Care", April 19 & 26, 2021, Actors: Folake Olowofoyeku, Vernee Watson, Kimberly Scott, The Scenes: Gloria explains why she's not a doctor & Abishola defends Kemi
Prpleight:
Gloria explains why, after attending medical school, she's not a doctor. Abishola is studying for her MCAT. Gloria tries to help with a pneumonic trick. Abishola hears that Gloria went to medical school, but is not a doctor and assumes that she understands why. According to Abishola, it's because Americans are inherently lazy and give up when things get difficult. This is an insult, in a line of insults, that Gloria is not willing to forgive. I have to confess that I didn't expect Gloria's story to be what it was. Gloria not only attended medical school, she graduated. Because of the color of her skin she hit roadblocks at nearly every turn. She found a school close to home. When she couldn't become a surgeon she switched to family medicine. She pushed past every roadblock put in her path until it came time for her to start her residency. It took years to find a hospital that would accept her into their residency program. It burned down before she could start. She went into nursing when the practicalities of life required it. What makes the lost dream something she can live with is the knowledge that, by struggling through all of those roadblocks, she helped pave the way for those, like Abishola, to succeed. It's a circumstance I'm familiar with, but I didn't expect to hear it from Gloria. It was a nicely handled moment that was also a little heartbreaking. To be so close to your dream and have to walk away. As an aside: I watched Vernee Watson on Welcome Back, Kotter (and other things) during the 70s. They nailed her 70s look perfectly.
Dahne:
Abishola defends Kemi to Chukwuemeka's mom through Bible verses. Abishola is at her best when she is sticking up for herself and others. While Kemi can be much to take, Abishola defended her friend resolutely when her ex's mother tries to sully Kemi's reputation in church. The back and forth between these 2 strong women was made even better by Abishola's reaction when she puts Ogechi in her place.
CHARMED, "Bruja-Ha", April 18, 2021, Actors: Melonie Diaz, Mareya Salazar
The Scene: Mel shows Joséfina the new Book of Shadows
Marko:
Joséfina is a a breath of fresh air and she is really keeping the sisters alert all the time. The way Mel positioned herself towards Joséfina as a Mama bear and guided her through her path. Bringing back the Book of Shadows was a great moment. It's their family legacy and should contain all of their knowledge to be passed on.
CHICAGO FIRE, "Natural Born Firefighter", April 21, 2021, Actors: Jesse Spencer, Kara Killmer, The Scene: Casey finds out he is okay to return to duty
Beth:
Casey learning that his head injury isn't what he feared, and he is okay to return to duty was such a relief. Plus, Brett was there for him in that moment and he wasn't alone. Usually he is alone for these moments, but this time he had someone to celebrate the moment with and it was adorable. Get together you two!
CHICAGO PD, "Signs of Violence", April 7, 2021, Actors: Jesse Lee Soffer, Tracy Spiridakos, The Scene: Hailey opens up to Jay
Jessica:
Hailey opens up to Jay and tells him that she loves him. The Upstead tears I've shed watching (and rewatching) this scene could fill the Chicago River several times over. Hailey reveals to Jay that it's difficult for her to open up emotionally and talk about how she feels because she never learned it was okay to do that growing up. She learned to associate love with pain. And although she feels that she doesn't know how to do relationships, she wants to have that with Jay. He then vows that they'll figure it out together because he wants to be with her too and reassures her that he isn't going anywhere. I can't get enough of Hailey realizing that Jay Halstead loves all of her unconditionally and telling him that she loves him for the first time. This was a forever conversation if I ever heard one!
CLARICE, "How Does It Feel to Be So Beautiful", April 1, 2021, Actors: Rebecca Breeds, Marnee Carpenter, Jayne Atkinson, The Scene: The dinner at the Martin residence
Laura B:
Clarice may not literally have the infamous cannibalistic chief and manipulative psychoanalyst in its design, but figuratively you can feel Hannibal at many of series' turns. This particularly uncomfortable dinner scene between Clarice, Katherine and Ruth was a scene worthy of the entire franchise, whether you are looking at the feature films, Bryan Fuller's adaptation, or the Thomas Harris unique way of putting things. The show finally found its edge.
GREY'S ANATOMY, "Good as Hell", April 22, 2021, Actors: Ellen Pompeo, Aniela Gumbs
The Scene: Meredith wakes up for Zola (picked by Jamie)
HUDSON & REX, "Seeing Is Deceiving", April 13, 2021, Actors: Mayko Nguyen, John Reardon
The Scene: The ending
Bex W:
It's rare for Hudson & Rex to leave something big unresolved. So when "Seeing is Deceiving" ended on a bit of a cliffhanger, with Sarah's job offer being unresolved, the fans responded - loudly - on social media. For that reason, that scene, at the end of the episode, with Sarah yet to voice her decision, and Charlie's face finally showing his fear of losing her, was an easy pick for SotM.
INVINCIBLE, "Where I Really Come From", April 29, 2021, Voiced by: Sandra Oh, J. K. Simmons, The Scene: The flashback to the baseball park
Vaughan:
I appreciated the flashback scene in the baseball park during the younger Mark's game. Debbie talks to a disinterested Nolan, who is standing in the grass away from everyone. She talks about how children are meant to renew feelings of joy that adults forget about later in life. I felt this scene encapsulated Debbie and Nolan's past relationship better than any in the whole season. Nolan's serious disinterest in Mark's skills rather shocked me. Though this is "just" an animated superhero series at the end of the day, this scene proves, like its 2 main male characters, it is a lot more than what it seems.
MACGYVER, "Abduction + Memory + Time + Fireworks + Dispersal", April 30, 2021, Actors: Lucas Till, Tristin Mays and more, The Scene: MacGyver reveals his secret lair
Dahne:
While I really liked the ending toast and the feelings of family it evoked, there was nothing more quintessential MacGyver than the secret lair he's been hiding. From the intricacies to getting into it to Bozer's playful zinger, this encapsulated what made the show different to me. Plus, hasn't everyone thought that MacGyver must have some kind of Batcave? It was a fun moment in a mostly grim series finale.
MYTHIC QUEST, "Everlight", April 16, 2021, Actors: Rob McElhenney, Charlotte Nicdao, Danny Pudi, The Scene: The final battle sequence (picked by Sandi)
PRODIGAL SON, "Exit Strategy", April 27, 2021, Actors: Bellamy Young, Sahr Ngaujah, Tom Payne and more, The Scenes: The end montage & Jessica arms herself
Zoé F:
Gil finds Jessica, Martin escapes, Malcolm receives the voicemail. Everything about this ending scene was gold. The music and framing were so cleverly done. While watching, I was keenly aware of the clock and how little time we had left and was worried the ending would be incredibly rushed, but the montage scene was perfectly done. I especially loved how the camera begins to spin faster and faster around Malcolm as he listens to Martin's voicemail and realizes that something must've happened. Jessica's panic really set things in stone for what was to come in the next episodes.
Prpleight:
Jessica arms herself. Jessica finds herself abandoned in the mental hospital. She eventually figures out that Martin's "clues" were hints to hear that an escape was underway. She calls Gil, who tells her to find a weapon and hide. So, she takes off her spike heels. I suspect I'm not the only woman who recognized the wisdom of selecting her high heels as her weapon (not that she had a ton of options). Turns out they are aptly named. When her life is in danger, she shoves one in the ear of the man threatening her with a shiv.
QUEEN OF THE SOUTH, "La Situacion" ("The Situation"), April 28, 2021, Actors: Alice Braga, Alimi Ballard, Hemky Madera, The Scene: Marcel calls Teresa out for giving him up
Folie-lex:
Teresa has long skirted on the good faith she can inspire in people and her luck to be able to get things done and stay true to her word. And "loyalty" and "keeping her word" are what she markets as her biggest currency. She failed Marcel because for once all the pieces didn't fall exactly in the place she needed them to for her plan to work. It was rather cathartic to see her being called out as she was still trying to hold onto to whatever high moral ground she could. And it was very satisfying to see his words land hard. Being called a "rat" in this world is stigmatizing. Alimi Ballard does all the hard work, lacing every word with derision. And Alice Braga with barely a word to say allows the devastation of every earned insult Marcel throws Teresa's way to colour her face accordingly while still holding her Queen posture intact.
REBEL, "Pilot", April 8, 2021, Actor: Katey Sagal
The Scene: Rebel interrupts a party
DJRiter:
Rebel interrupts the party being held by the company that made the defective heart valve she is working to get replaced. In true style she has the people she's representing crash the party as she waits to get arrested. It's a larger than life moment for a larger than life character and Katey Sagal is perfectly cast.
SHADOW AND BONE, "The Making at the Heart of the World", April 23, 2021, Actors: Kit Young and more, The Scene: The crows are attacked while crossing the fold
Sarah R:
The conductor tells Jesper to grab the goat. "I'm not throwing out the goat!" "Grab the damn goat! It's not bait. It's for you". I loved this scene, it was hilarious to watch. It got even better when Jesper stood up and saved the crows with his expert marksmen skills.
STATION 19, "Get Up, Stand Up", April 22, 2021, Actors: Jay Hayden, Tracie Thoms, Jeanne Sakata, The Scene: Travis and Diane discuss the rising violence against the Asian American community
Jamie:
I wish I could just nominate the entire episode because it was phenomal. But this scene, Travis being afraid to talk to his friends because he feels like his issues don't compare to theirs... and with the flashes of his mom during the scene... this may have been the scene that gutted me the most. You could tell that he'd been carrying that for a while.
SUPERGIRL, "Phantom Menaces" & "Lost Souls", April 13 & 20, 2021, Actors: Jesse Rath, Chyler Leigh, Katie McGrath, The Scenes: Brainy lets his anger out & Alex explains to Lena why it's more important to save Phantom's victims than Supergirl
Justyna:
Brainy has to be one of my favorite characters on the show. And Jesse Rath has been absolutely incredible in the role. I especially loved his performance in this scene when Brainy and Lena realize that Lex is responsible for an explosion that took place in a children's hospital. After Lena expresses her hate for her brother Brainy proposes that the two of them team up and kill him. It's such a dark moment for one of our heroes that it honestly shocked me to hear the details of Brainy's plan. Luckily Lena recognizes what her friend's been going through and makes him realize that this is not a path any of them can follow. That's when Brainy truly lets his feelings out. The overload of his rage and pain have him yelling, crying and breaking things around him. Making him even more hopeless without Kara, but at least having Lena there to comfort him. The entire transition from Brainy's "I hate him" to "I miss her" was beautifully done. Kudos!

DJRiter:
In heart-wrenching scene, that shows how strongly Supergirl has influenced her sister's journey as a hero, Alex explains to Lena that they have to realign their only hope of locating Supergirl in the Phantom Zone, to locate the Phantoms on Earth and their victims. It was a courageous moment of selflessness on Alex's part and showed how much her character has grown. Chyler Leigh beautifully played the moment with the anguish on her face as she chose the greater good over saving her sister.
THE FALCON AND THE WINTER SOLDIER, "The Whole World Is Watching" & "Truth", April 9 & 16, 2021, Actors: Anthony Mackie, Wyatt Russell, Carl Lumbly and more, The Scenes: Walker kills one of the Flag Smashers in front of a crowd & Isaiah tells Sam his story & Sam and Bucky take back the shield
Justyna:
From the moment Lemar is captured you can feel a tragedy coming, but still, I did not expect THIS. At least not in such a brutal and sudden way. We've only known Battlestar for a few episodes but he was already one of my favorite new characters on the show. To see him die like this, I can honestly understand how this could break his best friend. But it doesn't justify what follows. The whole scene changes in a second. The fight stops as everyone realizes how powerful one loss can be, especially when you're fighting a man who's calling himself Captain America. The music intensifies, the dialogue almost fades away as we witness John Walker's blind anger turn him into the most terrifying of foes. He becomes focused on a sole purpose - all he wants is to murder everyone who had anything to do with Lemar's death. He can't locate Karli so he's going after her allies, the Flag Smashers, and eventually gets to one of them, Nico. He furiously kills him with the shield, right in front of the crowd of bystanders who record the whole incident on their phones. The visual of Walker striking Nico with the shield is not only unforgettable but it also makes me think of Steve Rogers at his worst. The difference being Steve didn't let his anger control him, while Walker let his rage destroy everything he fought for. And Nico... we don't know too much about his character. In fact one of the few things we do know is the fact he used to look up to Captain America. And here we are. Captain America's fan killed by his shield. Still can't quite get this scene out of my head. Kudos to cast & crew for all their memorable work on the series. Looking forward to where the story takes us next.
Folie-lex:
As Isaiah narrates his history to a horrified but unsurprised Sam, Carl Lumbly personifies the anger and bitterness of every black man in America. This is a superhero fictional world, but real life versions of his kind of history I'm sure are in abudance and that's beyond tragic. It's a hard scene to watch (I can attest to that as it brought me to tears) but a necessary one.
Sandi:
Sam and Bucky take back the shield.
THE MIGHTY DUCKS: GAME CHANGERS, "Spirit of the Ducks", April 30, 2021, Actors: Emilio Estevez, Elden Henson, Vincent A. LaRusso and more, The Scene: The Old Ducks stand up for Bombay at the gala
Folie-lex:
Gordon Bombay made the Ducks into champions and the only people still being able to acknowledge that are the OG!Ducks. It was beautiful to watch them all grown up happily stand in a room full of people who have usurped their legacy and turned into whatever they've misconstrued "the Duck spirit" to be and set the record straight. Ducks Fly Together.
THE NEVERS, "Ignition", April 25, 2021, Actors: Laura Donnelly and more
The Scene: Amalia's underwater fight
DJRiter:
Amalia's underwater fight with brute who could walk on water. An epic confrontation between Amalia and a towering opponent on an isolated lake. Kudos to the stunt coordinators, set designers, everyone who choreographed a fight like few others seen on television and to star Laura Donnelly for doing most of her own stunts including spending an inordinately long amount of time underwater during the fight.
THE ROOKIE, "Man of Honor", April 11, 2021, Actors: Eric Winter, Alyssa Diaz
The Scene: Tim tells Angela to show off her baby belly
Folie-lex:
After a 911 text from Angela Tim arrives at a bridal bootique to find her in tears wearing the most hideous dress. Everyone is stressing out our soon to be mama with the wedding planning. In contrast Tim says all the right things and makes her feel better while still being his frustrated, curt and at-to-the-point self. It's a beautiful moment and underlines the deep friendship these two people share to absolute perfection.
UNITED STATES OF AL, "Spinach / Sabzi", April 22, 2021, Actors: Parker Young, Elizabeth Alderfer, The Scene: Lizzie tells Riley to sacrifice for his dad too
Dahne:
I am loving the humor or The United States of Al, but what really gets me is the heart. In this scene, Riley and Lizzie have a heart-to-heart while their dad is in the hospital. I like how Lizzie acknowledges that Riley has already made big sacrifices for his country, but she gently reminds him that we all make sacrifices for family as well. Riley needed the kickstart that Lizzie gave him, but it was done with humor and compassion too.
WALKER, "Rule Number 17", April 15, 2021, Actors: Jared Padalecki, Odette Annable
The Scene: Walker and Jeri kiss
DJRiter:
After Emily's murder is solved Walker finds Jeri drinking alone on the floor of the Sidestep. The two can finally mourn Emily's death and their honest discussion leads to the inevitable kiss between the two friends. Setting up a complication for the friends the scene was nicely played by Padalecki and Annable.