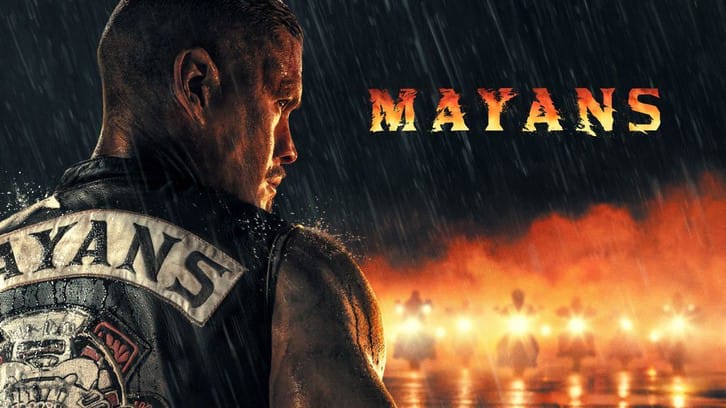 Mayans MC "What Comes of Handlin' Snakeskin" was written by Bryan Gracia and was directed by Elgin James. This may have been one of my favorite episodes. We'll assume for the time being that Coco's (Richard Cabral) fate is still unknown. The episode features the happy after glow of EZ's (JD Pardo) night with Gaby (Sulem Calderon) – and the two are a happy little bright spot in a very dark and violent world. The episode also features EZ getting all philosophical – not once but twice, leading to possibly my favorite ever line on the show: "Fucking existential biker bullshit!"
EZ answers the call that they are going to war but arrives after two attacks have already been perpetrated on the Stockton Mayans. The club is holed up at a motel, trying to track down Ramos (Ivo Nandi) to start the takeover. Diaz (Alex Fernandez) shows up, and it looks like he's going to support Bishop (Michael Irby) – but it's a double cross… Diaz insults Bishop, saying Bishop has always just done what he's told and that he's no more than a gatekeeper for Alvarez (Emilio Rivera) and Galindo (Danny Pino). Bishop says Alvarez isn't a Mayan anymore, so he doesn't take orders from him and he's done being a gatekeeper. Bishop tells Diaz he wants the Charter to go back to being simple outlaws.
I loved Hank (Frankie Loyal) giving Steve (Momo Rodriguez) a hard time – and telling him to do burpies – and I loved Steve's version of a burpie! (Compare to the ones EZ does every morning…). EZ steps in to tell Steve not to give up, he'll get there. He tries to explain a bit of philosophy to help Steve – that once he lets go of his ego and realizes that he's part of the bigger picture, it will get easier. In other words, nothing is as important as the club. Steve clearly doesn't quite get it. He wants to be a Mayan to command the respect that the others get and not be laughed at anymore. It's still purely selfish reasons for him.
EZ is still trying to keep the club and Gaby completely separate. He's dropped her at her mother's, and he calls her to check in. He doesn't tell her anything that's going on, and she's expecting him for dinner and to sleep over – in her annoying brother's room though because it's her mom's house!
The club is getting ready to go after Ramos, and there's a cute scene in which Steve finally gets a gun – which he then stuffs in his pocket. I was sure he was going to shoot himself. He's told not to shoot his dick off, and Creeper (Joseph Raymond Lucero) kindly tells him they're serious and to put the gun in his belt behind his back.
Once the rest of the Stockton crew arrive, a huge fight breaks out. Diaz stops smoking crack and attacks Bishop. Luckily Taza (Raoul Max Trujillo) has his knife handy, and the two take down Diaz and three others. Angel (Clayton Cardenas) and EZ are in separate fights, but both manage to get the upper hand. Steve is being beaten to death and manages to pull the gun and shoot one of the Stockton crew. That brings the cops and breaks up the fight. Everyone scatters – but Creeper goes back for Pavia (Roel Navarro) so he won't have to go to jail alone. Steve asks if the guy he shot is going to be alright!
Bishop is sure that they are done. No one will join forces with them after losing to Ramos. But EZ has a plan… Meanwhile, all the captured Stockton Mayans and Creeper and Pavia are handcuffed and on their knees waiting to get taken to jail. O'Grady (John Pirruccello) shows up – and I loved that we haven't seen him since season 1? It looks like he's there to escort Ramos to freedom – one of the other Stockton crew sneers at Creeper that they own the town.
This was a great scene as one of my favorite songs is playing in the car – "Pulling Mussels From a Shell" by Squeeze. O'Grady is going on and on about choruses and bridges and how he was in a band in high school. Ramos is clearly not interested and tells O'Grady to pull over and take off his handcuffs. But Ramos is about to get his mussels blown out of their shell. The car stops and EZ steps up and blows Ramos away. They've put O'Grady in the squeeze! O'Grady is a bit pissed that EZ shot Ramos in the car and made a mess, but he's more interested in knowing if he's square with them now. Is he free from owing the Mayans a debt? And we get the second philosophical musing from EZ – "Are any of us free?" – and O'Grady delivers the 'existential biker bullshit' line…
Ez tries to put the night behind him and enjoy being with Gaby and her family. He's clearly in his own little world until she brings him his food and he suddenly joins in their world. Gaby kisses him and the whole family teases him. He tells her that he's happy, but when he wipes his mouth, there's blood on the napkin – he can't escape the violence. Can he be the club and still be EZ for Gaby???
Meanwhile, Adelita (Carla Baratta) talks to Mini (Melany Ochoa) who finally tells her that Pablo (Salvador Chacon) has been abusing all the girls. It's clear that he has the women/girls do all the work – cooking, serving, cleaning – while the boys play video games and make lewd comments – and worse. Adelita shows up with Mini, and Pablo immediately says that Mini lies. Adelita stabs him and takes up her mantle of savior again – also shaving everyone's head – because that won't make them stand out… but she can only exist as part of a larger movement, negating her own ego and pain.
Finally, Coco returns home, completely strung out. Leticia (Emily Tosta) tries to talk to him. And seriously, we have not had nearly enough Leticia this season! She tells him she's not going to live through the addiction all over again with him after doing it with his mother. Coco finally calls Hope (Vanessa Giselle). She comes and is terrified that Isaac will find out she's gone. Of course, Coco wants to get her away from Isaac who has threatened to burn her. She tells him that Meth Mountain is her home – it's where she feels like she is part of a greater whole.
I loved the philosophical thread running through this episode as people try to find their place in the greater thing, to escape their own egos. To escape their own pain. To decide if they even want freedom. Can and will EZ be able to maintain his relationship? Can Bishop become king? Can Adelita re-ignite her movement? Will she become an ally to Galindo again? There's definitely a lot more to come… What did you think of the episode? Is Coco dead? Let me know your thoughts in the comments below!
"Fucking existential biker bullshit!"