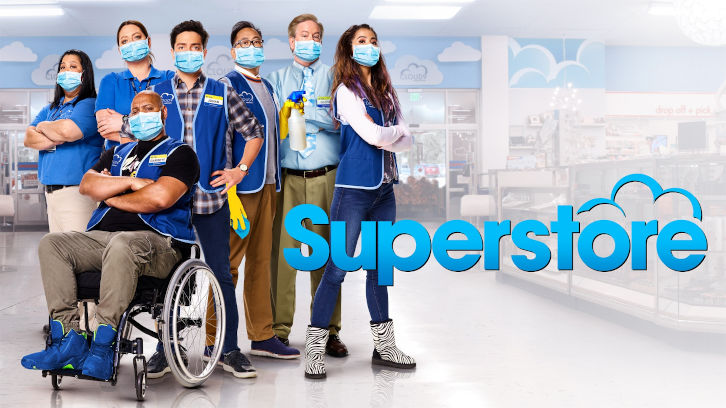 Emotional honesty abounded on this week's special Holiday(s) episode of Superstore. Read on for my review of "Deep Cleaning":
One year after the start of the pandemic, the Cloud 9 employees find themselves having to do a deep clean of the entire store. On such a bitter anniversary, the employees all reminisce on pre-COVID times, and express how sad they were that so many of their plans were laid by the wayside in 2020.
To counteract the doom and gloom, Glenn decides to throw a staff Christmas party to replace the one that got cancelled, and convinces Garrett to help in exchange for getting out of cleaning; "Neither of those sound appealing, but I'll go with the one with a lower chance of finding another severed foot."
When the staff gets upset that they'll still be missing all the other holidays of the year, Glenn decides to change his plan an "All-iday" party to make up for it, complete with Irish Soda Bread for St. Patrick's day, Jack-o-lanterns for Halloween, mug painting for Valentine's Day and a full Thanksgiving dinner, among others. When Garrett advises Glenn that he's taking on too much for the sake of the party, Glenn brushes him off.
Dina and Cheyenne, meanwhile, spend another episode together, when, after spending some time around the floor cleaners, Dina accidentally gets high on the fumes. This was mostly a fun filler plotline, but the one major thing we got from it is that although Dina was scared to tell Brian she was high, she was completely comfortable telling Garrett right away - a clear indication of their superior compatibility.
Jonah is supposed to be working curbside pickup, but when an order comes in for Amy's parents and he is embarrassed to fill it, Mateo agrees to fill it instead. After all, he's barely met them and he wants to try and make a good impression on them for Eric's sake. However, his plan doesn't start out particularly well, as he ends up yelling at their car, thinking it's someone else's.
The employees continue to give over-the-top requests for the "All-iday" party, and Glenn tries to appease them the best he can. However, all of his hard work is ruined when raccoons get into the break room and eat all the food. Glenn, upset, explains to Garrett that he just wanted to give his employees something nice after they spent a year risking their lives and missing out on spending the holidays together.
Jonah encounters Amy's parents while they're waiting for their order and, while trying to defend Mateo's honor, accidentally leads them to believe that Mateo wants to impress them because he's going to propose to Eric. Ron and Connie get so excited that they insist on talking privately with Mateo, prepared to give him their blessing. Too embarrassed to tell the Sosas the truth, Mateo forces Jonah to stick around with them so he has an excuse not to ask "the question."
However, when Hannah - Carol's lawyer who Jonah has been flirting with - shows up, Jonah has to try to indicate interest in her while still hanging around Amy's parents. He's mostly successful but the momentary distraction allows the Sosas to ask Mateo if he and Eric were engaged, to which Mateo - spur of the moment - responds yes. Jonah also finds Hannah before she goes and, after a brief rapport, asks her out, to which she accepts (ughhhhhhhhhh...that's all I'll say on that one, folks).
Eric finds Mateo later that day and tells him that he understands Mateo's blunder, and is fine with letting his parents think they want to get married, even if they don't. But Mateo lets him know that he has been putting it off because of his legal troubles, but he does actually want to marry him one day, and Eric agrees that they should start talking about it.
Garrett berates the employees for asking so much from Glenn, insisting that they come to the party and enjoy it for what it is (although, just to help it along, he agrees to put vodka in the punch). The "All-iday" party goes on (despite the fact that a huge, maskless work party has got to be an enormous COVID policy violation!), and everyone has a great time - it even snows!
This episode was very fun, although my predominant feeling from it is that the Hannah plotline was a huge misstep. Best case scenario, Amy comes back and then we encounter a last minute love triangle situation (bleh). Worst case scenario, we find a character we've spent 6 years with (many of those years, by the way, devoted to his developing relationship with Amy) ending up with a last-minute filler character. I'm not ruling anything out, but don't see many scenarios playing out where this wasn't the wrong move.
At least all the other couples seem to be trucking along nicely. Seeing Mateo's commitment to Eric this week was sweet, and the look Dina and Garrett shared at the end almost made me forget how much I miss Jonah and Amy's dynamic.
As for the rest of the episode, I just wanted to note how sweet I thought Glenn's storyline was. I'm honestly shocked that Superstore hasn't exploited Glenn's "ultimate people pleaser" attitude in more fun ways throughout the years, and this was a cute way to do it. Additionally - even though he's obviously not a real person - as a retail worker, to hear any person in power acknowledging and grateful for the sacrifices we have made really touched my heart. Between this and last week's episode, I'd say we need more Glenns in the world right now, don't you think?
What did you think of "Deep Cleaning?" Where do you think Mateo and Eric's romance will end up, with this sudden shift in the dynamic? Will Jonah ever, ever stop being a punching bag (and do we want him to)? Let me know in the comments!